Cubii Under-Desk Elliptical Machines Review
Cubii Seated Under-Desk Elliptical Machines
Overview
Number of Resistance Levels
8
Weight Support
245 lbs
Elliptical Weight
27.56 lbs
Elliptical Size
23" x 18" x 10"
Colors Available
Dak Wood, Chrome, Noir
Shipping
Shipping rates and restrictions vary. International shipping is available when buying from the official Cubii online store. Rates vary depending on the customer's location. Domestic shipping to an address within the United States will be cheaper compared to international shipping options.
Warranty
Cubii Under-Desk Elliptical comes with a one-year limited warranty.
---
Cubii Under-Desk Elliptical Machine offers a variety of features  and options that users will be sure to enjoy. While Cubii bikes are not the most affordable machines available on the market, this particular under-desk ellipticals surely provides a value for the customer's money.
Cubii under-desk bike is available in three different options, each offering a set of benefits and its own price tag. Customers who are on a lower budget might want to take a look at Cubii Jr., while those who want a higher quality elliptical might want to consider Cubii Pro or Cubii Elite.
Cubii Smart Under-Desk Ellipticals Overview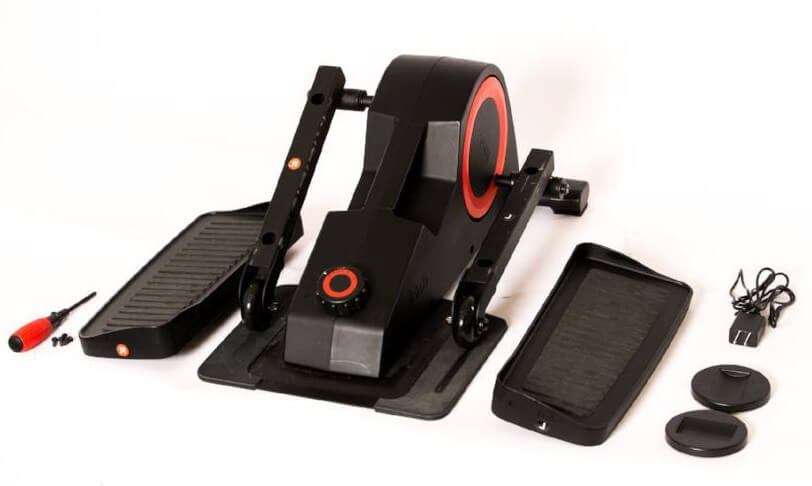 This Cubii review focuses on all three models of the product that customers can choose from. These under desk cycles were developed to provide the user with a way to remain active, even when their day job requires them to be in a seated position for the majority of the time that they spend working. Each elliptical has its own price tag – starting from the basic product, which is, of course, the cheapest amongst the three. Users with a higher budget can select an upgraded model, which will offer the individual with additional features.
Cubii Jr.
This is the basic model of the Cubii under the desk elliptical, which is called Cubii Jr. This is the cheapest option that is suitable for customers on a low budget. This is also the base model of the product. This particular exercise bike for under desk does not come with the same connectivity features as the other models in the range, but rather offers a built-in display unit that can provide the user with feedback on their performance.
Cubii Pro
For those looking to add a stationary bike under the desk that can offer more advanced features than the base Cubii model, the Pro version may be an ideal option to consider. This is a very similar product as the Cubii Jr., but with some added features that definitely adds to the product's overall convenience. The Pro model comes with built-in Bluetooth connectivity, allowing the user to sync their  under desk bike with their mobile device. Cubii has an app that is compatible with both Android and iPhone devices. Once downloaded, the app will connect to the elliptical and provide the user with instant access to their stats. This app also allows the user to compete with their friends and take part in challenges. When it comes to looking at Cubii reviews, the Pro version seems to be the preferred option among most customers.
Cubii Elite
The Elite model is the same as Cubii Pro elliptical but it comes with a unique premium wood finish. There is a limited supply of this particular model, and it was made for those individuals who wish are enthusiastic about the design of the device that will be placed in the office. The Cubii Elite also comes with Bluetooth connectivity and is compatible with a range of health devices, including the Fitbit wristband. The elliptical can also integrate with Apple HealthKit, ensuring the user can effectively track their performance.
Warranty
All three Cubii ellipticals come with a one-year warranty period. The brand does not provide extensive information on what exactly is covered in the warranty, but customers will be able to obtain further information by considering the particular terms and conditions related to the warranty.
The Bottom Line
Cubii desk ellipticals are quality products available in three different options, allowing the customer to choose a particular version of the desk cycle that best meets their needs, as well as suit their budget. Top versions of the elliptical come with Bluetooth connectivity and easily connects to accompanying Cubii mobile application, which offers users instant access to a number of useful statistical data.
The construction of Cubii under desk exercise bike is sturdy to ensure it will last for a long time. While there is a one-year warranty on the  under desk bike, some alternatives come with a more extensive warranty period. This might also not be the most appropriate option for people with back and spine-related issues. Other than this, the elliptical offers many useful features that the user can definitely take advantage of.
Have doubts concerning Cubii Under-Desk Elliptical Machines? There are many high-quality alternatives. As an example, check our Vive Pedal Exerciser review to get a different perspective.
---