Varidesk The Mat Standing Mat Review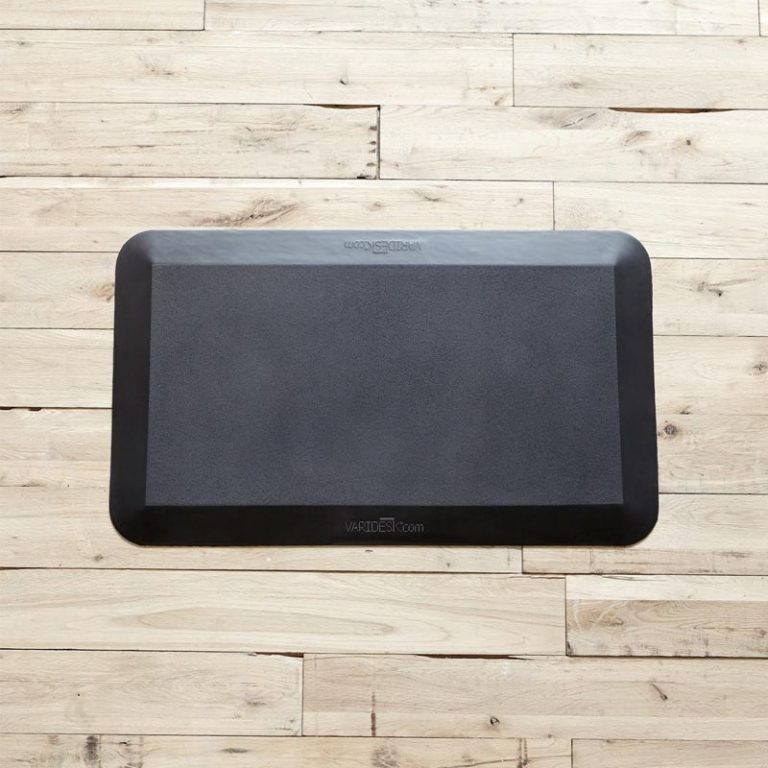 ---
The Varidesk ergonomic standing mat is a plain black surface made of high-density foam and designed for use with standing and adjustable desks. With the smaller size starting at $50, it is moderately priced. The product is designed to cushion and support the feet, knees, hips, and back while users work and it features beveled edges to prevent the surface from flipping up and to keep it in place. The unit increases comfort while standing but it does not have any features to accommodate stretching or to encourage movement. At 5/8", the mat is of medium height. The manufacturing material is durable and provides good support with a high level of comfort. It is available in two sizes; 34" x 20" and 36" x 24". Varidesk mat reviews demonstrate a high level of customer satisfaction with the product. Users report a reduction in joint and muscle pain and an increase in the amount of time that they can spend standing. The item ships for free directly from the manufacturer or through Amazon. It is covered by a 30-day money back guarantee and a 1-year limited warranty.
Varidesk The Mat Standing Mat
Overview
Price
$50 for small size and $60 for the larger unit
Material
High-density foam
Sizes Available
Two sizes 34" x 20" and 36" x 24"
Colors Available
Black only
Where Produced
USA
Shipping
Free to continental 48 US States.
Warranty
1 year limited warranty
How does the Varidesk Mat look?
The ergonomic mat by Varidesk is plain black and rectangular shaped. The product design is minimalistic and contemporary and it will easily blend into any corporate or home office environment. It will also fit into non-office environments such as shops, manufacturing facilities, and food production areas. Although the manufacturer describes the finish as matt, the flat surface of the unit is slightly shiny and can be expected to become more so with continued use. At its tallest point, it is 5/8" in height, which should not require any adjustments to existing office furniture to accommodate it. It is flat enough that a standard office chair can be pulled over it and the product can be used sitting as well as while standing. Unlike some other anti-fatigue standing surfaces, there are no ridges or protrusions and the terrain area is completely level. The mat has beveled edges to prevent it from curling up and to stop it from moving around on the floor. It is available in two sizes which means that it can accommodate differently sized workstations. It can be easily cleaned by wiping with a damp cloth or vacuuming. At this time, the manufacturer does not offer any other color options other than black.
How does the Varidesk Anti Fatigue Mat Perform?
Varidesk The Mat uses a high-density foam core to cushion and support feet and legs. The soft and durable rubber material absorbs shocks and helps users to stand for longer without incurring cramps, foot pain or back problems. In spite of its minimal thickness, the product does a good job of improving comfort levels while standing and reviewers report that it helps to energize feet and legs. The non-slip surface and beveled edges mean that it should not move around on the floor and the corners don't curl or flip up. Nevertheless, Amazon reviewers note that it can slide and move around on some floor types which could be a safety issue. The low height and beveled edges prevent it from being a trip hazard and its relatively low height allows users to step on and off the mat without even realizing they are doing so. However, to change its position, users need to bend down and maneuver the unit by hand which is not ideal for everybody. This may particularly be an issue because reviewers commonly report that it has a tendency to move when in use so adjusting the position is often necessary.
The material has been described by some reviewers as too soft. As a result, heavier people may find that the surface does not offer sufficient support as the flexible material can flatten under a certain load. The manufacturer's website does not provide any information on maximum weight capacity. In comparison to other anti-fatigue terrains, the Varidesk mat's performance is quite limited. As a flat surface for standing on, it is perfectly adequate for normal use but it doesn't have any of the advanced functionality or innovative design that competitor products offer. It's disappointing that there aren't any components to assist stretching and the manufacturers have not included anything to encourage users to move around while using the unit. Standing in a stationary position can be just as harmful as sitting still all day and although the Varidesk mat can prevent the foot and leg pain associated with being upright on a hard surface all day, it does nothing to promote exercise. While it may be a good product for those who simply want a reduction in foot and leg pain, this will do nothing for anybody looking to increase fitness, tone up, or burn calories while working.
Price, Shipping, Warranty, and Guarantee
The Varidesk active mat is available on Amazon and from the manufacturer's own site. Prices and shipping policies are same on both. The smaller sized unit retails for $50 and the larger option for $60. Varidesk offers discounts for bulk orders and more information on this can be obtained by contacting the firm directly. The item is despatched within a week of placing the order and shipping is free within 48 continental states of the US. Delivery to Alaska and Canada can be arranged for an additional charge. Both Amazon and Varidesk offer international shipping and charges and timeframes will vary, depending on the location. The product is delivered in one boxed package and does not require any assembly. Varidesk provides a 30-day money back guarantee on all goods which allows customers to return any item within the time period for a full refund. The unit is subject to a one-year limited warranty which covers damage caused by manufacturer's defect under normal use conditions. If returning outside of the 30-day period, customers will be required to pay the cost of shipping the item back to Varidesk.
The Bottom Line
The moderately priced Varidesk Standing Mat seems like a good deal until you compare it with some of the competitor products on the market. Boasting none of the enhanced functionality that we've seen in many other anti-fatigue terrains, this unit does little more than add cushioning to the floor area. There's an argument to be made that a pair of comfortable and supportive shoes might do more. Experts agree that regular movement is the key to reaping the positive effects of standing while working but unfortunately this item does nothing to encourage physical activity at the workstation. We were particularly disappointed that the manufacturer didn't include any features for stretching, particularly since some of the firm's other mats have better capabilities in this area.
Another very disappointing aspect of the unit is its exceptionally poor warranty. While competitors are happy to hand out lifetime guarantees, Varidesk is only willing to offer a one-year limited warranty and if availing of this, customers are required to pay the return shipping costs. In our opinion, a decent warranty is a sign of the manufacturer's faith in their product and if this isn't offered, it sets our alarm bells ringing. At $50 – $60, this isn't a budget buy so customers should be provided with some security on their investment. Although reviews for this unit are very good, we can't help thinking that these customers probably don't realize how much more they could have got, had they been willing to spend just a few more dollars. Market alternatives such as the Topo Standing Mat and CubeFit's TerraMat offer so much more and both come with industry leading guarantees so that if something does go wrong, the customer doesn't lose out. Had the Varidesk mat retailed for $20 less, it would have qualified as an economy buy and we would have awarded it a higher score, but its current price along with minimum functionality and pretty dismal customer assurance means that we can't go higher than 2.5 out of a maximum score of 5.
Have doubts about Varidesk The Mat? There are lots of good options. As an example, look at our Royal Anti Fatigue Mat review to get a different perspective.
---