Varidesk ActiveMat with Rocker Foot Rest Review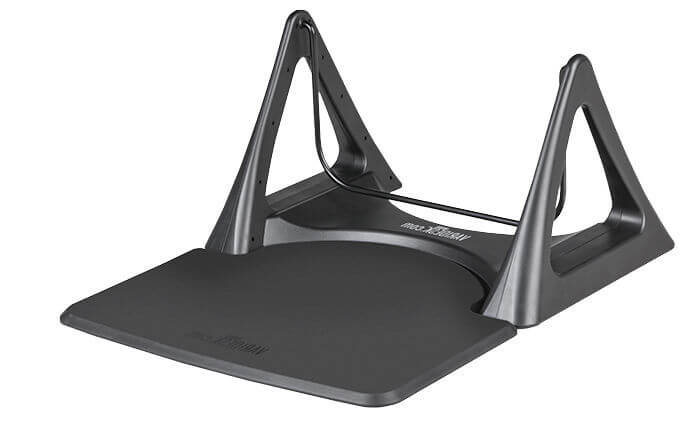 ---
Varidesk ActiveMat Rocker is a two-in-one product that comes with both one of the best Varidesk mats, along with an active rocker it helps to keep the user's legs active periodically during the day. The anti-fatigue desk mat itself is made from a range of quality materials. It is a perfect product to be added under the standing desk in the office, or perhaps to another area, allowing users to experience less fatigue when they have to stand up for a relatively long period.
In addition to the desk floor mat, a rocker is also included easily fits to the standing mat. The rocker was developed to improve blood circulation and to assist in stimulating the user's muscles, further reducing the risk of fatigue and stiffness with prolonged standing.
Varidesk ActiveMat with Rocker Foot Rest
Overview
Price
$125
Material
Rocker: Industrial-grade plastic frame and bar made of steel
Size
28.38" x 35"
Colors Available
Black
Weight Support
up to 220 lbs
Where Produced
n/a
Shipping
It depends on factors such as where the customer buys the mat, as well as the location where the product needs to be shipped. Free local shipping to addresses in the United States is offered by the official manufacturer. International shipping is limited and will incur additional costs.
Warranty
30-day guarantee
Varidesk ActiveMat Rocker Overview
Varidesk ActiveMat Rocker offers a complete anti-fatigue solution for people who wish to transit to a standing desk, as well as for times when the user might find themselves in a seated position. ActiveMat includes a desktop mat that is added to the floor, along with a rocker. The rocker is easily added to the standing mat to provide a way for the user's legs to be active in both seated and standing positions.
Varidesk ActiveMat computer desk mat offers an ergonomic design which is well-suited for the modern office but goes far beyond the user's workspace, offering an excellent solution for the kitchen, at home while watching television, and even when simply browsing the internet on a computer.
Mat Size
Anti-fatigue floor mats often come in different sizes, since customers who might be interested in buying such a product have different sized feet. For this reason, it is often found that a size that works appropriately for one customer may not be as well-suited for the next customer. Unfortunately, this is a particular area where the Varidesk ActiveMat Rocker does seem to be lacking – the product only comes in one single size.
The Varidesk standing mat itself has a surface area of 28.38 inches by 35.0 inches. While this is not as small as some of the other anti-fatigue standing mats that are available on the market, it may not be large enough for some users – especially those who have large feet.
Design
The design of this anti-fatigue floor mat is modern. Varidesk ActiveMat is a flat-type standing mat offers a design that will easily fit with the modern office but still, provide a design that is simple enough for spaces that take a minimalist approach to interior decor. The design offers a dense core, which is important for providing adequate support to the user's feet while they are standing on the desk.
The no-curl edge design ensures the corners of Varidesk ActiveMat always stay flat on the floor, while the fact that the edges are also beveled further helps to reduce the risk of slipping and other issues that customers tend to experience with some competing desk mats on the market.
Guarantee
Customers who decide to purchase Varidesk ActiveMat anti-fatigue standing mat will be provided a risk-free trial period of 30 days. The customer is allowed to purchase the product and use it for an entire month. If the user feels that the standing desk mat is not what they are looking for, ActiveMat may be returned to the manufacturer or supplier for a refund. It is essential to follow the guidelines and terms written by the manufacturer regarding this 30-day guarantee period, however.
The Bottom Line
Varidesk ActiveMat anti-fatigue mat is the complete solution for people who find that standing in front of a desk all day long causes them to fatigue, pain, and other symptoms. This is an exceptional ergonomic mat does not only include the anti-fatigue standing mat itself but also comes with an add-on rocker to help the user stimulate blood flow in their legs and to keep muscles active. The rocker was also designed to be a great addition to seated positions.
While Varidesk ActiveMat Rocker is somewhat more expensive than other desk floor mats we have seen, it is important to consider the overall value that the customer is provided when they do decide to opt for this product. There is also an added 30-day guarantee that provides a risk-free use of the standing desk pad for the first month.
We advise you to check out our Humanscale FM 500 guide in case you don't know if you would like to choose Varidesk ActiveMat.
---