Royal Anti-Fatigue Comfort Mat by Equinox International Review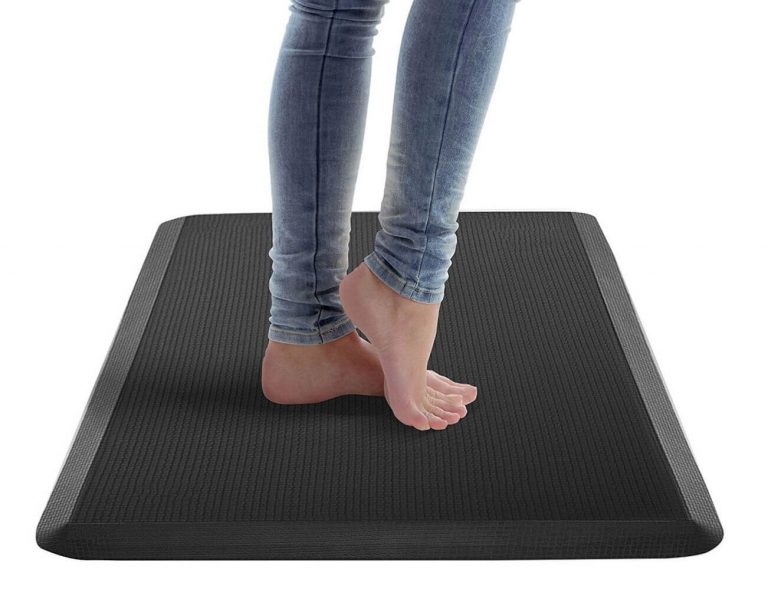 ---
Royal Anti-Fatigue Comfort Mat was developed by Equinox International to provide individuals who stand a lot during the day with a comfortable way to reduce overall fatigue that is often caused by prolonged periods of standing. This anti-fatigue pad focuses on reducing the strain placed on a person's ankles and knees, as well as their feet. This is an ergonomic mat that comes with a range of convenient features that aims to provide the user with a better experience when switching to a standing desk, as well as while the user is conducting other activities that require them to stand up for long periods.
Royal Anti-Fatigue Mat comes in a variety of sizes that the user can select from, depending on the area available beneath their desk, as well as the size of their feet. The anti-fatigue mat is also available in different colors to ensure the decor and design preferences of the user can be met.
Royal Anti-Fatigue Comfort Mat by Equinox International
Overview
Price
$32.99 – $76.97
Material
n/a
Size
20" x 32" / 20" x 39" / 24" x 36" / 24" x 72"
Colors Available
Camel Brown, Sand Beige, Jet Black, Burgundy
Weight Support
n/a
Where Produced
n/a
Shipping
Shipping costs will depend on the marketplace. Different suppliers have their own shipping rates, as well as shipping restrictions. The customer will have to check with a supplier to see if shipping can be arranged to their address.
Warranty
n/a
Royal Anti-Fatigue Comfort Mat Overview
Royal Anti-Fatigue Comfort Mat often shows up when looking at the best anti-fatigue mats reviews – and for a good reason. When compared to competitor options that are currently on the market, this pad has some benefits that the user can surely take advantage of. At the same time, some potential limitations may be faced by some users, especially women. Below, we look at various factors of this comfort floor mat to help readers understand whether this may be a good purchase.
Mat Size
Most standing floor mats tend to be relatively small – especially when it comes to shopping on a small budget. One of the major benefits of the Royal Anti-Fatigue Comfort Mat would be the fact that the client can choose between four different sizes. This options add to the overall convenience that Royal standing mat can provide to the customer.
Royal Anti-Fatigue Comfort Mat dimensions are:
20" x 32"
20" x 39"
23" x 36"
24" x 72"
What this means is that those customers with larger feet will be able to find a size option that can perfectly accommodate the size of their feet, without causing the user to feel restricted in terms of space that is available for them to move around and change position.
The thickness of the standing pad purchased depend on the size that the customer chose during the order process. The larger ones have a slightly improved thickness compared to the smaller options that are available.
Design
This anti-fatigue standing mat has a very modern approach to its design, and the product will fit in with the majority of modern offices, as well as those offices that have a more vintage or antique interior decor. In addition to the modern design with curved edges, the computer desk mat is also available in four beautiful colors. The customer can choose the color that would best suit their preferences while ordering the product.
These anti-fatigue floor mats are available in the following color varieties:
Sand Beige
Jet Black
Burgundy
Camel Brown
All-Purpose Functionality
Another major benefit that these comfort mats can offer the user would be its all-purpose functionality. Even though the product is primarily promoted as a great addition to office settings and commercial spaces, the durable design allows the standing pad to be used in many other settings as well. The product is completely waterproof and exceptionally easy to clean. This makes it a great surface to add to the kitchen, the bathroom, or even in front of the mirror. The lightweight design also ensures the standing mat is easy to carry from one location to another.
Limitations
The customer may find some potential issues and limitations when it comes to using the Royal Anti-Fatigue Comfort Mat. First of all, the best shoes for standing desk mats by Equinox International would certainly not be those with high and pointy heels. The brand states that the standing pad is durable and puncture-proof in most cases, but also makes customers aware of the fact that there is a risk of puncturing the pad when the user wears high heel shoes.
Another crucial factor to consider when it comes to the drawbacks of the product is the fact that no information is provided in terms of a warranty for the product. When purchased from certain online stores or suppliers, the customer may, however, be provided with a protection program that lasts for approximately one month.
The Bottom Line
Royal Anti Fatigue Comfort Mat is one of the best options that a person can opt for when they would like to stand more comfortably, while also keeping their budget in mind. The standing desk mat does not only work great in office settings but also offer a number of additional uses. Due to the water resistance, it is easy to place the anti-fatigue mat in the bathroom – making it a perfect addition for people who spend a lot of time standing in front of the mirror to get ready for the day.
As one of the best desk mats that we have observed, the product is also relatively affordable and comes in different sizes, ensuring a comfortable fit for any customer interested. The product also comes with added benefits, such as the ability to help reduce fatigue imposed by long periods of standing by as much as 40%.
Still cannot decide after reading our review of Royal Anti Fatigue Mat? There's another option you might like: Standing Logic Anti-fatigue Mat.
---