Topo Standing Mat
Overview
Material
100% Polyurethane foam
Sizes Available
26.5" x 29"
Colors Available
Black, blue, green, grey & purple
Where Produced
USA
Shipping
Free on Amazon Prime and through the Ergodriven website
Warranty
7-year warranty covering all manufacturing defects
---
The manufacturers created the Topo Mat with the intention of addressing negative effects suffered by some people when they transitioned from a sitting to a standing workstation. The company claims that when the product is used effectively, it can prevent and treat joint and postural issues and can improve blood flow, balance, and workplace engagement. Ergodriven brought the Topo to the market with a very successful crowdfunding campaign which drew investment from more than 1,000 people and since its launch in 2015, the product has been met with much enthusiasm from customers.
Topo Standing Desk Mat Overview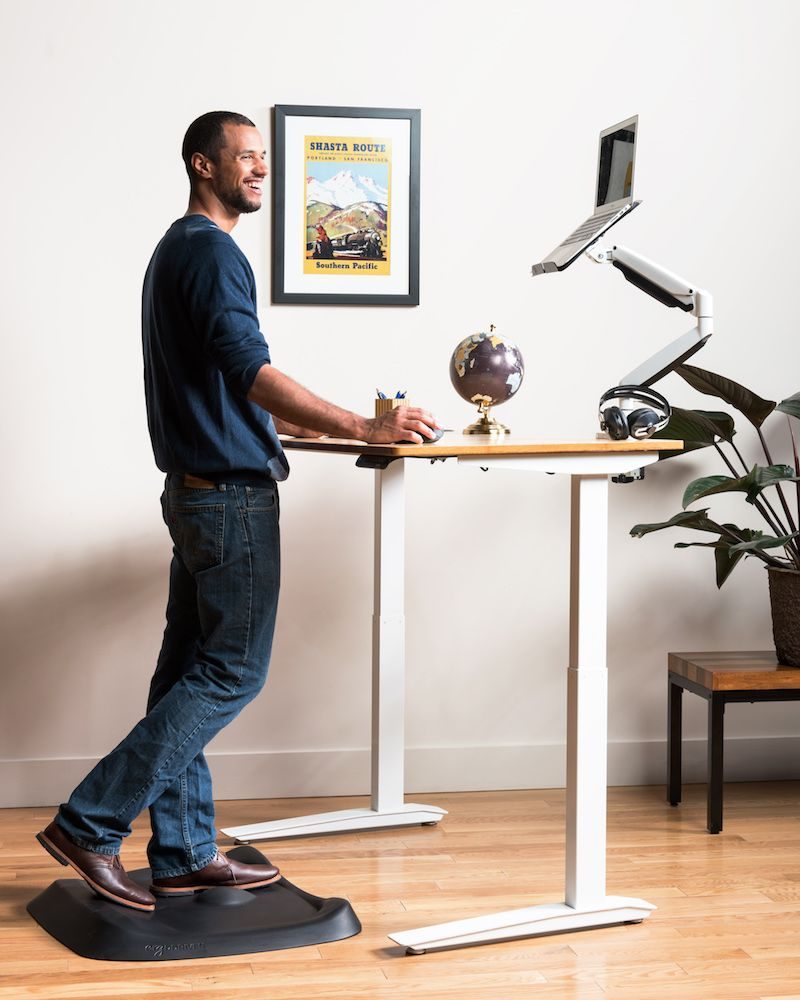 How does the Topo Standing Desk Mat look?
Ergodriven's Topo is one of the more unusually designed anti-fatigue mats on the market. The product is made of environmentally friendly, cushioned polyurethane which can be wiped clean. It is available in four color options; black, grey, green and purple color options and features a pebbled finish which adds interest to the ergonomic design as well as functionality. With dimensions of 26.5 x 29 inches, the unit is almost square and it features a large round protrusion in the center front which is designed to discourage static posture. The mat is raised around the edges and the height is mixed to give an overall effect of varied terrain and provide a natural, textured surface which is pleasant and comfortable to walk on. The designers have attempted to imitate the surface of outdoor terrain in an effort to cultivate natural and intuitive motion and as such the surface is deliberately uneven.
Generally speaking, the Topo floor mat is no more obtrusive than any standard flat desk mat. Despite its original and unorthodox design, from a distance, there is nothing about the product which will make it stand out too much and it will fit in well in almost any office environment. It is worth noting that at its highest point, the surface is 2" meaning that prospective users, particularly taller ones should ensure that their workstation will be able to accommodate this extra height before purchasing. Ergodriven also offers a smaller version, the Topo Mini which has a surface area of 25.2" x 19.2" and at 4lbs, weighs half as much as the standard model. The Mini is recommended for users of 5'4" or shorter.
How Does the Topo Anti Fatigue Mat Perform?
Topo mat reviews are very positive across a variety of sites. Customers report that the cushioned polyurethane material provides excellent comfort throughout the day and gently but effectively encourages users to move their feet and vary their posture throughout the day almost without even realizing that they are doing so. The manufacturers tell us that the varying heights and protrusions on the mat cause the human brain to intuitively move the feet around to stretch and explore the surface and reviews confirm that the product does significantly increase exercise. The raised front and back of the surface successfully promote and assist movement with a focus on stimulating blood circulation in the calves. After using the Topo for a number of weeks or months, customers report a reduction in back, neck and joint pain and increased energy levels.
Many reviews also note that the pebbled surface is exceptionally comfortable and pleasant to walk on, even when used barefoot. An additional positive feature of the product is its polyurethane foam material which contains no toxic materials and is environmentally friendly. In response to customer feedback, The mat has been designed to be easy to maneuver requiring just a foot to slide it in and out from under the desk. Unlike other similar products, there is no need to bend down in order to adjust the position and the sliding feature works on both hard and carpeted flooring.
Some reviewers have commented that the small size of the Topo and its raised edges can cause a slight inconvenience when stepping off the surface (for example to take a phone call or to make notes). However, most people note that it is easy to get used to this. The wipe clean finish of the mat is convenient for day to day use but a number of reviewers have observed that the pebbled effect can make it more difficult to clean than its flatter counterparts. Others have noted that like many polyurethane products, the unit has quite a strong rubbery smell which eventually fades after a few weeks of use.
Topo Standing Desk Mat Price, Shipping Returns, and Warranty
The price of the product has varied over recent years and it is not by any means the cheapest anti fatigue surface on the market. It currently retails at $99 on Amazon but in the past it has sold for $199 and $120 at different times. Ergodriven ships the Topo standing mat for free within the United States through their own site as well as through Fully and Amazon and prices may vary depending on the site.
Most customer reviews report receiving their mat within one week of placing their order and describe positive interactions with Ergodriven when this was necessary. The mat is delivered in one package with dimensions of 36" x 28" x 3" and a weight of 9lbs. It is covered by a 30-day guarantee period during which exchanges and returns are completely free to customers. After this period has expired, the product has a 7-year warranty which covers manufacturing defects but does not include any damage that is caused by misuse, abuse or improper usage. Since the Topo can be dispatched through a number of different retail sites, customers should be aware that the returns policy may vary, depending on the source site but that the warranty cover will apply no matter which retailer the mat was bought from.
The Bottom Line
At its price Topo represents a moderate investment but in return, users are getting an innovative, thoughtfully designed and unique product. There are very few negatives in any of the reviews online but one customer complaint is the slightly small footprint area. Ergodriven notes that customers weighing in excess of 240lb might not benefit as much from the Topo as lighter users since it may not offer sufficient support and cushioning. They also advise that taller users (above 6' 5") may find the surface a bit small. The firm would do well to consider bringing out a jumbo-sized mat to facilitate these users as well as those who need to navigate bigger desks and who would benefit from an enlarged footprint area.
All things considered, the Ergodriven anti fatigue mat is an excellent product. Although there are cheaper options on the market, the price tag is reasonable when we take into consideration the unique and innovative design and the huge amount of research that went into the development of the product. Additionally, the durability and sturdiness of the unit suggest that customers can expect their Topo mat to be in perfect working order for many years, making it a secure and safe investment for the future. We would have almost certainly awarded the Topo Ergodriven with a perfect score of 5 were it not for the slightly small size and the weight restrictions of the product. With this in mind, we'd like to see an Extra size model brought to the market so that all users can be accommodated. Nevertheless, there isn't much more we can complain about and we've scored the Topo, an impressive but well-deserved 4.5.
Still cannot make up your mind after reading our review of Topo Standing Mat? There's another solution you could find interesting: Varidesk The Mat.
---