TerraMat by CubeFit Review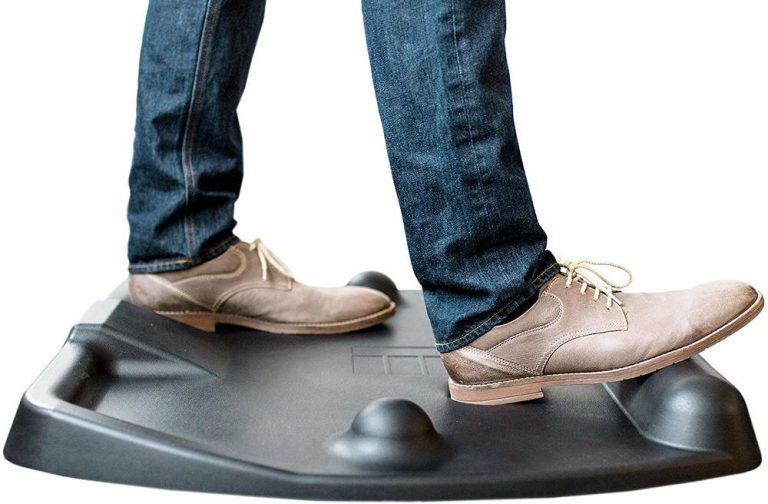 ---
Cubefit's TerraMat is an ergonomic anti-fatigue pad designed specifically for standing desks and introduced to the market in 2017 after a very successful Kickstarter campaign which raised more than $100,000. Co-founder Gerald Zingraf designed the product after suffering from leg problems while using a standing desk. The product surface is made of thick, durable and supportive polyurethane and features a number of 3D protrusions including massage mounds, peaks, a balance bar and a power wedge, all designed to subconsciously encourage constant movement. These help users to stand for longer and to feel more energized throughout the working day while burning calories and preventing fatigue. The high quality and durable cushioned surface of the product is comfortable for standing on and the massage mounds allow a quick foot massage during the day. The product supports more than eleven different standing positions and its wedge design helps to stretch calves, feet, and legs. In addition, the balance bar at the front of the unit supports core exercises meaning that users can increase their fitness and tone up at their workstation. The TerraMat is available on Amazon with a current price tag of $93.99 and ships for free.
TerraMat by CubeFit
Overview
Price
$99.99 on CubeFit, $93.99 on Amazon
Material
100% Polyurethane
Sizes Available
One size only – 30.5" X 27.5"
Colors Available
Black Only
Where Produced
USA
Shipping
Free with Amazon
Warranty
Lifetime Warranty
Cubefit TerraMat Standing Desk Mat Overview
---
How does the TerraMat Standing Desk Mat look?
Available in one size only, 30.5" X 27.5" and with a height of 3.5", the black TerraMat is a compact and unobtrusive addition to the office workstation. It is on average 60% thicker than similar products and as such may require users to adjust the height of other office furniture to accommodate the additional height. The product's curved surfaces and rounded edges give it a contemporary appearance and the multiple 3D protruding features which are spaced evenly across the unit are largely invisible from a distance. The front of the surface features a long, cylindrical balance bar running the width of the product. This has textured pressure peaks in its center and is designed to support core balancing exercises.
There are two massage mounds to the right and left of the center of the terrain and these allow users to massage their feet during the day. The rear of the surface has a power wedge and support track which facilitates leg stretches and power stances. The thick and durable Polyurethane material is slightly shiny and may become more so with use. The product can be easily wiped clean, vacuumed or mopped, allowing it to look good for years to come. The manufacturer has also recently introduced a smaller version of the product to the market, the TerraMat lite which is compact and light enough to be easily moved around from location to location.
How does the Cubefit TerraMat Perform?
The TerraMat CubeFit encourages users to burn more calories by moving while working and hundreds of positive TerraMat reviews on the Amazon website testify to customers' positive experiences in using the product. The combination of the soft, springy and supportive terrain with the clever 3D features ensure that standing still on this terrain is the last thing that users will feel like doing. The surface is designed to keep users moving continuously throughout the day without even realizing that they are doing so. Continued use of the product leads to improvements in fitness and weight loss, a reduction in joint and muscle pain, and helps to avoid workplace fatigue which can be caused and exacerbated by sitting or standing still for long periods of time. A handy feature of the unit is that it can be easily maneuvered or repositioned using just a foot on carpeted and hard floors. This means that users don't need to bend down to move the mat and makes it easy to push the unit under the desk when it is not in use.
CubeFit's TerraMat provides a generous flat area for standing on, meaning that while users are encouraged to move naturally, there is also enough space to stand still. A unique addition, the balance bar, is exceptionally effective and easy to use, allowing users to focus on toning the core area as well as feet and legs. The 3D massage mounds are a nice addition and reviewers report using this function while sitting as well as standing. However, some customers complain that these are not quite firm enough and that they give in a little too easily when pressure is applied. Finally, the power wedge and support track features to the rear of the unit offer great opportunities for stretching calves and feet and enable power stances on the mat. TerraMat reviews are overwhelmingly positive with users reporting great improvements in energy levels, enhanced productivity and relief of back pain. The unit allows people to use standing desks for longer while avoiding some of the negative effects associated with long periods of standing in a stationary position. Many reviewers report excellent experiences in using the product barefoot as well as while wearing shoes. Because the surface is significantly thicker than other anti-fatigue terrain mats on the market, it is worth noting that it could potentially be a trip hazard and some users have reported tripping while stepping on or off the unit. For this reason, users are advised to store the product under the desk and out of the way when it is not in use.
Price, Shipping, Warranty, and Guarantees
CubeFit's TerraMat is available from the manufacturer's site directly at a cost of $99.99 (reduced from a previous price tag of $199.99) GetCubeFit also offers an additional 10% discount on the product through their own website. Shipping is free within the continental United States and the product is covered by a lifetime guarantee which allows customers to return the unit at any time for a full refund. The product is also available with free delivery through Amazon for $93.99. Orders are shipped within a week and the product arrives fully assembled with instructions. In addition, the manufacturer has produced a number of handy videos demonstrating how the mat can be used.
The Bottom Line
Cubefit's holistic approach to ergonomic design means the firm's products have some of the most unique and innovative capabilities available on the market. The 3D features of this unit really make it stand out from competitors' products and the TerraMat is suitable for all standing and adjustable desk users. What it is really unique about this product is the way that it caters just as well for passive users as it does for advanced fitness freaks. Whether you are just looking to improve your energy levels and burn a few extra calories at work or perform a variety of complex stretches and core toning moves in the office, the TerraMat can accommodate you. The manufacturer's lifetime guarantee on the product means that there is absolutely no risk and the price tag is pretty reasonable for a product which boasts some of the most advanced functionality on the market and literally hundreds of positive reviews.
However, we did identify a couple of areas for improvement; the massage mounds on the surface could definitely be firmer and it does seem a pity that CubeFit doesn't make the unit in any other color than black. We'd also like to see some more size options. The TerraMat Lite is smaller and lighter but it doesn't have the same 3D functionality and so it's not really a substitute for the full-size version. We did also note customer comments about the height of the unit and its potential as a trip hazard. That said, these are minor gripes and on the whole CubeFit's anti-fatigue mat has a lot going for it.With free shipping, a lifetime guarantee, outstanding performance and a very reasonable price tag, it's hard to find a reason not to invest and that's why we've scored the product with 4 out of a possible 5.
Like TerraMat? You may as well want to check out the Topo Standing Mat guide.
---