EBSCO Industries Adjustable Height Flip Top Table Review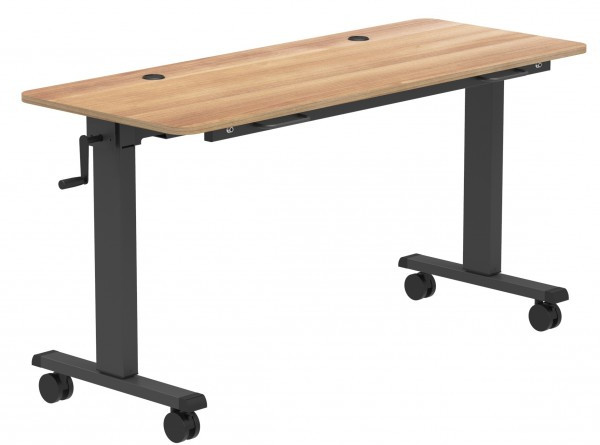 ---
The Adjustable Height Flip Top Table made by EBSCO Industries, Inc. is a meeting table which offers users the flexibility of adjusting its height to make it a sitting or a standing conference table whenever they want. The standing position of the desk allows them to burn calories as they stand and work along with increasing their energy, efficiency, and productivity. The product has a strong steel frame with a high-quality wood tabletop. A hand crank at one side of the conference table allows users to change the height according to their preferences. It can easily accommodate from two to four individuals, 4 laptops, and other supplies. The larger sized meeting table can accommodate up to 6 users sitting or standing at the both sides and their corresponding supplies. The Flip Top table offers a cable management through grommet holes. The standing desk can easily be relocated anywhere through the quality locking casters. The tabletop can be flipped so that it can be stowed away when not in use. All these features allow great mobility, flexibility, and practicability for users whether at home or office.
EBSCO Industries Adjustable Height Flip Top Table
Overview
Price
Starts at $399
Lift Type
Manual hand crank
Material
Steel frame finished in silver powder-coated paint, tabletop made from particleboard core HPL with PVC edgebanding, Black plastic end caps, and Black nylon dual-wheel standard casters
Sizes Available
60" x 24" (152.4cm x 61cm), 72" x 30" (182.9cm x 76.2cm)
Colors Available
Black Frame with Natural Walnut Top, Black Frame with Teak Top
Weight Capacity
150 lbs (68 kg)
Manufactured
USA
Shipping
Standard shipping charges apply based on the destination address
Warranty
Lifetime warranty for the steel frame whereas 2-year warranty for the conference table's top and adjustable height manual mechanism
Review of the Adjustable Height Flip Top Table
---
Specifications
EBSCO Industries Adjustable Height Flip Top Table is a good-quality sit-stand table which offers users varying height levels which can be adjusted according to their requirements. The height adjustable desk comprises a steel frame which is finished in silver powder-coated paint. The tabletop is made from particleboard core HPL with PVC edgebanding. It has black plastic end caps and black nylon dual-wheel standard casters that offer easy mobility and relocation. This height adjustable conference table comes in two sizes. The dimensions are 60" x 24" (152.4cm x 61cm) and 72" x 30" (182.9cm x 76.2cm). Both conference tables have a maximum weight capacity of 150 lbs (68 kg). The 72" desk is big enough to accommodate 3-6 users with their laptops and other accessories whereas the smaller size can accommodate 2-4 individuals. If there is a need in gathering more people together these desks can be easily grouped together. This flip top desk comes with a crank handle that can be fixed on either side of the sit stand table. To adjust its height, users just have to use this handle which requires minimum effort. The tabletop can be flipped when it is not in use. This helps storing them compactly. The product also features locking caster wheels which allow it to be moved easily from one place to another.
Appearance and Maintenance
The Adjustable Height Flip Top Table possesses a simple design with strong construction. It comes in two different colors. Both types have the same black frame, but the tabletop has different color options namely Natural Walnut and Teak. The steel frame is strong and sturdy which ensures the table's durability. It has a powder-coated paint finish. The tabletop is made from HPL which makes it easy to clean. Due to the top's flipping feature, the meeting table can be stored away when not in use. It takes very less space and is easy to move around owing to the wheels on its base. The table comes with an installation guide and other support documents which describe in detail how the desk is to be assembled before use. They also describe all maintenance instructions and solutions to problems that users might face while using this table. Although the table is not very aesthetically pleasing, the desk flip and height adjustment feature makes it a very useful and practical product.
Assembly and Accessories
EBSCO Industries Adjustable Height Flip Top Table is a sit-stand desk that allows users to adjust its height according to their requirements whenever they want. When it is received from the manufacturer, it is unassembled. The package contains the table top, the steel frame elements, the hand crank, and all the nuts and bolts required to secure the conference table together. The package also contains the installation guide which describes in detail all the steps required to assemble the table. The step-by-step instructions are clear and easy to follow. Once the desk has been assembled, it can be used by adjusting the height to a particular level. When its height has to be changed, users just have to use the crank handle to adjust the height to their desired level manually. This conference table can be used with different types of chairs to enhance one's experience. Other accessories that can be used with this table is an anti-fatigue mat or a balance board.
Packaging and Shipping
The Adjustable Height Flip Top Table is a versatile sit-stand desk which height can be adjusted manually by the users. The shipping dimensions depend on the size of the table ordered. The shipping weight of the 72" desk is 111 lbs (50 kg). The shipping package contains all the table components in the unassembled form. All the things required to assemble the product are included in the package. The package contains the user instructions, installation guide, and other support documents. The manufacturer offers same-day shipping to all states of the USA. However, shipping is not free and depends on the exact destination and state to which it is to be delivered. International shipping is not offered for this type of flip top desk. Customers also have to contact the manufacturer for the type of warranty and support offered in their particular state and city.
Benefits of the Adjustable Height Flip Top Table
The adjustable height flip top table offers a number of advantages and versatility to its users. It is one of the standing conference tables whose height can be adjusted to make it a sitting or standing desk on choice. The standing desk is quite strong and durable and comes in 2 different colors. Its height adjustment feature, although, manual is quite smooth and does not require much effort. The adjusted height can then be locked to that particular level. By standing during work or meeting, users are able to incorporate some physical activity into their stationary routines. This helps them feel energized, burn calories, and increase their productivity. They can improve their blood circulation and consequently, their general health and fitness. The two different sizes of the meeting table can easily accommodate 2 to 3 individuals along with their laptops, notes, and other supplies. The tables come at quite reasonable prices when compared with their counterparts.
The Bottom Line
The Adjustable Height Flip Top Table is one of the cheaper versions of sit-stand desks available in the market today. It features a manual height adjustment system through which users can adjust the height themselves with minimum effort. The desk can be used in offices, home, or schools. It offers a wide surface which can easily accommodate laptops and other supplies. Its top can be flipped when not in use. This helps in conserving space and allows for easy storage of the table. The wheels at the base of the conference table allow it to be moved easily anywhere. The table also allows for a considerable range of vertical height adjustment. However, the table might not be convenient for very tall individuals as the highest level might still be too low for them while standing. But the price at which this table comes, it can be considered a good choice. Although this table is not as versatile, attractive, and durable as Synapse Adjustable Height Conference Table, it gives good value for the money in which it comes.
---