If you already know about standing desks, you have found out that they are not really cheap as you thought it would be. While other more affordable options like stand up desk converters that can be used on standard table can cost about $150, most adjustable standing tables can cost $500 and up. However, as height-adjustable desk options drop in price, there are other DIY desk ideas one can use to save money and achieve the goal of getting an adjustable workspace.
Why Building Your Own Standing Desk?
---
There are so many reasons that back up building your own standing desks solution, but the reason is mainly to save money. Other options might cost even more than the main sit-stand desks you can buy but most people decide to go with it due to the touch of personalization one can add to it. For example, if you want to build a standing desk or better yet a height adjustable desk, you can use colors, materials, set a unique height of the desktop or custom finishing. You also have the advantage when it comes to situations where office rules or home capacity can't contain a certain size of products.
What to Consider When Making A DIY Standing Desk
---

Before you can start working on your DIY desk designs, there are certain factors you need to put into consideration. The factors can include the cost of building the product, the ergonomics behind it and also the height adjustment.
Cost of building the product – When building a DIY standing desk one should know that these products are becoming cheaper in the market. Depending on its uses and the supplies needed to build one, you can actually cut cost or save money even on DIY standing desks by purchasing a stand-up converter.
Ergonomics behind it – Most manufacturers invest and make sure that research is carried out on the ergonomics behind their products. This means that they can go at any length of research to find out the best comfortable and right posture height to implement on products like sit-stand conference tables. When adopting a DIY method, these tiny details can be overlooked.
Height adjustment – when considering a DIY standing desk, transitioning from sitting to standing and back is very important. Not all ideas we give on this article are adjustable. While making a standing desk is the goal, most people can not sustain standing for a long time. Building a transitioning table should be put into consideration if you fall into this category.
The Best Inspirational DIY Standing Desk Ideas
---
If you are a DIY enthusiast or someone who doesn't mind going a few extra miles to create something, you will be intrigued by these Inspirational DIY ideas to build a DIY standing desk.
Cardboard Standing Desk Converter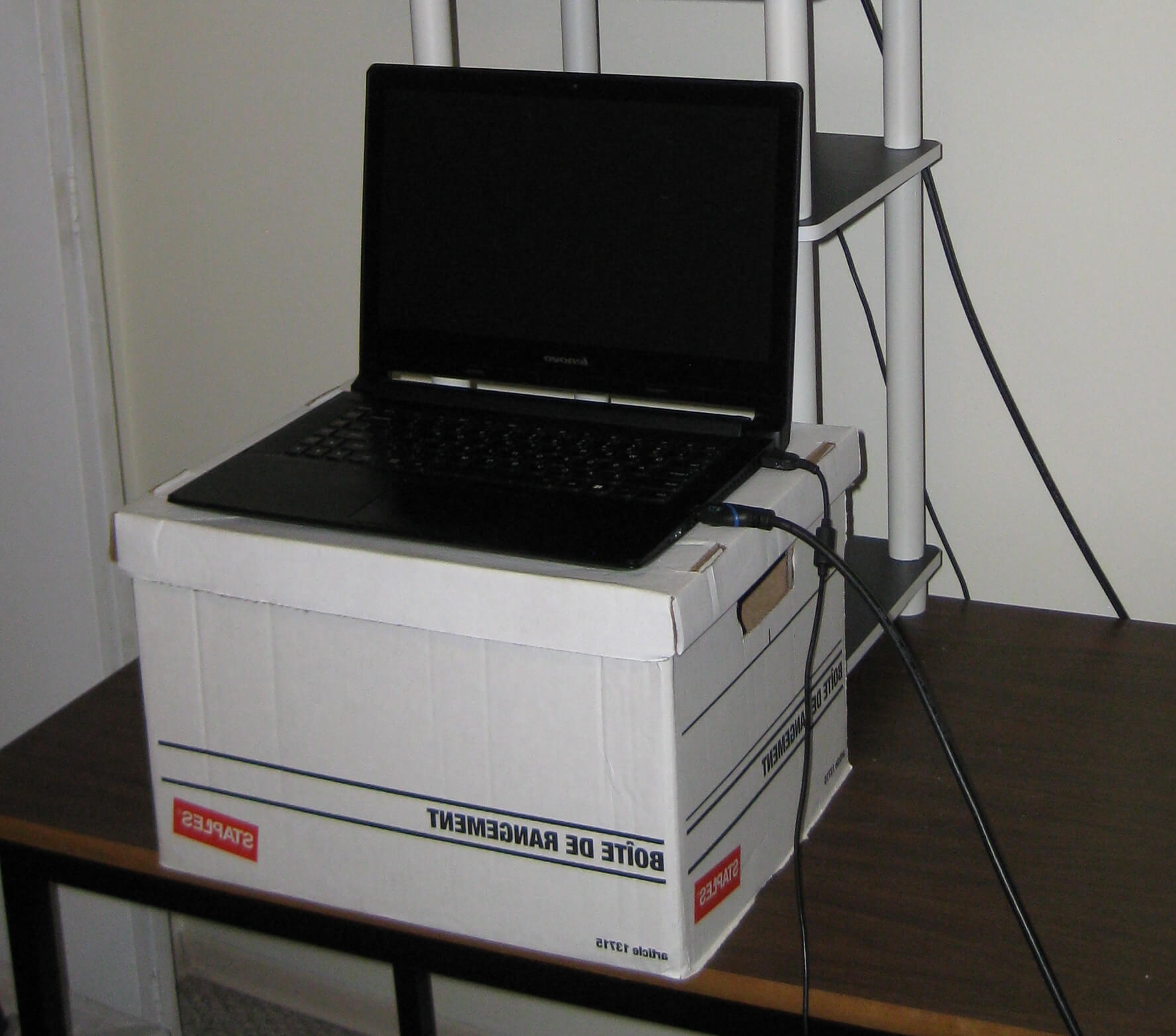 This DIY solution is probably the easiest and the cheapest in current list. The idea is simple enough, so anyone could use it no matter what DIY skill level they have.
Pros of Cardboard Converter
We love this idea just because it is easy to make, cheap and virtually anyone can get their hands on cerdboard DIY standing desk. When people see the word "DIY" around the internet, they start speculating on the process as "being too hard" meanwhile building a standing desk like this proves their theories wrong. This sit-stand converter just takes about a couple of cardboard boxes that rises your sitting workspace to a standing one.
Cons of Cardboard Converter
This sit-stand converter is made out of entirely cardboard. Cardboard, as you know, is in no way durable and also the stability of this DIY standing desk is in question. Also, people buy sit-stand converters because of their beautiful designs so using this idea won't please anyon's eye, except you do some creative finishing.
DIY Standing Desk Converter with Storage Space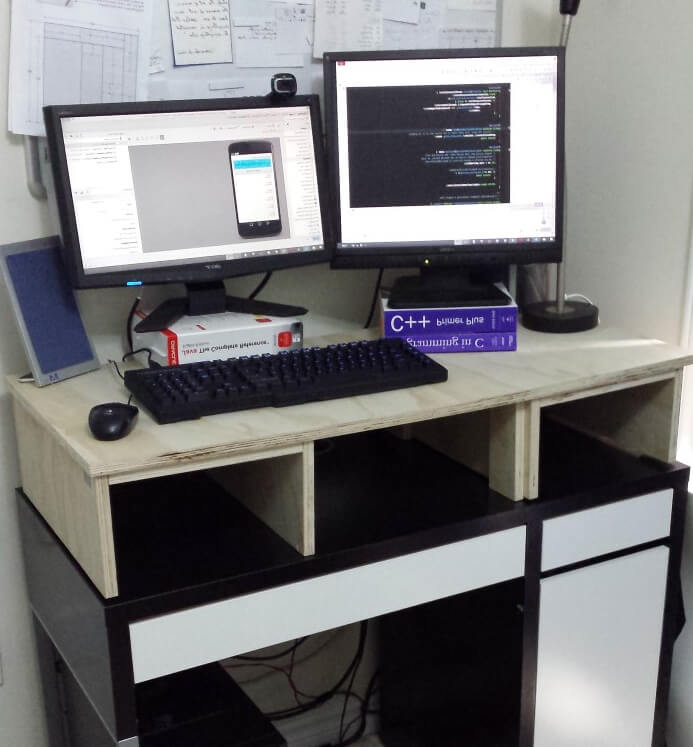 This DIY project is one in which you can easily tackle at home. It is simple yet can go a long way to being an effective table converter. Unlike most converters, it is not a DIY adjustable standing desk converter. However, this DIY product has an extra storage unit which can come in handy every time.
Pros of Converter with Storage Space
This project is at the DIY level "basic". They are projects in which you can try easily at your comfort. The only material you use in making this standing desk is plywood and few tools:
hammer,
nails,
glue
and screws
You can also add finishing touches to your DIY project beautifying it your satisfaction. This DIY standing desk converter can also be removed at any time.
Cons of Converter with Storage Space
What we didn't like about this DIY desk idea is that it is not adjustable. Although the product can be removed at any time, it comes off as a huge pain in the ass when you want to switch during the day from sitting to standing positions. However, you can solve this problem by converting only one half of your current table to a standing one then the other half can serve as a sitting table.
A Distinctive DIY Adjustable Standing Desk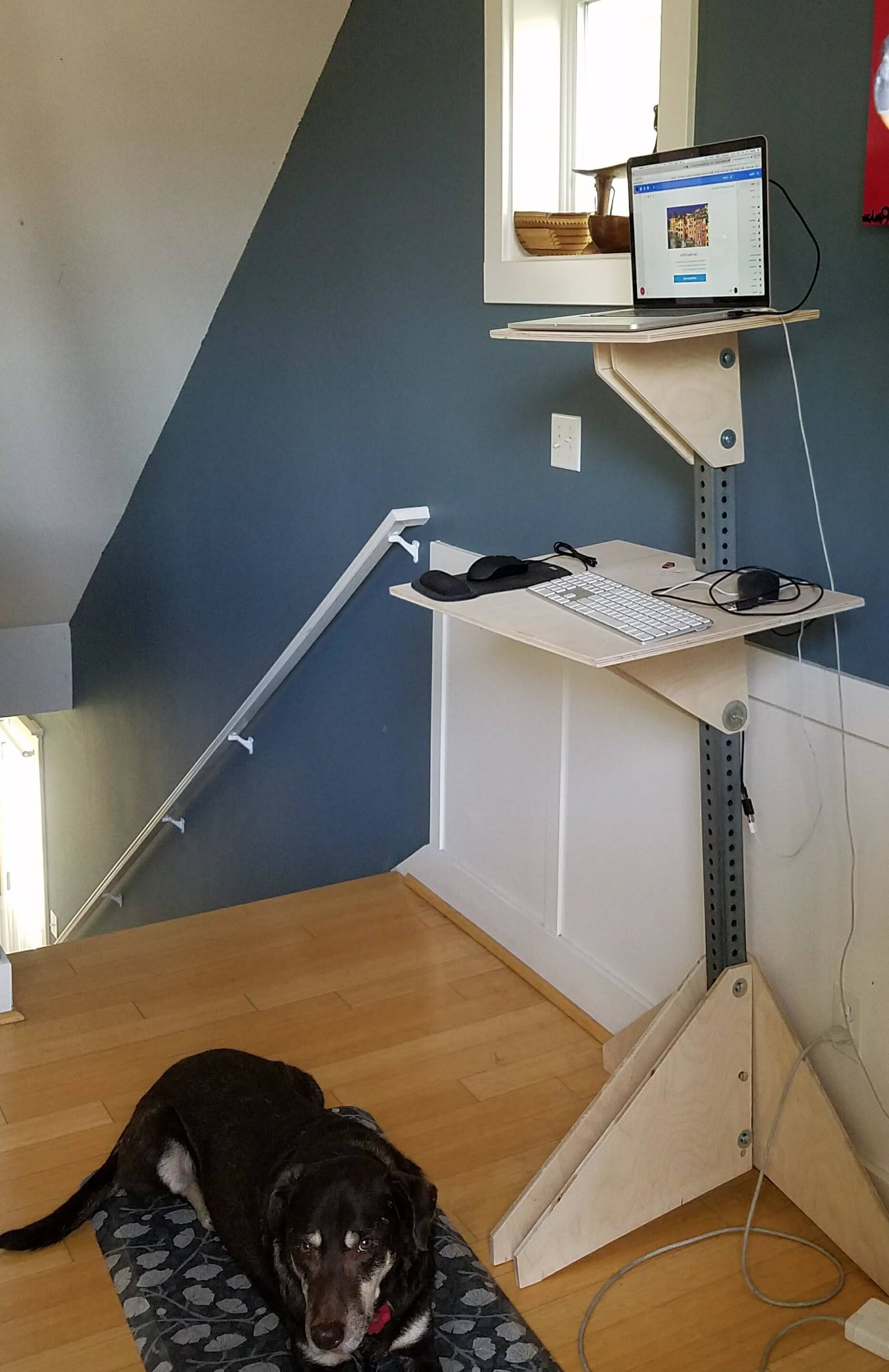 I would start first by acknowledging the original designer of this DIY standing desk. One of the most widespread problems when building your own standing desk is the ability to make it adjustable. The unique design of this idea makes it very easy to solve that problem while taking only a minimal space.
Pros of Distinctive DIY Adjustable Table
Unlike other DIY standing desk ideas, this idea does not take up much space. This structure can be placed up against the wall at the same time it would not take up much room. You should give this project a try, using a center pole made out of metal for structure and plywood to construct a shelf for the monitor and a tray for the keyboard and mouse. This feature gives you the advantage of having an adjustable ergonomic keyboard tray.
Cons of Distinctive DIY Adjustable Table
If you are a person who likes keeping papers or documents around your workspace, this standing desk idea is not meant for you. This DIY standing desk idea looks minimalistic in design, and it is perfect for simple workstation setups. Another feature that is in question when it comes to this DIY standing desk is its stability. It's design structure can hold a laptop, a keyboard, and a mouse but it doesn't look stable enough to hold a desktop computer.
Fixed Height Standing Desk
The video  above teaches you how to build a semi-adjustable standing desk with minimal tools. It lays out how cheap and easy it can be to build a DIY standing desk from scratch if you are familiar with a few power tools.
Pros of Fixed Height Standing Desk
This design is probably the easiest and cheapest way to build a fixed height table. Finding places to get the equipment won't seem like a hard task because you need to get probably plywood with piping and lumber materials to create this standing desk idea.
This project is semi-adjustable because it can be adjusted, but unlike regular adjustable tables, it's height can't be adjusted easily. However one can buy different sizes of pipe fittings to adjust the standing desk to suit their needs.
Cons of Fixed Height Standing Desk
The number one problem with this project is that it lacks keyboard trays, but you can make a separate keyboard tray or attach an adjustable monitor screen to solve this problem. Also when it comes to stability, this DIY standing desk seems to quiver especially at maximum height. Adding a crossbar can help quickly solve this issue.