15 Best Standing Desk Converters of 2021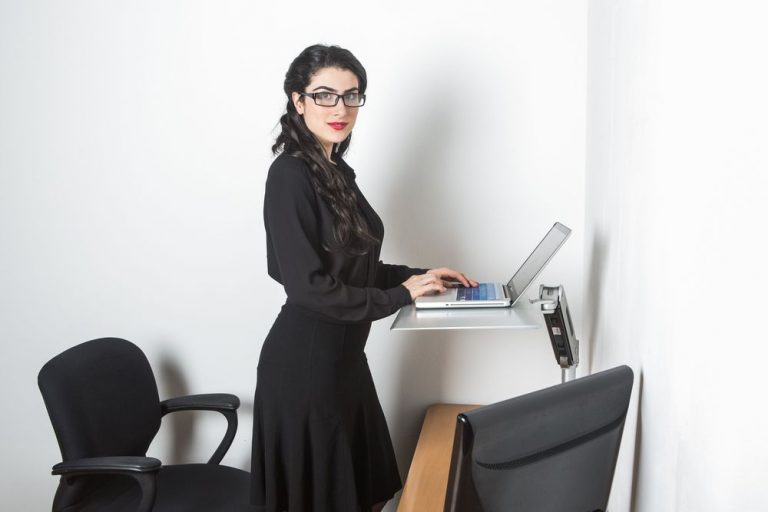 Have you ever heard about adjustable standing desk converters? No? Instead, for sure you know the fatigue that comes after a workday at your office desk. Back and neck pain? Getting tired soon? Cannot focus on your work already in the morning? Chances are these are the side effects of prolonged sitting. When you stay in your chair for hours, your body gets huge stress. You start feeling your legs numb. Your neck aches. Then you get a severe headache. How to focus on your work when your head is blowing up with pain? And this is just a part of signals that your sitting lifestyle already affects you. You need a change because soon you will get more and more unpleasant symptoms.
The best you can do is to move more, take breaks every hour, and alternate sitting and standing during the day. A good standing desk or a treadmill workstation can help with that. They are designed to make you move, change positions, and feel better and more comfortable in general. Though, not always there is a possibility to buy a standing desk. Some people don't have enough room for another table, some are not ready to pay 400+ dollars, some constantly move from one office to another, some are still not sure about a standing workstation. If this is your case too, pay attention to standing desk converters. A standing desk converter is a mini standing desk. This is a device that you can put on your desk to move your workstation up and down. And it can be a life-saver for you if you want to alternate sitting and standing during the workday.
---
How do we review height adjustable standing desk converters?
Choosing your best stand up desk converter may be a bit overwhelming. There are so many options on the market! Don't make your choice based only on the looks of these or those desk sit-stand desk converters. Good-looking models are not always the best standing desk converters.
Same as a standing desk, a converter is one of the things that influence your work efficiency. It must be ergonomic, comfortable, useful, and beneficial for health. All in one. We are here to help. And to save you days and even weeks on browsing and choosing the right one. To find the best standing desk converters and provide you with accurate standing desk converter reviews, we have developed a detailed evaluation procedure to analyze each and every product in a complete and thorough manner. Before suggesting to you these or those adjustable standing desk converters, we study all product reviews made by trusted editors and real users, then get the best products and test them to a tee.
Safety & Comfort
Material quality
Stability
Lift Speed
Сonformity with hygiene norms and standards
Ergonomics
Design
Customization options
Range of Height Adjustment
Size and color variety
Trust score
Top editors' reviews of best standing desk converters
User reviews
Clients surveys
Autonomous tests
Price
Quality-price ratio
Price-warranty ratio
Delivery
Packaging
Assembly and installation
Support
Such a complete analysis gives us the possibility to deliver reliable standing desk converters' reviews. Naturally, we also take into consideration the particularities and unique features of each adjustable height standing desk converter.
Types of standing desk converters
The variety of desktop converter' heights, functions, designs, and upgrades is overwhelming. So, before you choose your best standing desk converter, take a look at the main types of them that are offered on the market. It will ease the choice for you and save a lot of time. First, let's take a look at two main types of adjustable standing desk converters.
Manual Desktop Risers
These are manually operated standing desk converters. The main con of the desks of this type is that it is all mechanical; no electronics to help you move it up and down, and no extra customization. Though, it is also a pro as you don't depend on any power source and can carry your manual desk converter anywhere. Also, such products are a budget solution. An excellent, low-cost option for a lot of people.
Electric Desk Lifts
This kind of adjustable stand-up desk converters utilize an electric lift mechanism to change the height of the work surface. Due to the built-in electric units, they offer hassle-free transitions, more functionality, adjustability, and customization options than any manually operated desktop converter. Sizes and finishes can vary and most models allow users to preprogram multiple height preferences.
Further, there is another classification of standing desk converters. It is based on the shape type. Here is the list of five major shape-based kinds of stand-up desk converters:
Z-Lift
This is a basic desk for laptops, light, and portable. Perfect for on-the-go users. Z-shaped standing desks are often mechanical. So, chances are you will have to adjust the height manually. Also, they are not built to carry heavy loads. Opt for it if you need just a laptop for your work.
X-Lift
These standing desk converters have an X-shaped support frame. Due to such a shape, these risers can support heavier loads and provide excellent stability. A great choice for on-the-go users with laptops.
Post & Base
Best standing desk converters for tiny tables. This type was designed to turn your small desks into a spacious standing desk. They can support a monitor, keyboard, and mouse. What is great about post & base standing desk converters is that being small, they provide you impeccable stability.
Corner Standing Desk Converters
These are made to easily fit in corners. Usually, they are very stable and can support a big load. The best choice if you are looking to use every inch of your standing desks and space in general.
Hover
Such desk converters are a combination of monitor arms and a workspace attachment. They provide more space and look good. The con is that many of them are not that stable as the other types.
Top 15 Best Standing Desk Converters
---
Reasons to buy a standing desk converter
Without a doubt, there are dozens of health and practical reasons to buy a standing desk converter. By maximizing employee comfort without the huge costs (such as a sit-stand workstation), why wouldn't you need one? However, these ergonomic pieces of equipment may not necessarily be for everyone. To help you determine this, we have a list of pros and cons to consider before you purchase a unit.
Pros:

Ergonomic and Health Benefits. As mentioned above, ensuring appropriate ergonomics in the workplace is vital for injury and pain prevention. For office workers who are constantly sitting, poor posture can lead to a lot of stress and tension through various parts of the body such as the wrist, neck, and back. As a registered physiotherapist, the number of clients complaining about occupation-related pain from workday habits are staggering. Looking after the well-being of employees and workers will only seek to improve occupational productivity.
Being environmentally friendly. Purchasing a standing desk converter is much more economical than other options such as standing desks or sit-stand workstations. Because these converters are simply placed on top of the existing desk, this means that it can be reused, unlike other traditional products that require you to replace older office furniture. If you have in-built desks or heirloom furniture, this would be vastly more appropriate.
Cost-effective. Standing desk converters are undeniably more cost-effective than other products such as adjustable standing desks, which can cost workplaces thousands of dollars. Of the thirteen standing desk converters reviewed here, they range from $149 to $679. This is very reasonable when compared to sit-stand desks that can cost $1000 and more.
Mobility. Standing desk converters are more mobile than standing desks, have smaller dimensions, and weigh substantially less. Especially if you're using mobile electronic devices such as tablets or laptops, portable variants such as the Ergotron Ultra Slim would be a no-brainer.
Cons:

User Compliance. As effective as these desk converters are, it's up to the user to ensure that they are utilizing it the right way. Even whilst standing, you might still find yourself leaning or slouching over the screen. Ergonomics don't prevent aches or pains but are a tool to help reduce bad habits. A conscious effort on behalf of the user must be made to ensure appropriate posture and physical activity is being performed. Don't buy one if you don't take full advantage of these converters.
Bulkiness. If you're worried about how much room there is on your workspace, you might want to reconsider. Unless the converter has a hover design, it will take up a substantial amount of room on the existing desk. For users who need to work with a lot of paper documents and stationery, having a standing desk converter may be cumbersome. Individuals may find themselves working in a messier environment.
Sturdiness. Due to the design and structure of standing desk converters to counterparts such as sit-stand tables, they are less sturdy than their counterparts. More mobile equipment tends to also be less stable. One of the most common complaints we found in this review was the unstable keyboard trays. Overall, users will find that the standing desk converters will be less stable than their standing desk competitors.
Consider a standing desk
Adjustable height standing desk converter is a good option for you if you don't have enough space for a proper electric standing desk, or migrate from one office to another, or mostly use just a laptop, or just freaked out by the standing desks' price. It will help you to easily go from sitting to standing, acquire new healthy habits, reduce fatigue, and, actually, they will also help you to organize your compartment in a more efficient and comfortable way. Though, if you can get yourself a good standing up desk workstation, go for it.
A proper standing desk provides more space also for those who use a big or a dual monitor, printer, phone, and other devices daily. It also provides more comfort to the users. Standing desks are way more stable than a converter as they provide support to your elbows and hands. Due to the add-ons like an ergonomic keyboard tray and a personal electronic coach, a stand-up desk is more efficient in reducing daily fatigue and preventing heart diseases and musculoskeletal disorders. In general, a decent stand-up workstation will help you:
– fight everyday fatigue caused by routine tasks;
– stay focused and productive doing your job during the day;
– move more and burn up to 750 extra kcal a week;
– lower blood sugar levels
– reduce the risk of diabetes, chronic heart diseases, and back pain.
Also, if you have a standing desk, with time you can purchase a special treadmill. Thus, you can upgrade your workstation and get more health and fitness benefits.
---