iMovR Trackless Ergonomic Adjustable Keyboard Tray Review
iMovR Trackless Ergonomic Adjustable Keyboard Tray
Overview
Tilt angle
+10 to -15 degrees of tilt offered
Material
High-density polyethylene
Sizes Available
Mouse Platform Version: keyboard tray dimensions are 19.4" x 9.4" x 0.5" (49.3 x 23.9 x 1.2 cm), the diameter of the mouse tray is 9.04" (23 cm). All-in-One model: Dimensions are 24.25" x 8.33" x 0.5" (61.6 x 21.1 x 1.2 cm). Both models offer a total height adjustment of 5.73" (14.5 cm) from -1.25" to -6.98" (-3.2 cm to -17.7 cm) under the desk.
Colors Available
Black
Weight Capacity
14 lbs (6.3 kg)
Manufactured
USA
Shipping
Free Shipping offered within the USA
Warranty
15-year limited warranty
---
iMovr Trackless Keyboard Tray is an under table keyboard tray that requires minimum installation and offers great flexibility and ergonomics. Due to its trackless design, it can be easily  installed to any desk which takes less space as well. It can be pushed back under the desk, when it is not in use, to conserve space. It offers an ergonomic position for typing through its negative tilt. Users can work in this position for hours in a stress-free and pain-free environment. The device also offers a vertical height adjustment under the desk. The mouse platform can be adjusted independently from the keyboard tray. It also allows for a tilt and height adjustment. It can be fixed on the left or the right side of the keyboard tray. One of the distinguishing features of this keyboard tray is a tracking gauge which saves and displays the preferred positions. This allows users to easily return to their preferred position within seconds whether they are using it sitting, standing, or walking.
Overview of iMovR Trackless Keyboard Tray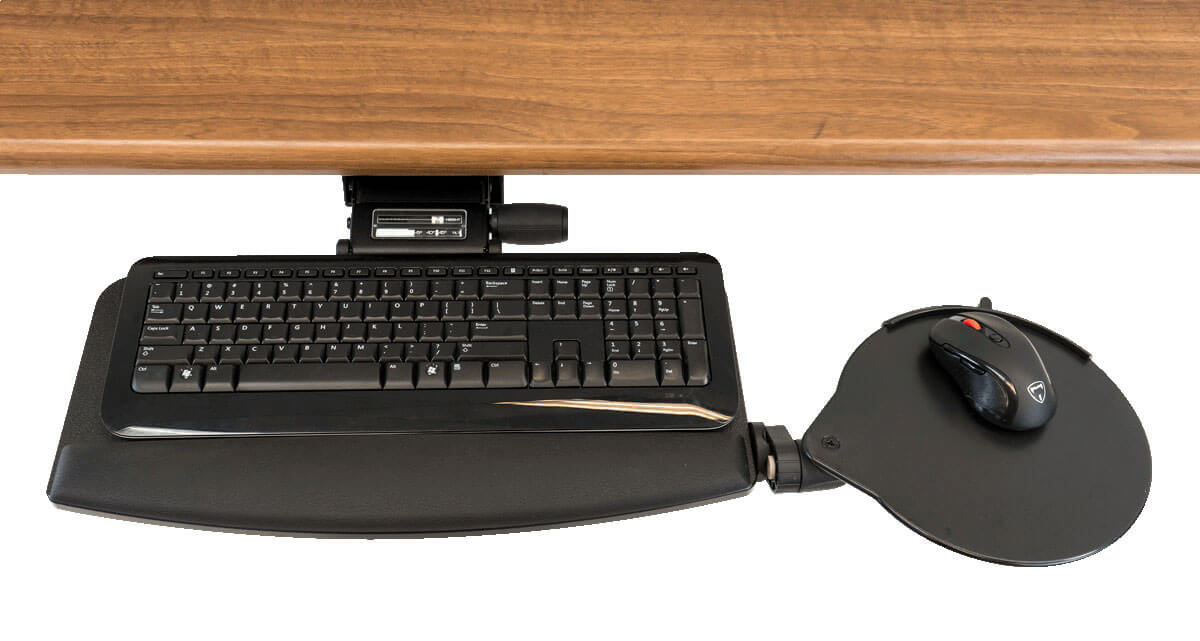 Specifications
The Trackless keyboard tray by iMovR is a keyboard and mouse tray for desk which offers great convenience and ease of use. It offers users a comfortable work experience through its ergonomic design and functionality. It features strong and sturdy construction through a high-density polyethylene material. It comes in two different models: one features separate trays for the keyboard and mouse whereas the other is the all-in-one model with one tray for both the keyboard and mouse. The keyboard tray dimensions of the 1st model are 19.4" x 9.4" x 0.5" (49.3 x 23.9 x 1.2 cm) with the diameter of the mouse tray being 9.04" (23 cm). The dimensions of the All-in-One model are 24.25" x 8.33" x 0.5" (61.6 x 21.1 x 1.2 cm). Both models offer a total height adjustment of 5.73" (14.5 cm) from -1.25" to -6.98" (-3.2 cm to -17.7 cm) under the desk. The weight of the product is 8.3 lbs (3.7 kg). It features a Lift-N-Lock mechanism through which different height adjustments can be achieved easily and locked at a particular level. A tracking gauge displays the user's preferred adjustment settings.
Appearance and Maintenance
iMovR Trackless Keyboard Tray is an under the desk keyboard tray which offers users with an ergonomic and comfortable experience. It comes in only one color:
Its material of construction is high-density polyethylene which has a durable finish. One model has a separate keyboard tray and a mouse platform which can be adjusted independently. The other model features one tray on which both the keyboard and the mouse can be placed. Both of its models offer a stylish and sleek outlook which goes with any office or room interior. This keyboard tray does not require any particular maintenance apart from the occasional cleaning. Because of its high-grade finish, cleaning it is also an easy task. This keyboard under desk tray comes with a user manual which describes various scenarios and problems that users might encounter during usage. The recommended solutions to those problems as well as other maintenance instructions are clearly outlined in the support documents.
Assembly and Accessories
iMovR Trackless is an adjustable keyboard tray under desk. Because of it trackless construction, it requires minimum installation. When compared with other keyboard trays comprising tracks and railings which require a lot of effort to assemble and install, this product can be installed within a few minutes. It can be installed in tight spaces also as no extra space is required for the track. Once installed, users can adjust its height, tilt, and rotation according to their preferences. When not in use, it can be stowed under the desk by a simple push. Users can also rotate it and push it for it to go sideways under the desk. This ergonomic keyboard tray can be used with an ergonomic chair to provide a strain-free experience for the back and shoulders as well. An adjustable monitor mount can be used with this device to allow users to adjust the monitor's height and tilt as they work while sitting or standing to improve their productivity and efficiency.
Packaging and Shipping
Trackless Keyboard Tray by iMovR is a sliding keyboard tray under desk which provides users with flexibility and versatility through its various movement and adjustment options. It can be ordered from the manufacturers directly who ship to the destination address. They offer free shipping to all the 48 lower states of the USA. For the upper states and international shipping, users can contact the manufacturers to find about the exact shipping charges and inquire whether they deliver to their particular destination address or not. The total delivery time for the 48 states is 6-10 business days. This includes the manufacturing time of 3-5 business days and a shipping time of 3-5 business days. The shipped package contains the product components and the clamps needed to install it. It also includes the user guide, installation instructions, and other product guides. 15-year warranty offered by the manufacturer is also included in the shipped package.
Benefits of iMovR Trackless Keyboard Tray
iMovR Trackless is a keyboard under desk tray that offers users with a number of benefits and advantages through its premium features. These benefits include:
The keyboard tray has a strong and stable construction that is designed to be durable.
It offers great ergonomics through its height adjustment and tilt option.
The height under the desk can easily be adjusted through the Lift-N-Lock mechanism.
The tilt includes a negative tilt as well for an ergonomic, pain-free, and stress-free typing experience.
It can be stowed under the desk when not in use. It can be rotated and stowed sideways as well.
The trackless nature of the product enables it to be installed in small spaces as well. In the absence of a track, the tray can easily be installed to any desk.
The mouse platform can be adjusted independently from the keyboard tray.
The tracking gauge saves the preferred positions of the user. This enables users to immediately adjust to those settings as they work sitting or standing.
The Bottom Line
The Trackless Keyboard tray by iMovR can be considered the best office keyboard tray out of all the competitors that we reviewed. Whether it is its strong construction, its ergonomic comfort, or the trackless design; all of them make it superior to other similar ergonomic keyboard trays. It offers a negative tilt, adjustable vertical height, and independent adjustments of the keyboard tray and mouse platform. Users can spend a lot of time working on it without feeling any pain or pressure in their arms, wrists, or any other joint. It is cheaper than similar ergonomic trays such as Elevon Super-Ergonomic Desk Extension and Workrite S2S Ultrathin Keyboard Tray which gives it an edge over them. It also offers greater stability and sustainability. Thus, this trackless under table keyboard tray is highly recommended for anyone who wants ergonomics, comfort, stability, and durability from a keyboard tray.
Still cannot come to a decision after reading about iMovR Trackless? There is another solution you may find interesting: Humanscale Float Keyboard Tray.
---