Elevon Super-Ergonomic Desk Extension for Sit-Stand Desks Review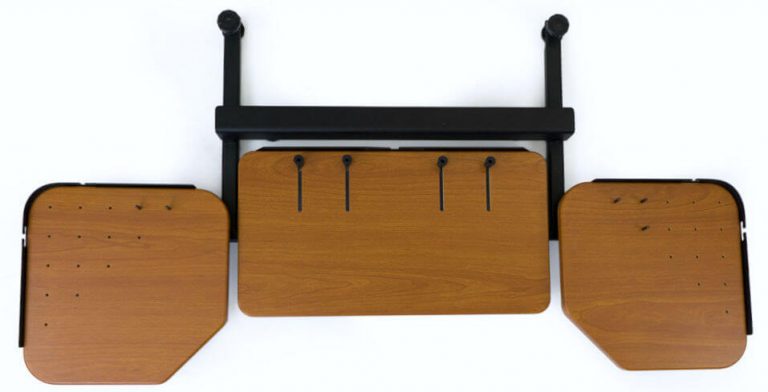 ---
The Elevon Super-Ergonomic Desk Extension for Sit-Stand Desks by iMovR is an ergonomic keyboard tray that provides advanced comfort and a strain-free experience of typing while working. This keyboard tray was introduced in 2017 and is one of the sturdiest and strongest keyboard trays currently available.  It is a sliding keyboard tray that has two side trays which can be used to place the mouse, trackpad, mobile, notes, and other accessories. It provides a tilt adjustment mechanism through which the keyboard tray and side trays can be tilted up to 85 degrees to allow for a good posture and comfortable positioning of the hands and arms. This ergonomic arc ensures that no extra strain is put on the joints resulting in a better posture. Users can type faster and decrease typos; thus, improving their efficiency and productivity. This keyboard tray can be used with height-adjustable standing desks and treadmill desks. It can easily be mounted with almost any desktop in just a few seconds.
Elevon Super-Ergonomic Desk Extension for Sit-Stand Desks
Overview
Price
Starts at $349.00
Tilt angle
Up to 85 degrees
Material
Steel frame, high-quality wood top with 3D laminate finish
Sizes Available
One size available 45.5" x 23.96" x 4.1" (115.6cm x 60.8cm x 10.4 cm) Width x Depth x Thickness. Extends up to 15.94" (40.5 cm) from the edge of the desk
Colors Available
Black Steel frame with 4 options for the laminate finish: Black, White, Hayward Cherry, and Light Maple.
Weight Capacity
4 lbs (1.8 kg)
Manufactured
USA
Shipping
Free Shipping offered to the 48 lowers states of USA
Warranty
Lifetime warranty for frame, 5-year warranty for the table top and other attachments.
Overview of Elevon Desk Extension for Sit-Stand Desks
---
Specifications
The Elevon by iMovR is a sit-stand keyboard tray that can be used with any height-adjustable desk to provide increased comfort and ease-of-use to users as they work sitting or standing. This slide-out keyboard tray comprises a steel frame and 3D laminated wooden trays. The overall tray dimensions are 45.5" x 23.96" x 4.1" (115.6cm x 60.8cm x 10.4 cm) with the side trays dimensions being 12" x 12" (30.5cm x 30.5cm) and keyboard tray dimensions being 19.75" x 12" (50.1cm x 30.5cm). The weight of the tray is 21 lbs (9.5 kg), and it has a weight capacity of 4 lbs (1.8 kg). This under the desk keyboard tray can extend up to 15.94" (40.5 cm) from the edge of the desk. The tray features a center keyboard tray with two side trays for placing various accessories. The keyboard and side trays can be tilted according to user preferences as they allow up to 85 degrees of tilt. The side trays feature grid hole patterns in which the supplied pins can be inserted to avoid the accessories from slipping or falling when they are tilted.
Appearance and Maintenance
Elevon Super-Ergonomic Desk Extension for Sit-Stand Desks is an under desk keyboard tray that provides users with ease and comfort while working for long durations of time. The keyboard tray is a visually pleasing tray with a black steel frame and wood top. The top comes in four different finishes including:
Black
White
Hayward Cherry
Light Maple
The bolts and pins for holding various items are also black. The various color options provide users with the choice of choosing the one which best complements their desk or room interior. This desk extension can be easily mounted to any work surface within 30 seconds. Users can then adjust it according to their sitting or standing position so that it offers maximum comfort to them while typing. iMovR Elevon keyboard tray is easy to use and maintain according to one's preferences. The user manual provides users with all the information regarding its use and maintenance to make their experience as enjoyable as possible.
Assembly and Accessories
The Elevon by iMovR can be considered the best computer keyboard tray based on the flexibility and ease-of-use that it provides. It comes fully assembled when it is received from the manufacturer. Users just have to open the box, slide out the iMovR Elevon , remove the plastic wrap and other packing accessories, and it is ready to be mounted to any desktop. The process of attaching it underneath the desk is very easy which can be achieved in just 30 seconds without the use of any tools. The user manual guides users through the process of attaching the tray with any tabletop with a thickness up to 1.625" (4.1 cm). iMovR Elevon serves as a keyboard holder for any sitting or standing desk. Users can quickly adjust the tilt of each of the individual side trays or the keyboard tray as they transform between sitting or standing positions. iMovR Elevon can also be used with a treadmill desk. When used with a standing desk, an anti-fatigue mat can be used to put the strain off the feet and calves.
Packaging and Shipping
iMovR Elevon is a keyboard holder for desk whether it be a sitting or a standing one. This ergonomic keyboard tray can be ordered directly from the manufacturers who offer free shipping to all the lower states of the USA. For Hawaii and Alaska, shipping costs apply which depend on the local postage charges. The product is shipped fully-assembled in a box. The shipped package is delivered within 6-10 business days out of which 3-5 days are for manufacturing and 3-5 days for shipping to the destination. The manufacturers offer a 100-days 100% satisfaction guarantee. If users are not satisfied with the product during this time, they return the product and refund the full amount to the customers. They also replace the product of users who are not satisfied during the first 100 days of use. They offer a lifetime warranty for the frame and a 5-year warranty for the laminated trays and other parts.
Benefits of Elevon Desk Extension by iMovR
The Elevon is one of the best pull out keyboard trays that provide users with great flexibility and versatility. Some of its benefits are listed below:
It comes in 4 different colors and finishes providing users with a variety of options to choose from.
It is a heavy-duty and sturdy keyboard tray that does not wobble or bounce as users type on the keyboard.
It is designed for durability and strength.
This device features an under-desk keyboard mount which can easily be attached with almost any tabletop within 30 seconds!
No kind of assembly is required on the user's part as it comes fully assembled.
It offers a neutral ergonomic positioning which ensures that the arm, elbow, and hand of the user are at the perfect angle which does not strain any joints.
The keyboard tray can be tilted up to 85 degrees although 30-45 degrees of tilt is enough to provide users with an ergonomic experience.
The Bottom Line
Elevon Super-Ergonomic Desk Extension for Sit-Stand Desks by iMovR is the best office keyboard tray that offers users with advanced ergonomics, ease, and flexibility. With its easy attachment option, users can start gaining its benefits within seconds. Through the 85 degrees tilt, it offers an ergonomic arc which ensures that users can spend countless hours working on it without feeling fatigued or stressed. Since it can be used with a sit-stand or treadmill desk, it offers flexibility and versatility to users as they can transform their position with it's angle also transforming to provide maximum comfort. When reading various computer keyboard reviews, the Elevon is ranked quite high by users on the basis of its usability and ergonomics. iMovR Elevon keyboard tray is highly recommended for anyone who wishes to use an ergonomic tray to counter bad posture, joint pains, and fatigue while working on a keyboard.
Still cannot make a choice after reading about iMovR Elevon? There's another solution you might like: Ergotron Neo-Flex.
---