Vivo DESK-V000B Standing Desk Converter Review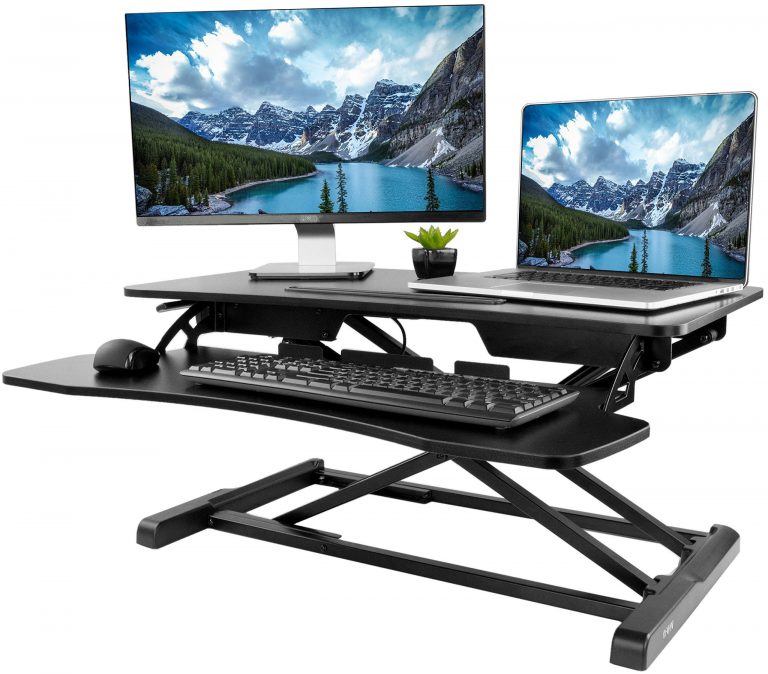 ---
For people who are looking for an ergonomic sit-stand desk with a low-cost Vivo DESK-V000B Standing Desk Converter is quite a feasible option. It provides users with the advantage of transforming the height of their workstation easily and comfortably. They can choose to stand while computing to burn some calories and try to promote physical fitness which cannot otherwise be achieved while working sitting. The Vivo desk was introduced in 2017 as an affordable and flexible converter desk. It offers eight different levels of height adjustment which enable users to choose the one which they are comfortable with. The desk converter can be placed on top of any table and its height adjusted accordingly. The main work surface includes a small compartment for small accessories. The keyboard tray can be extended towards the user for added efficiency and comfort. DESK-V000B comes with a limited three-year warranty and technical support.
Vivo DESK-V000B Standing Desk Converter
Overview
Price
Starting at $180
Lift type
Manual Z-lift
Material
Painted steel frame and work surface
Sizes Available
Desktop Dimensions: 36"L x 22"W, Keyboard Tray Dimensions: 28"L x 9"W, Base Dimensions: 37"L x 24.25"W
Colors Available
Black, White
Weight Capacity
Maximum total capacity of the desk is 37.5 lbs (17 kg)
Manufactured
China
Shipping
Free shipping with Amazon Prime
Warranty
Three-year limited warranty
Review of the Vivo Standing Desk Converter
---
Specifications
The Vivo DESK-V000B Standing Desk Converter comes with a number of features and specifications which offer comfort and flexibility to its users. Its weight is 29.8 lbs (13.5 kg), and it can carry a maximum load of 37.5 lbs (17 kg). The main work surface has a width of 36" (91.4 cm) and a depth of 22" (55.9 cm). Its wide surface area allows for two monitors to be placed side by side on it. It also has a small compartment where pens, pencils, notes, etc. can be placed. The keyboard tray is relatively smaller with a width of 28" (71 cm) and a depth of 9" (22.8 cm). The keyboard tray can be extended outwards towards the user to make typing more comfortable. The converter desk adds 4.2" to the desk's height which can be raised and adjusted between 10.5" to 19.7". This height adjustment is achieved through two handles on each side of the desk which can be squeezed, desk lowered or raised, and handles released to lock desk at that particular height. A small mouse tray attaches with the keyboard tray on either the right or left side.
Appearance and Maintenance
The Vivo Standing Desk Converter comes in two colors: black and white. Although this desk is a low-price sit-stand desk, it provides a finished outlook which is aesthetically pleasing. The solid black or white color blends well with any room interior to give a polished and neat look. The bottom of the desk is padded which helps it to remain stationary on the table and prevents scratches. A number of cable management supplies are provided alongside which help to keep the workspace neat. Its steel frame is sturdy which does not allow it to wobble in the sitting position. However, when raised to the maximum height, the upper work surface moves a bit forward. If the keyboard tray is also extended outwards, it poses the risk of the desk tipping over. The height adjustment handles sometimes become tight and lowering the desk becomes a tedious task. A few screws at the back of the frame need to be loosened to allow for smooth height adjustment. Details of similar technical issues and troubleshooting are outlined in the support manual of the converter desk.
Assembly and Accessories
The Vivo Standing Desk Converter model DESK-V000B requires minimum assembly and installation on the part of the consumers when they receive the product. The desk converter is partially installed when it comes out of the box. It can be installed on any desk or table where one intends to work. The keyboard tray has to be attached to the steel frame through screws and bolts provided. The assembly instructions describe in detail the complete installation process. The Vivo Desk also comes with a number of accessories to make the work experience more comfortable. A heavy duty desk frame allows users to create their own personalized workstation. The desk converter fits on top of the frame. Another accessory is a monitor mount which helps raise the monitor above a certain height. This creates more space on the work surface for another monitor, laptop, or other items. The most useful accessory of this desk is the Anti-Fatigue Floor Mat. It provides users with even greater comfort for their feet while in the standing position. For a low-price desk, the accessories provided enhance the flexibility and offer better work experience.
Packaging and Shipping
The Vivo Standing Desk Converter provides users with an affordable option of transforming their workstation from a sitting into standing position and vice versa with minimum effort. Users are provided with a simple mechanism of changing the desk's height according to their comfort and requirement. The product is manufactured in China. The manufacturer offers free shipping to the US through Amazon Prime. The shipping dimensions of the package are 34.6" x 20.2" x 6.8 " (87.8 cm x 51.3 cm x 17.3 cm). The shipping weight is 29.8 lbs (13.5 kg). The package includes a steel frame, keyboard tray, mouse tray, and main surface area. Screws, nuts, and bolts for attaching all components together are also provided in the package. The product comes with a limited 3-year warranty.
Benefits of the Vivo DESK-V000B Standing Desk Converter
The Vivo Standing Desk Converter offers comfort, style, and excellent flexibility through an affordable sit-stand desk. With just a push of handles, the desk can be lowered or raised to a height that is appropriate for users. For individuals suffering from neck or back problems, this desk is beneficial as it helps them adjust the desk's height, so it results in a comfortable position. When raised to the maximum height, it enables users to stand while working. This helps in regulating their blood circulation and counteract the negative effects of sitting for prolonged periods of time. The standing position also helps them promote fitness if they choose to stand for long periods. The general architecture of the desk is quite sturdy and durable considering its affordable price. The wide surface area of the desk allows free movement of hands and provides a spacious area for placing a variety of items on the desk to increase work productivity.
The Bottom Line
Vivo Standing Desk Converter DESK-V000B is one of the many sit-stand desk converters available in the market. The factors which distinguish it from its counterparts is its low price and sturdiness. Its design and finished look makes it superior to similar budgeted desks. Users have the option of adjusting its height while they work sitting or standing. Two handles on the desk's sides can be squeezed to make the required height adjustment. For users with a low budget looking for a sit-stand desk, this desk is perfect since it offers all the benefits of a height-adjustable desk at an affordable price. Its appearance compares it with the ones that are relatively more expensive.
However, this desk poses the same problems as with other similar designs. The steel frame consists of a lot of bars which means that users have to be careful when using DESK-V000B; otherwise they risk their fingers getting pinched. The desk can also tip over if the monitors and keyboard are not balanced properly. Therefore, the desk requires careful usage. For taller individuals, this desk is not suitable as it does not come at an appropriate height even at the maximum raised level. Similarly, for shorter individuals, the lowest-height level also comes at a slightly raised height which is not comfortable.
We suggest you check our Kangaroo Sit-Stand Workstation guide in case you don't know whether you want to get Vivo DESK-V000B.
---