Varidesk Pro Plus 36 Desk Riser Review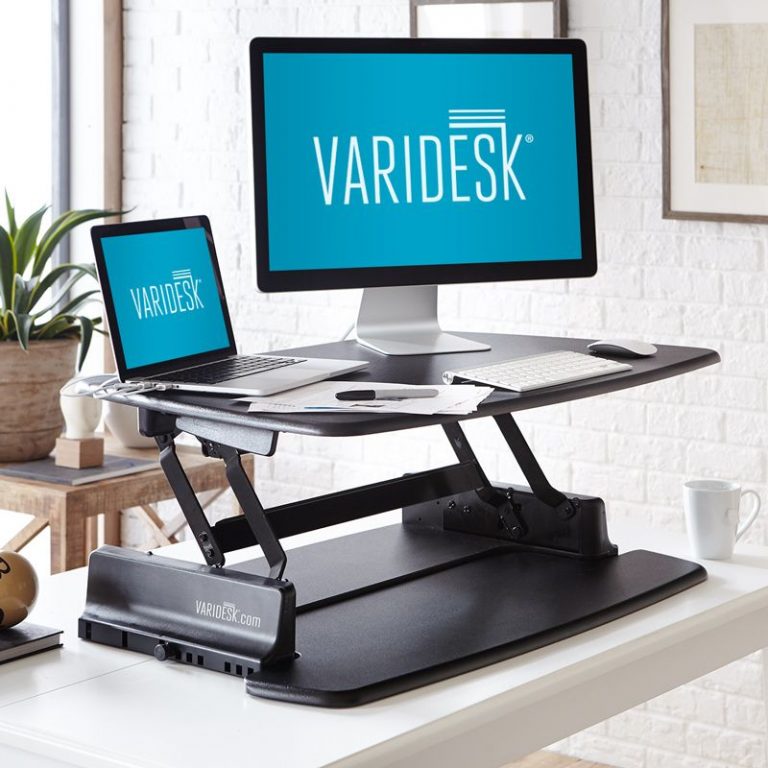 ---
Varidesk Pro Plus 36 standing desk is an adjustable table accessory which allows users to adjust the height of their workstation. This adjustment can be made high enough so that the user can stand while working. The desk is big enough to hold most office items including laptops and computer monitors. It is also sturdy enough to support weights of over 15 kilograms. The Varidesk 36 Pro is available for sale all across the US and around the world. It is popular among health-conscious people who want to avoid the negative health-related complications of sitting for long periods or people who don't want to exacerbate existing health conditions that arise from a sedentary lifestyle.
Varidesk Pro Plus 36 Desk Riser
Overview
Price
Prices may vary but start at $395
Lifting mechanism
Manual (spring assisted)
Material
Steel
Available colors
Available in black or white
Load capacity
The Pro 36 Varidesk can support a weight of up to 35 pounds
Dimensions
This model has a surface that is 36 inches long and 26 inches wide
Country of origin
Manufactured in the USA
Warranty
Limited one year warranty with a 30 day trial period within which the product may be returned for any reason provided it has not been damaged.
Shipping
Free shipping within the US except for Alaska and Hawaii where normal FedEx shipping fees apply. Shipping takes place latest on the next business day excluding holidays. Delivery usually takes 4 to 5 days after shipping for orders within the US.
Varidesk Pro Plus 36 Overview
---
Operating the Varidesk Pro Plus 36
Operating the Varidesk Pro Plus 36 standing desk converter is not at all difficult. Once it is out of the box, it is essentially ready to use.  It is best to plug in all electronics that will be used on it while it is in the fully upright position to ensure that the internet cables, power cords etc. can all comfortably reach their sockets. A gentle squeeze of the release handles on either side unlocks the table converter for easy adjustment up and down and releasing it will keep it in its current position. The spring mechanism ensures that the user does not expend any effort while switching the table riser between heights. The Varidesk 36 Pro Plus can be set into any of 11 different positions ensuring that it is always comfortable for users of different height requirements. It can easily accommodate most office items and it is even wide enough to accommodate two computer monitors. Weight is also not a concern as it can support up to 35 pounds without incident.
Build of the Varidesk Pro Plus 36
The Pro 36 Varidesk looks sturdy and its build is strong looking with a good surface finish. The weighted base of the extendable table top ensures that it is not rickety and that it doesn't tilt or wobble while being used especially when it doesn't have anything on it holding it down. This means that even intricate work can be done when the table riser is fully extended. It is quite compact when fully closed at only 5 inches high. At full extension, it stands at more than triple this height at 15 inches adding more than a foot to the height of the table which is what allows the user to stand while working.
Aesthetics of the Varidesk Table Converter
The table converter looks very nice and doesn't look bogus or take up unnecessary space. It blends in well with office furniture with its practical and minimalist design. The colors available are a neutral black or white making it suitable for virtually any office theme or design. However, the Varidesk Pro Plus 36 black is the most commonly available option. There are no sharp edges on it which makes it both visually pleasing and safe to work with. There are only two possible locations to fit a keyboard which unfortunately does not have a separate adjustment mechanism. This means that whenever the desk goes up or down, the keyboard also moves with it and putting it in awkward positions, either too high, close to the chest when in the sitting position or too low when in the standing position.
Unique Features of the Varidesk Platform
The Varidesk Pro Plus 36 has some subtle features that are worthy of mention. Some of them are:
The surface finish is smooth but also non-slippery, similar to a metal matte. This ensures there is good friction of the items that are placed on it and nothing falls off.
When the platform is in its fully extended state, the middle of it can serve as a makeshift storage or open compartment that can fit something small like a printer or fax machine. This would be useful for people who prefer to always stand when using the table riser.
The adjustable heights are not only meant to cater to people of different heights, it is also meant to provide just the right level of workspace to maintain a good posture while using it.
The Bottom Line
All in all, the Varidesk Pro Plus 36 standing desk would make a good purchase especially for people who suffer from a bad back or live a sedentary life or have no time at all for exercise and would like to move around a little. At almost $400 it is a significant investment but the fact that it can be returned within 30 days if it does not quite meet one's expectations is a big advantage. Furthermore, there are no shipping charges in virtually all the US states and for such heavy equipment, this is a significant cost written off. The build is strong and the product is expected to serve well over the course of many years. For corporate bodies, Varidesk offers a discount on bulk purchases and using their product may be a great way of keeping the workforce active and alert while working. To answer the question, where can I buy Varidesk Pro, it is available on the Varidesk website, Amazon and other partner retailers. Our Varidesk Pro Plus 36 review.
Have doubts about Varidesk Pro Plus 36? You'll find many top-quality options. For example, look at our Flexispot Standing Desk Converter review to gain a better perspective.
---