VariDesk Electric Pro Plus 32 Standing Desk Converter
VariDesk Electric Pro Plus 32
Overview
Lift Type
Electric
Desk Max Height
19.13"
Dimensions
5.75"(H) x 32"(W) x 28.25"(D)
Weight Capacity
50lb
Colors Available
Black
Manufactured
USA
Certifications
GreenGuard, GreenGuard Gold
Shipping
Free Shipping
Warranty
5 years
---
If you're anything like me, you are probably sitting behind the desk for the whole day. As a writer, my desk is my office. Oftentimes I've thought about adding a standing option to my setup so that I can maybe incorporate a little bit more movement into my normal day.
I really enjoy switching from sitting to standing whenever I'm feeling sore from sitting for too long. Even in the most expensive and fanciest of chairs, I'll still get a little antsy or fidgety. So changing your position from sitting standing from time to time helps alleviate that problem for me. Of course, you can get along without a standing desk, just stretching and taking water breaks regularly is good enough. But if I'm deep in work, standing at my desk lets me stretch my legs, pace around, and still keep focused on my work.
There are adjustable desks on the market but buying one means I have to get rid of my old working table. I don't want to change such an important piece of furniture. It perfectly fits the overall room design. Lots of little things laying comfortably in drawers. So many good and bad ideas were written down on this very surface.
So to not go very radical, I decided to look at an adjustable standing desk converter. It is basically a mechanism that lifts the surface under the computer with an additional keyboard and mouse tray.
Go Electric
After a little research, I realized that manual converters, to ease the lifting part, which may be loaded with heavy equipment, have a Z-shaped mechanism that protrudes forward in a standing position, making you step back from the table. Of course, they don't require an outlet and thus more portable, but I'm not going anywhere, and there is always room for an additional plugin in my office.
Plus, it's the 21 century. Very soon, manual desk converters will go extinct just as flip-flop phones have become obsolete. It's way more convenient to click a button than to raise your computer, desktop with all accessories. Once your workstation gets too big, motorized assistance is quite needed.
Vari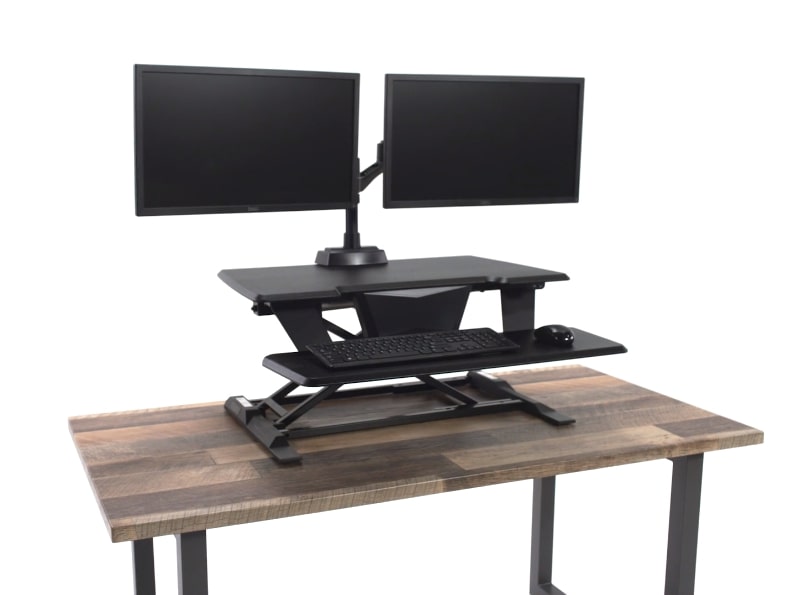 My choice fell on VariDesk Electric Pro Plus 32 Standing Desk Converter because of easier height transfers, more flexibility, adjustability, ergonomics, and customization possibilities that his manual cousins lack.
Many of my general concerns about motorized devices stem from the lack of reliability. They're unsteady, loud, or have defects that limit their longevity and make them uncomfortable to use. And where these vulnerabilities aren't present, the costs of these goods are so high that only rich people can afford to use them.
This model is VARI's first electric sit-stand converter. It features a dual-platform design, but instead of the double Z-shaped base, as I mentioned, it has an X-shaped one. Thanks to that, it can handle heavier loads and excellent stabilization and ergonomics.
My working set involves dual monitors; thus reliable lifting mechanism is a must-have. This VARI's product movements are strong and stealthy. No clicking or other unnecessary noises.
I'm not a giant, but my height is above average, and this converter covers enough distance to make me feel comfortable while standing. The fact that electric versions have many positions in between makes it also comfortable for my wife, who uses my setup from time to time.
Although it's not for those who are tight on a budget overall quality to price ratio is quite good. Materials are premium. The monitor stand looks and feels reliable to handle a dual duty. The electronic part works smoothly and confidently.
I really like Vari Desk's rules, which include a 5-year warranty and a refund policy if something goes wrong with the electronics or the motor within the first five years. Please notify the Vari desk, and replacements will be submitted. You will still get a full refund if you return the device within 30 days. Vari desk pays for return delivery and will give you a replacement package if you misplaced mine. As a consequence, these policies are unquestionably among the finest among competitors.
Since this product is electrical, it's going to be very easy to adjust height, simply press the button on the front up or down to adjust the height of the unit. You'll notice that this unit has an infinite position lock which means that you can choose any height that you'd like instead of forcing you between a preset number of positions.
Another thing that I really like about this product is stability at all heights. This again goes back to the double X-shaped base that they chose to design this product with. Instead of a double Z-shaped base that moves the platforms out, this unit moves straight up and down, which makes it much more stable at all heights. So even at the tallest heights, you'll experience very little keyboard bounce, very little monitor movement, and it feels rock-solid through all stages of adjustment.
Fundamentals
It is surprisingly stable at its maximum height of 18.75". This is a novelty among all varieties of converters, despite being a vital component of the product's overall usability. The main work surface is almost entirely free of wobbles. On the other side, the keyboard tray wobbled more than we would have liked.
In about every aspect, the electric Varidesk is fine. The motor is quiet, which your family members will love as you change your position while working. Its lift speed is, although not impressive but adequate. Depending on how close you are to the 40-pound weight barrier, it passes at a pace of about 1" per second. Having two iMac may be troublesome, but for the most part, 40 lbs with a little extra space should suffice.
It hits the lowest height setting delicately without the crash and rests comfortably with the keyboard tray on the tabletop. Apart from stopping your over-filled cup of coffee from leaking as you go from standing to sitting, this is a mark of a product that has been tested and mastered to get the nuances right.
The Varidesk Pro Plus 32 Electric also has "accessory trays," which are tiny indentations on the panel between the keyboard tray and the main work surface where you can store your smartphone or other small items. They were not designed to carry a 6″ phone in a case, however. They do have the ability to do so, but it isn't a perfect match.
One source of concern is the keyboard tray. Short brackets hold it together, but they're not always sturdy enough, allowing it to wobble more than we'd like. When you press down on the tray and look at where it binds to the converter, you'll note that it tilts downward, which I validated with a level. A negative-incline keyboard tray is perfect for typing ergonomics, as I previously said, but the Varidesk's tray tilts backward in front rather than back, resulting in an unexpected positive tilt. This isn't to suggest the tray isn't usable; it's certainly preferable to any of the lower-cost options I've used, but it's far from ideal.
It's made out of metal and engineered wood. It is extremely sturdy, although it's not that heavy. On the box, it's going to tell you that it is a two-man lift, but I was able to just pick this up by myself and put it on my existing desk. Now the best thing about this thing is it already comes together you don't have to do anything. You just unbox it, pick it up, put it on the desk, and you're good to go.
So inside this box, you're actually going to get a cup holder, some cable straps, and normal instruction manuals. All those things are going to be inside the box, and that is
it so you get this little packet, and you actually get the desk itself.
Accessories

Vari Active Mat
The Varidesk active mat makes your workday more active and more comfortable at the same time. Its unique dynamic shape helps you stretch, explore and engage different muscles while standing. The slopes raised edges to give you a way to reposition your feet regularly to alleviate joint stress and muscle fatigue.
Compact Dual Monitor Arm 180°
It takes less space and gives more room to work. You can position your monitors to flush against a wall or cubicle while keeping your desktop clear. With the ability to tilt, turn and rotate monitors, you can find the optimum viewing position to keep them in place whether you sit or stand. The whole unit is going to attach the back of your desk. There's a metal piece that slides over your desk no matter what kind of desk you have, and then you have an Allen wrench that's included with the unit to screw it in to make sure it's stable. 
My favorite part of the setup is wire management. I have a lot of wires cause my wife I share our home office. She works on one side. I work on the other, so we have all kinds of stuff hooked up and so protected and keeping the wires all in one spot. There's a plastic wire guide to keep everything in one place. But you can leave the wires through the arms all the way up okay on the back section. 
I've actually got a little addicted to my setup, so now, when I travel, if I'm working on a laptop and I have to work well on one screen, I feel a little restricted. It's really time-saving and convenient to have three different tabs open, and you can see them at the same time, so I can drag information from the tab of the right or the left into the center from sitting to standing. I can switch from using the top to the bottom monitors, which I really love, so if you're a trader, website editor, video editor, anything of a job, we have multiple screens open it's really convenient.
Vari Active Seat
It is an active seating product that should be used paired with a standing desk or sit-stand converter. It features a small binal-covered seat, a stationary base, and a cylinder higher than you can find on most office chairs. The thought process behind the design is to allow you to be more active throughout the day by allowing you to be perched and leaning position with your desk.
The great thing about this chair is you can adjust it very easily using a handle on the right-hand side. I could go as low, and around 21 inches as this is a
sitting chair or bring it up to around 31 inches and use it as a leaning chair. I found when I first started using it is I didn't have a footrest. I was compressing my feet on the floor, and I was getting sore shins from pressing. And especially if it's where the time I had socks on, I have a hardwood floor my feet are sliding, and it just wasn't working so, I end up using a mat. 
One thing about this chair I wish there was a little bit more padding. It is good, but frankly, you're not supposed to be sitting in one position for a long period of time anyway. If I'm sitting for a long time and getting a little uncomfortable, I might switch to standing. It's a really flexible chair. Its price really competitive with some of the higher-end chairs that are double and triple the price.
Vari Power Hub
It's a very useful ad on to your working environment. This easily attachable additional bloc includes two USB ports and three AC outlets giving you a simple way to power and charge all your devices. The times when you were crawling under the desk in order to plug something in are the past.
Downsides
The first issue is that you're not able to control the distance between your keyboard tray and your monitor platform.
Another one is that this unit, like most dual-platform converters increases your minimum
keyboard height by about an inch. This can be an issue for short people or people that prefer to have their hands below their work surface. With something like a keyboard drawer or a keyboard tray.
It also lacks a control box and only has a common power adapter. The control box is basically the brain that you'd see in most standing desk converters; it controls stuff like the power that's sent to the unit, as well as overload safety and crash avoidance.
In terms of moving speed, this unit takes about 18 seconds to go from the lowest height to the highest. For the first nine seconds, the unit will move about 11 inches but for the next
nine seconds we'll only move three inches, so it moves much faster at the beginning and slows down drastically once you get to the top.
Summary
This VARI's product will perfectly fit high people. It reaches 19.1'' at the top position, and this will make the user experience quite enjoyable.
It is a really nice choice for those who want to incorporate a standing option in their routine while saving existing furniture and not taking a lot of space. Standing is quite hard to overestimate in our sitting era. This converter gives a taste of it.
And who knows, maybe after a while, I will venture upon changing the table.
---