Fellowes Lotus Sit-Stand Workstation Review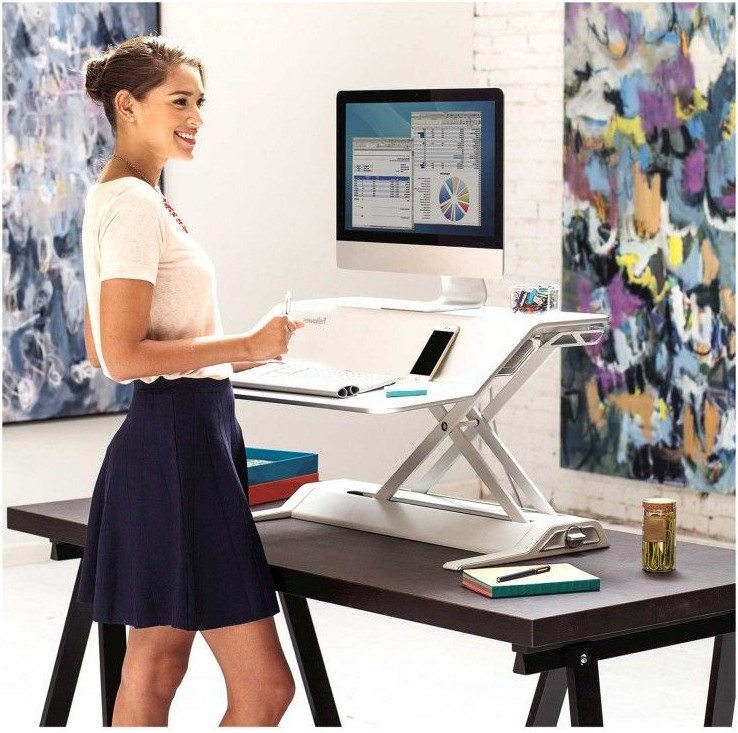 ---
The Fellowes Lotus Sit-Stand Workstation is a converter desk that offers ergonomics, comfort and flexibility to its users. It helps them switch their positions effortlessly. By changing between sitting to standing positions, users are able to promote their wellness and fitness by burning more calories while standing. According to studies, workplace productivity increases by at least 46% when using sit-stand desks. Fellowes Lotus desk was introduced in 2016. With its award-winning waterfall design, it enables users to prop up their phone, notes, or documents against the keyboard tray. The desk's height can be adjusted vertically with minimum effort. There are 22 different height levels which provide users with a wide range of movement so that they can choose a level where they feel most comfortable. The large surface area of the desk provides space for placing various items to increase productivity. The workstation comes with a limited five-year warranty.
Fellowes Lotus Sit-Stand Workstation
Overview
Price
Starting at $455.99
Lift type
Hydraulic, X-lift
Material
Painted Steel
Sizes Available
Top Platform Dimensions: 31.75" x 8.14" (80.6 cm x 20.6 cm)
Bottom Platform Dimensions
32.75" x 12.15" (83.1 cm x 30.8 cm)
Overall Dimensions
5.5" x 32.75" x 24.25" (14 cm x 83 cm x 61.5 cm)
Colors Available
Black, White
Weight Capacity
Up to 35 lbs (15.9 kg)
Manufactured
China
Shipping
Free shipping
Warranty
Five-year limited warranty.
Overview of the Fellowes Lotus Sit-Stand Workstation
---
Specifications
The Fellowes Lotus Sit-Stand Workstation is one of the most efficient and productive sit-stand desks available. The desk's overall dimensions are 5.5" x 32.75" x 24.25" (14 cm x 83 cm x 61.5 cm). Its weight is 50 lbs (22.6 kg), and it can hold weights up to 35 lbs (15.8 kg). The height of the desk at the lowest level is 5.5". When raised to the highest level, the height from the table top becomes 17". The desk has a waterfall design which enables users to prop up different items behind the keyboard such as mobiles, notes, documents, and other items. Two side handles are provided which can be squeezed effortlessly to lower or raise the desktop according to the desired height. The keyboard tray is also quite spacious which can allow even an ergonomic keyboard and mouse to be placed easily on it. The top platform can accommodate two monitors side by side if using the monitor arms kit. A monitor mount can also be used to create more space on the platform. The desk offers innovative cord management through which the entire workstation can move easily with the user. There is also a device charging slot provided that offers convenience and ease of use.
Appearance and Maintenance
The Fellowes Lotus Sit-Stand Desk is an aesthetically pleasing and beautiful converter desk that helps improve one's wellness and fitness. It comes in two solid colors: black and white. The material of construction is powder coated painted steel which provides a durable and sturdy structure. It comprises an award-winning waterfall design that provides convenience and comfort altogether. The beautifully finished desktop provides a positive addition to any work area. The top work surface and keyboard tray are quite spacious which offer ease of use and movement. The cord management mechanism allows keeping the space clean and assembled. The desk comes fully assembled, so no kind of installation is required. The design and structure of the desk make it very easy to clean and maintain. The height-adjusting mechanism is also very smooth and does not require much maintenance. It uses Smooth Lift Technology which requires minimum effort for movement. The desk's package includes support documents which describe solutions to various troubleshooting and other issues that users might encounter while using it.
Assembly and Accessories
The Fellowes Lotus Sit-Stand Workstation is one of the best ergonomic workstations available in the market. Its ease of use and the comfort it offers makes it superior to other similar workstations. Once it is received, it requires no assembly or installation. A few accessories can be bought to make the work experience even more comfortable. A monitor mount can be used to mount the monitor to create more space on the top platform. A small laptop or notebook can then be accommodated on it. An Anti-Fatigue Floor Mat can be used with this workstation. It allows users to place their feet in a position and direction that puts minimum strain on the feet when they are computing while standing. This way, they are able to burn more calories without their feet getting tired. The Fellowes Lotus desk is compatible with the Fellowes Lotus Monitor Arms Kit which enables two monitors to be mounted on the desk side by side.
Packaging and Shipping
The Fellowes Lotus Sit-Stand Workstation provides a premium ergonomic work experience through its many features and flexibility of use. The main advantage of this desk is that it comes fully assembled from the box. Customers do not have to go through the hassle of assembling it when it is received. They just have to take it out of the box, place it on a table, and start using it without further ado. Its shipping dimensions are 5.5" x 32.8" x 24.2" (14 cm x 83.3 cm x 61.5 cm). The shipping weight is 56.8 lbs (25.7 kg). Free shipping is offered to 48 states of the US except Hawaii and Alaska. For these two states and other APO/FPO destinations, additional shipping charges apply. The shipped package contains the fully assembled desk, user manual, and other support documents. The manufacturer offers a five-year warranty which is supplied along with the desk.
Benefits of the Fellowes Lotus Sit-Stand Workstation
The Fellowes Lotus Sit-Stand Workstation offers a number of benefits and advantages which makes it an ideal choice for individuals looking for a converter desk. Not only is it a visually appealing desk but it also provides ultimate flexibility and comfort to its users. It offers 22 different adjustable height levels which can be changed within seconds. The total range of vertical height adjustment is 17" which is quite appropriate. This makes it ideal even for taller individuals who would not have to hunch over it while standing. The desk uses the Smooth Lift Technology which enables users to lower or raise the desktop effortlessly by pressing the side handles. Users can switch between sitting and standing positions to promote a healthy work environment and counter the adverse effects of working while sitting.  Lotus Sit-Stand Workstation also comes with a five-year limited warranty which is an added benefit.
The Bottom Line
The Fellowes Lotus Sit-Stand Workstation is one of its kind as it offers extreme comfort, flexibility, and convenience to its users. They are provided with the ease of adjusting the desk's height at 22 different levels. This is especially useful for people with neck, shoulder, or back problems as it lets them lock the height on a level which puts minimum strain on them. Two side handles are pressed to increase or decrease the height. Handles are released to lock the height at that particular level. This desk also does not pose the problem for taller people to hunch over while standing as it allows for a higher position of the desk. The wide work surface and keyboard tray offer more space which can be used to place notes, documents, mobiles, and other accessories to improve productivity. Other accessories can be used with this desk to make its use even more comfortable. Thus, this desk is definitely a good choice for anyone who can pay the price as it offers a number of advantages. Users can promote their health and fitness by continuously switching between sitting and standing positions. The ergonomic and waterfall design of the desk provides added comfort and flexibility to users which is matchless.
Like Fellowes Lotus Sit-Stand Workstation? You might as well wish to consider the Ergotron WorkFit-S Dual Monitor review.
---