Humanscale QuickStand Sit Stand Workstation Review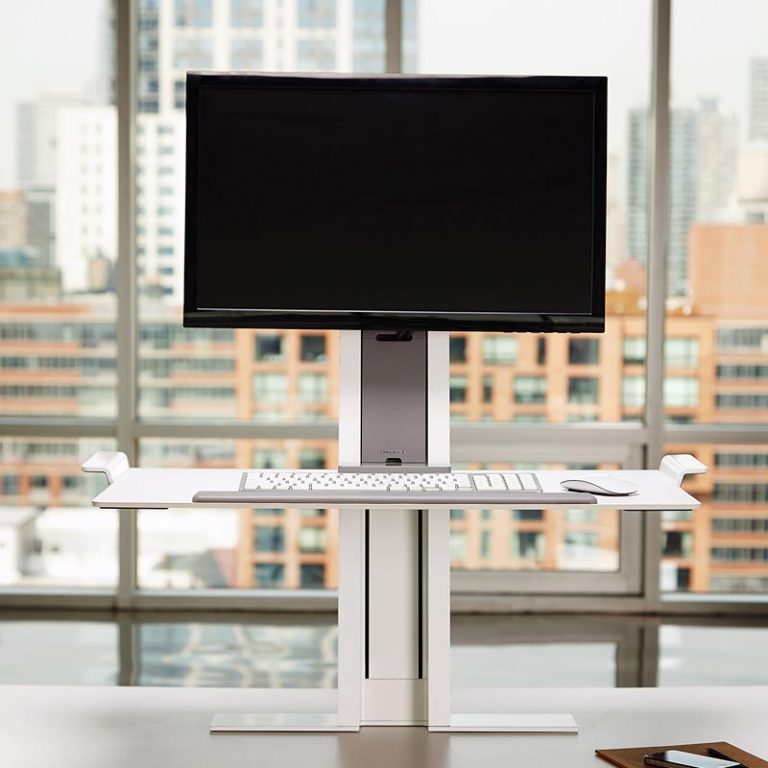 ---
The QuickStand by Humanscale is an award winning and uniquely designed workstation riser. Unlike conventional desk risers, it is meant to complement the desktop and not replace it and so is very specific in nature and limited in use to flat screen computer monitors. This is more of a limitation than a disadvantage. The unit is rigidly clamped to the table at the back and the computer monitor is secured to a movable bracket mechanism while the keyboard rests on an adjustable platform. The cable management approach of the Humanscale QuickStand to avoid clutter and tangling is impressive and works really well. In the lowest position, it is virtually at the same level with the base table surface which gives it a fuller range of motion than other desk converters. Due to its limited functionality, it is not designed to carry any other tabletop items other than a monitor, a keyboard and a mouse so its weight capacity is quite low.
Humanscale QuickStand Sit Stand Workstation
Overview
Price
Prices start from $849
Lifting mechanism
Manual counterbalance lift
Maximum height
23 inches
Available colors
Available in black or white
Load capacity
Can support a maximum total weight up to 25 pounds
Dimensions
Top surface is 28 inches by 17 inches (bigger model) or 11 inches (smaller model)
Warranty
5 years
Shipping
Product ships within 1 to 2 weeks if purchased as is but within 2 to 3 weeks if customer requires customization
How the Humanscale QuickStand Works
There is a fair amount of assembly involved before the QuickStand Humanscale is ready to be used as it does not come fully assembled like some desk risers available in the market. When fully installed, the base of the unit is securely clamped to the outer edge of the table and the cables of the monitor and keyboard are led through the chassis of the QuickStand riser mechanism. The clamps work on work surfaces that have thicknesses of between half an inch to almost 3 inches. When fully installed, it is relatively easy to transfer the whole setup from one workstation to another because of its light weight.
The Humanscale QuickStand adjustment is pretty standard and is operated by pulling the levers on both ends of the keyboard tray while moving it up or down. Releasing the levers engages the lock and the tray remains in place for use. Due to the lightweight nature of the keyboard tray, it is liable to some unwanted movement while in use, especially if the user has heavy keyboard strokes. When it is set to the lowest position, the tray becomes a part of the base table as it rests almost completely flat atop it and normal activities like writing, drawing etc. can be done on it. However, there is a small clearance of about 6 millimeters off the bottom surface that might prove uncomfortable to some users.
>The monitor is also adjustable, but it suffers from a different problem than the keyboard tray, as it may prove a little stiffer than ideal. The monitor can be tilted up or down for a range of about 20 degrees to get the best angle suitable for the user. The QuickStand comes with two options to choose from, between a small or large platform, and a single or dual monitor setup making up three different models. Adjusting the keyboard or monitor height is a completely vertical motion and there is no horizontal movement at all.
Comparing the Humanscale QuickStand with other Standing Desks
The Humanscale QuickStand is a sharp departure from the standard standing desk converter model as it is more of a table accessory than anything else. The major difference between the QuickStand and other platforms is in utility. While other standing desks are more or less an extension of the tabletop, the QuickStand is more like one of the items to be placed on the desk. The main desk surface is still available to be used albeit only while sitting down.  As an alternative, the keyboard tray may be raised all the way up to free up the tabletop for other types of works that are not computer related. Even though the platform cannot hold much more than the keyboard, it still has enough space because the monitor is completely out of the way and does not take any of the surface are. However, the keyboard tray is reported to bounce a bit when it is beeng typed on as it just can't withstand too much downward force, so this is not ideal for users who type with heavy strokes.
Price is another big difference as the QuickStand costs almost three times as much as a conventional desk riser. Coupled with its limited application, this cost may prove prohibitory to most users. However, the Humanscale is an elegant piece of office furniture that can really command as a workspace centerpiece because of its eye catching aesthetics. Another mitigating factor is that, in order to achieve the same configuration as the QuickStand, other standing desk converters would require additional accessories which may cost upwards of $200.
The cable management function is a very good and unique move as the problem of errant wires and cables has been solved in a clean and efficient manner. All cables are channeled through the chassis of the trunk and there are even USB outlets to make all necessary connections easier.
The Bottom Line
The QuickStand is certainly different but what it does well, it does excellently well. Its failures would be better considered ill adaptations to tasks it was not designed for, so it is unfair to judge it based on things like weight capacity and surface area. Users who work almost entirely on their computers or creative people who don't do any sort of actual paperwork, will find this workstation very suitable and liberating.
The company offers a 30 day free trial period within which the product may be returned if it is undamaged and still in resalable form. However, a 5% restocking fee will apply. It is difficult to make a case for the high price of $849. It is good that there is a trial period allowed but this means the customer is bound to pay almost $50 if it is decided that the product is not suitable after all.
Even at this steep price, there is no mistaking the statement that the QuickStand makes. It looks premium, elegant and aesthetically suitable for most interior decorations. The white version is a little difficult to keep clean though and the black version may be a better, if less visually striking, choice. Although Humanscale QuickStand reviews seem to be poor, it is mostly as a result of wrong application. If money is not an issue or aesthetics play very highly in the list of priorities, the QuickStand is certainly a very good choice.
Like Humanscale QuickStand? You may also wish to consider our Ergotron WorkFit-T guide.
---