Halter ED-258 Standing Desk Converter Review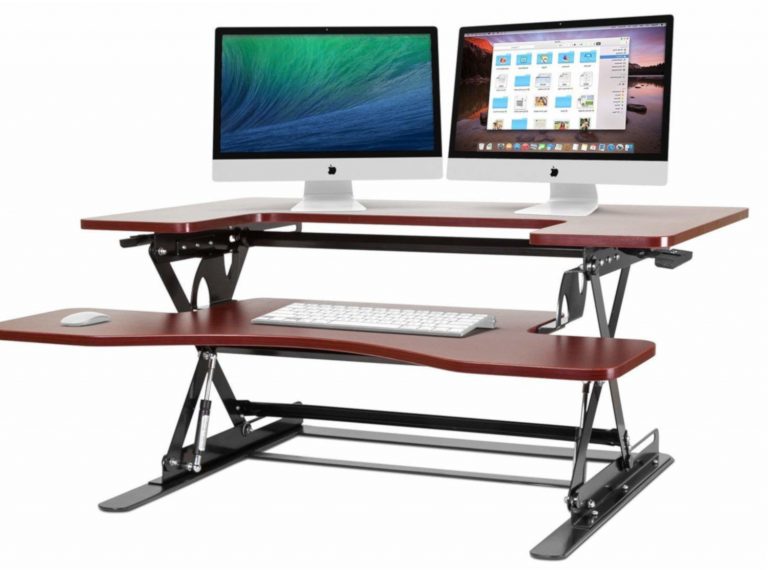 ---
Halter ED-258 Standing Desk Converter is an affordable sit-stand desk converter that provides ease and flexibility in transforming any workstation. With the increasing number of desk-bound jobs and inactivity while computing, users are left with no choice but to remain seated for prolonged periods. This promotes an unhealthy lifestyle which harms one's health. This standing desk converter enables users to adjust the desktop from a sitting to standing position and vice versa within seconds. This desk was introduced in the market in 2016 as a budget-friendly desk converter. It is quite wide in size which can accommodate two or more monitors depending on their sizes. The keyboard tray is also quite spacious which can not only accommodate a mouse but a notepad or other accessories as well. The height can be adjusted according to each user's preferences to offer a flexible and personalized experience.
Halter ED-258 Standing Desk Converter
Overview
Price
Starting at $200
Lift type
Hydraulic, X-lift
Material
Aluminum, laminated wood, and painted steel
Sizes Available
Desktop Dimensions: 35.6"L x 20.4"W, Keyboard Tray Dimensions: 35.6"L x 17"W, Base Dimensions: 28.25"L x 23.25"W
Colors Available
Manual Cherry
Weight Capacity
Maximum total capacity of the desk is 47.3 lbs (21.44 kg) as advertised whereas the actual load capacity is around 40 lbs (18.18 kg)
Manufactured
China
Shipping
Free shipping with Amazon Prime
Warranty
One year warranty
Review of Halter ED-258 Standing Desk Converter
---
Specifications
Halter ED-258 Standing Desk Converter is an affordable solution for individuals suffering from neck, shoulder, and back problems. It allows them to adjust the desktop height according to their comfort and ease. The desktop's weight is 47.3 lbs (21.44 kg). Its maximum load capacity is 44.1 lbs (20 kg). The width of the main work surface is 35.6" (90.5 cm) with a depth of 20.4" (51.8 cm). The width of the keyboard tray is the same as that of the main work surface with a depth of 16.9" (43 cm). The wide surface area of the workspace and keyboard tray allows for multiple monitors and other accessories to be placed on the desktop for maximum productivity. The minimum height of the desktop is 6.5" (16.51 cm) which can be raised to make the maximum height up to 16.14" (41 cm). The desktop has two handles attached on both its sides which can be squeezed simultaneously. The height can be adjusted accordingly and handles released to lock the desk on that height. This allows users to transform from their sitting or standing position in just a few seconds.
Appearance and Maintenance
Halter ED-258 Standing Desk Converter is designed to provide comfort and flexibility to users who spend much time in front of the monitor. However, it lacks aesthetics in appearance. It has a crude design which comprises laminated-wood planks attached with metallic supports and handles. The metallic base is connected with the wooden planks through bolts and screws which are exposed. This offers an unfinished and unpolished look. The laminated wood is also of poor quality where imperfections and scoring marks are easily visible. The design of the desk itself makes it quite stable which does not wobble. The keyboard tray provides a stable base which does not allow the keyboard to resonate or vibrate during typing. The height adjustment feature is although easy to use, but creates a squeaky noise which is unpleasant. The desktop is fully installed when it is received, so no particular installation or maintenance is required apart from cleaning. Cleaning the metallic surfaces can be a bit bothersome because of the exposed nuts and screws which allow dust to be accumulated around the grooves and edges.
Assembly and Accessories
Halter ED-258 Standing Desk Converter provides ease during assembly and installation. When the package is received, the desk is fully installed. Users do not have to worry about connecting various pieces together to make the end product. They only have to open the box, take out the desktop, and place it on any desk where they intend to work. The desk converter comes with a product information guide which provides information about how to use the product. Handles are squeezed, and the desk is lowered or raised according to the desired height after which handles are released to lock the desk at that particular height. The stable design of the converter desk allows it to be a good choice for people who are looking for an affordable sit-stand workstation. There are no particular accessories available for this desk to make it scalable or more comfortable for the user. There is no accessories available to make this desk appropriate for taller people.
Packaging and Shipping
Halter ED-258 Standing Desk Converter is an affordable sit-stand desk converter that offers customized height-adjustment options to users. They can switch gears and transform their workstation from a sitting to a standing position or the opposite within seconds. The desk is manufactured in China and shipped to the U.S. free of cost through Amazon. For other destinations, the manufacturer has to be contacted to see if they ship to that country. The desk comes fully installed in one piece, so there are no separate components to worry about. The shipping dimensions of the package are 35.6" x 16.9" x 16.1" (90.4 cm x 43 cm x 40.9 cm). The shipping weight is approximately 47.8 lbs (21.6 kg). The item has a 1-year warranty which is supplied along with the package.
Benefits of Halter ED-258 Standing Desk Converter
Halter Standing Desk Converter provides users with the flexibility of switching their positions while working by just a simple gesture of the hands. It allows them to add a little variety in the way they work by switching from a sitting to standing position with minimum effort. It is especially useful for individuals with neck, shoulder, or back problems as it lets them adjust the desktop height to a position where they feel comfortable. The desk provides users with the ease of lowering or raising the desktop to find a height they are comfortable with. With the hydraulic mechanism of height adjustment, customers just have to squeeze the handles to achieve the desired height. The durable and stable architecture and low price of the desk make it a good choice as compared to its counterparts. It is ready to use out of the box as it comes fully installed. Users can just place it on a desk and start benefiting from its features.
The Bottom Line
Halter ED-258 Standing Desk Converter offers flexibility and comfort at a budget-friendly price. It not only allows users to adjust its height to enable them to compute while standing but also gives the option of fine-tuning the desktop height while sitting. This enables them to adjust the height so that it puts minimum strain on the neck or back. However, this desk is not suitable for shorter people as it adds an extra few inches to a normal desktop while in the sitting position. This makes the desk a little higher for shorter people, and their hands would have to rest on a raised position than the one they are comfortable in. Similarly, it is not suitable for people taller than 5'8" as they would have to hunch over even at its maximum height while standing. This problem occurs because of its small range of movement which is around 10 inches only. The desktop also does allow any other option or does not supply any accessory through which its height could be increased for taller people. Thus, this product is not feasible for shorter individuals or those taller than 5'8". For people who have a low budget, this desk converter is an acceptable option that does the job to some extent.
Like Halter ED-258 Standing Desk? You may as well want to read our Vivo DESK-V000B guide.
---