Ergotron WorkFit-S Dual Monitor Sit-Stand Workstation Review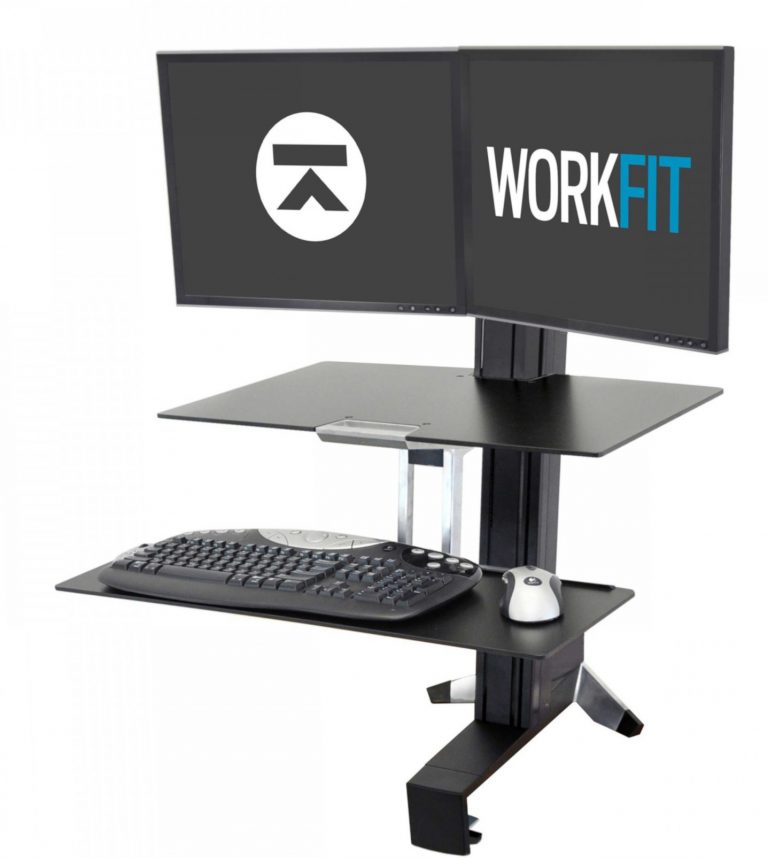 ---
Ergotron WorkFit-S Dual Monitor Sit-Stand Workstation is an ergonomic solution for comfortable and flexible working. It provides users with the option of transforming any work area into a customized stand-sit workstation. It helps to counteract the sedentary work styles by allowing users to change their working position by adjusting the keyboard and monitor with one fluid motion. It was first introduced in 2009 and immediately caught the attention of users looking for flexibility and ergonomics in a sit-stand workstation. It supports two monitors and a tray for the keyboard and mouse. The standing desk attaches easily to the desktop which can be lifted or lowered according to your position. The monitor mount and keyboard can be adjusted separately to provide users with a highly customized workstation position and design. It comes with a full five-year warranty and a number of paid accessories to make it more comfortable for users.
Ergotron WorkFit-S Dual Monitor Sit-Stand Workstation
Overview
Price
Starting at $579
Lift type
Manual
Material
Aluminum exterior with high-grade plastic and painted steel
Sizes Available
Accommodates screen sizes less than or equal to 24''
Colors Available
Black with chrome accents
Weight Capacity
Weight capacity of all components together is 31 lbs (14 kg). Individual weight capacity of LCDs is 6-14 lbs (2.7 – 6.4 kg) each and of the keyboard tray is 5 lbs (2.3 kg).
Manufactured
USA
Shipping
Free same-day shipping within the U.S. This item is not available for international shipping
Warranty
Five years warranty
Overview of Ergotron WorkFit-S Dual Monitor Sit-Stand Workstation
---
Specifications
Ergotron WorkFit-S Dual Monitor Sit-Stand Workstation provides flexible design and architecture. It can accommodate two monitors for a dual-display workstation. Each monitor can have a screen size up to 24" (61 cm). It can also accommodate some screen sizes up to 26" depending on the display thickness. The front-surface mount allows it to connect with any desktop with ease. The surface edge of the desktop can be 0.47" to 2.4" (1.2 to 6 cm) thick for it to attach with the workstation. The LCD and keyboard tray can be moved up or down for 18" (46 cm) while the LCD can independently be moved up to 5" (13 cm). A mouse tray can be installed on the left or right side of the keyboard tray. The maximum load capacity of the complete unit is 35 lbs (15.9 kg). The individual load capacity for the monitors is 14 lbs (6.4 kg) each and 5 lbs (2.3 kg) for the keyboard and mouse tray. Mounting standards conform to VESA FDMI MIS-D, 100/75, C (hole pattern: 100 x 100 mm and 75 x 75 mm).
Appearance and Maintenance
Ergotron WorkFit-S Dual Monitor Sit-Stand Workstation is an aesthetically pleasing workstation that goes with almost any kind of desktop and room interior. It only comes in Black color with chrome accents which provides a decent and sophisticated outlook. It is constructed from durable aluminum, high-grade plastic, and powder coated painted steel. It is easy to clean which requires minimum effort in maintenance. It can accommodate two monitors side by side to improve productivity and efficiency. With an added accessory of the Hinged bow, the monitors can be turned to share the screen with other individuals. Since it accommodates two screens, the surface to which it is attached should be strong enough to hold the combined weight of the workstation. Sometimes, the height-adjustable unit does not stay in the position where it is pushed which requires tightening of certain clamps and screws. The details of maintenance of this kind are outlined in the product information document supplied with the desk riser.
Assembly and Accessories
Ergotron WorkFit-S Dual Monitor Sit-Stand Workstation is very easy to assemble. The installation and assembly guide is provided with the workstation which includes easy-to-follow instructions on how to connect all the components. Once all components are connected together, it can easily be attached to any desktop. The LCD mount and keyboard tray can then be adjusted vertically with just a small push of the hand. A number of accessories are available for the workstation to make the experience more customized and flexible according to the user's requirements. The accessories include a $99 Neo-Flex Floor Mat and a $15 Quick Release LCD Bracket. For users taller than 5'11", a $50 WorkFit Dual Monitor Tall USer Converter Kit is available. Since the workstation allows users to sit or stand while computing, it may require longer USB cables and power cables. For this purpose, longer length USB extension cables, power cable, and monitor cables are also available as accessories.
Packaging and Shipping
Ergotron WorkFit Dual Monitor Sit-Stand Workstation provides a personalized height-adjustable desk. This enables users to transform their workspace and switch positions during computing with minimum effort. It can be ordered from the manufacturer which will then be shipped to shipping address provided. The package includes a height adjustment column, desk clamp, crossbar, two LCD mounts, keyboard tray, and a mouse tray that attaches with the keyboard tray. The shipping dimensions (height x width x length) of the package are 8" x 23" x 44" (20x58x115 cm). The shipping weight is 40 lbs (18 kg). The company only accommodates domestic shipping currently. Same-day free shipping is offered for all the U.S. states and APO/FPO addresses. For APO/FPO destinations, the warranty and support specifications differ from other locations. The corresponding details could be acquired from the manufacturer. International shipping is not offered for this workstation.
Benefits of Ergotron WorkFit-S Dual Monitor Sit-Stand Workstation
The WorkFit-S provides comfort and flexibility to its users by providing the option of computing while sitting or standing. With its easy installation and an open-architecture design, users are provided with ergonomic flexibility and ease of adjustment. Working while standing helps them burn calories and counteract the effects of the rising sedentary workstyle nowadays. With just a push or pull of the hand, the keyboard and LCD can be lifted up or down. This gives users the flexibility to transition from a sitting or standing position with much ease and comfort. To provide a personalized working experience, the workstation utilizes the patented Constant Force technology that allows for fluid motion of the keyboard tray and LCD mounts. This adjustment is useful especially when one has to compute for prolonged periods. The dual-monitor allows for productive work experience with advanced ergonomics. The various accessories of WorkFit-S make the work experience even more enjoyable and constructive.
The Bottom Line
Ergotron WorkFit-S Workstation provides an ergonomic solution with a superior design and architecture. With its ease of moving the monitors and keyboard tray, users can transform their workstation from a sitting to standing position and vice versa. For individuals who have to work on computers for long periods of time, this workstation is ideal as it enables them to adjust the height according to the way they want. Not only are they able to bring variety in the way they compute, but they are also able to promote their fitness by standing for long periods of times while working.
Its installation is easy and well defined in the installation guide. It easily attaches to almost any kind of desk. Once installed, users can tweak its adjustment according to their requirements with just a small push or pull of the hand. Thus, anyone who is considering a Sit-Stand workstation to enable them to re-position while working should definitely go for this WorkFit-S workstation. However, for individuals who are taller than 5'11", this workstation is not appropriate as it is. They would have to purchase the converter kit for taller individuals along with the longer USB cables and power cables. This incurs an extra cost which should be considered before making the final decision of ordering this workstation.
We advise you to check out our Humanscale QuickStand guide if you don't know if you would like to buy Ergotron WorkFit-S Dual Monitor.
---