Kangaroo Sit-Stand Workstation Comprehensive Review
Kangaroo Sit-Stand Workstation
Overview
Lift Type
Gas-assisted manual lift
Sizes Available
28" W X 24" D, Kangaroo Jr 24" W X 18" D
Weight Capacity
12.0 lbs
Material
Steel frame
Colors Available
Black, Light Maple, Putty, and Cherry
Manufactured
In the USA
Shipping
3 to 4 weeks
Warranty Steel frames
5 years
Rest of the Roo
2 years
A mélange of health problems, from shoulder and neck pain to lower back pain, leg cramps and sciatic issues can all be traced back to sitting for long stretches of time in a static position. A simple, yet most effective solution, is to move your body exactly the way it is intended to move. That's where the Kangaroo Sit-Stand Workstation comes in handy. It enables you to easily adjust your work desk from a sitting position to standing height without the need to clamp or bolt the unit down. All you need to do is sit on your desk, get assisted-manual lift, and the unit will self-adjust and give you all the health benefits of an adjustable work-position such as increased alertness, more calories burnt, and less shoulder, back and neck pain. In this article, we are going to give a complete review of the Kangaroo Sit-Stand workstation.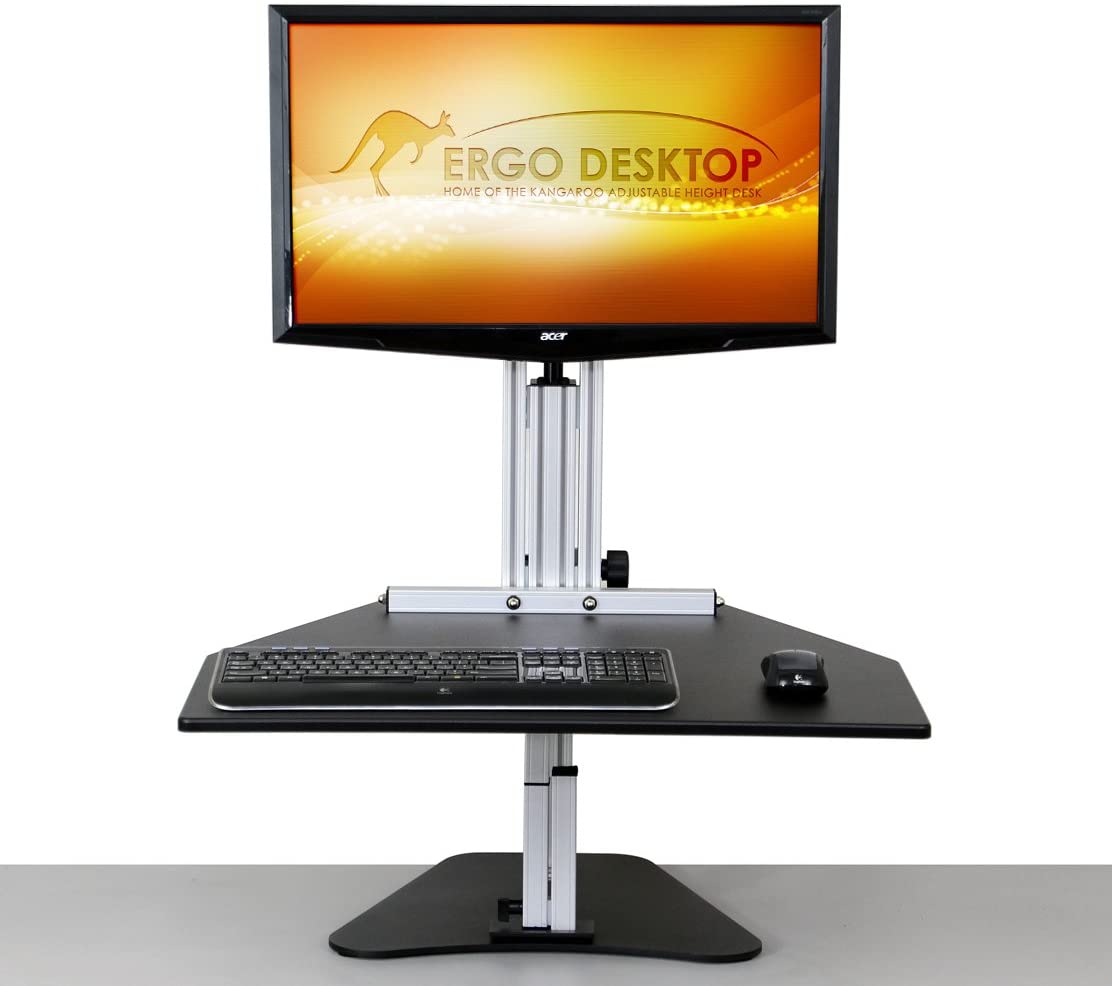 Just like we do in all our desk riser reviews, we will look at a number of qualities and features that make the Kangaroo Sit-Stand Workstation a healthier alternative to the traditional fixed desks, and if any, some reasons why you may not like it. But just in case you don't have time to read the entire review, our opinion is that this model is of good value for its price. Following, are the key features of this standing desk converter from Ergodesktop.
It Is Designed for Ergonomic Height
Its changeable monitor sill holds a laptop/LCD monitor, a mouse, and a keyboard at ergonomic positions. The main surface is variable vertically up to 15 inches, and the monitor sill is separately adjustable an addition 6.5 inches, giving you duo ergonomics.
The unit's surface is quite stable and it enables the user to work calmly on it: write notes on a book, type on the keyboard, and hold coffee. It is not a station to climb on and bounce up and down on its surface… but a cat will really enjoy it.
It  Measures 21.5 Inches, With a Total Weight of 12.0lbs
The desk is built to hold an LCD monitor of up to 21.5 inches, with a total weight of 12.0 lbs, which makes it too small for heavier and older CRT monitors, but perfect for a contemporary LCD screen, LED screens, or laptop.
Ergodesktop does provide "Kustom Kangaroos" for heavier monitors such as iMac or Apple Cinema Display for an additional cost (about $85.00 above the price of Kangaroo Sit-Stand workstation).
It Is Available in Four Finishes
ErgoDesktop provides Kangaroo Sit-Stand workstations in 4 different finishes. There is the black version, light maple, putty, and cherry. The work platform isn't polished – but it features some minor texture designed to increase friction and prevent the laptop or monitor from falling off the workstation. This is a good add-on because the desk doesn't come with material to secure the monitors.
It Is Simple and Fun to Raise this Adjustable Desk
Raising the workstation is not only simple but also fun. The process includes two easy steps:
Unscrewing the lock.
Giving it a little lift.
Up it goes, rising gently and easily.
When it is time to sit again, simply loosen the locking handle and press the main surface down. This might need more effort than raising the surface, especially with only a laptop on the surface. Be careful to only press the silver support bars situated at the back of the main surface to prevent damage to the desk.
Working on a raised platform has another advantage in that it frees up the space below the work surface. It is like working on a huge model of Spock's three-dimensional chess board. Just remember to remove any item from below the Kangaroo Sit Stand Workstation before lowering it…such as a sleeping cat.
Kangaroo Sit-Stand desk comes at an Affordable Price and Is Highly Portable
Ergodesktop's Wallaby version starts as low as $359, the Kangaroo goes for $459, the Kangaroo pro standing desk with the VESA mount is $489, and the dual monitor elite goes for $559 (average price).
All the models, including the Kangaroo Sit-Stand Workstation, come fully assembled and feature free shipping in the United States, which makes it easier for the buyer. They all come with a money-back guarantee policy; it is possible to return the product within 30 days and get a full refund.
Kangaroo Sit-Stand Desk is also quite portable. It is easy to move around the office or home, just in case you want to work in some other part with fresh air. It is possible to carry the product to an off-site location.
It Comes Without a Securing Device, But Don't Flick Out
One nitpick, this ergonomic desk could do with some form of securing device for the monitor or laptop on the platform to prevent them from falling in case of an earthquake or someone accidentally falling on it.
With that being said, there is a solution to prevent the machines from falling (my advice)…use Velcro stickers. They keep the monitor stable enough to remain secure but are simple enough to take off if need be.
It Is a High-Quality Standing Desk Converter
The end result is a high quality, manufactured in the United State Kangaroo adjustable desk that has helped many users change their work lives by eliminating or reducing the pain they experienced when working at their previous workstations all day.
Many users have stated that using this workstation has transformed their lives, providing them with greater energy while working and enhancing their general work experience. There are other users who use this unit simply because it's a top quality product. Just think about the benefits of improving the overall fitness level as well as strengthening the body while working-it's worth its budget, right? What's more important than your health?
The Bottom Line
Rock solid and firm, the sit stand workstation is among the best in the desktop industry. Its unmatched combination of remarkable lifting strength, great stability, and high adjustability, sets the bar for workstation risers. Its fantastic performance specs, coupled with a relatively low price and its wide collection of available alternatives, make it attractive for users of any budget or need.
Ergo Desktop designed this adjustable desk to fulfill the need of those who want to enjoy the advantages of alternating between sitting and standing but don't want to throw away their current desk.
Have doubts about Kangaroo Sit-Stand Workstation? There are actually a lot of other options. For example, check our Fellowes Lotus Sit-Stand Workstation review to have a different perspective.
---