Varidesk Varichair Review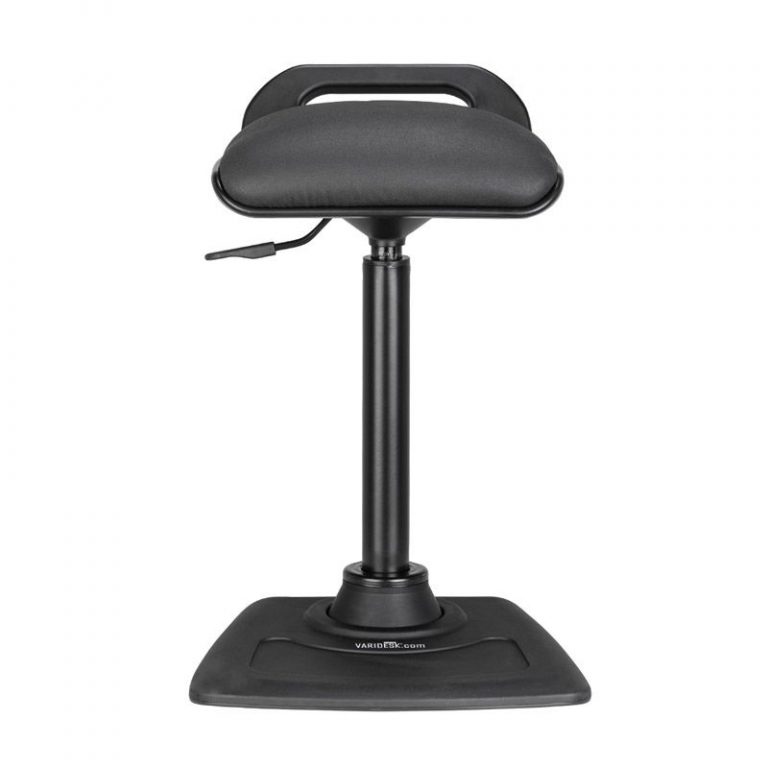 ---
The Varidesk Varichair is a slight variation on a standard desk chair or stool. Although this chair can be sat on, it is intended to lean on. This is so the user can flex and use their muscles whilst working.
Due to its range of movement, the Varichair allows the user to exercise a number of muscles in the body. This is the feature that allows you to get the most out of the product during a standard working day.
Varidesk Varichair
Overview
Price
$195
Material
Steel and Plastic
Minimum Height
23 inches
Maximum Height
32.75 inches
Colors Available
Black
Weight Capacity
220 lbs
Where Produced
China
Shipping
Free to tall US states except Hawaii and Alaska (standard Fedex rates to these states). Shipping takes 2-5 business days.
Warranty
30 day policy for free returns. Warranty is a year and broken products can be fixed or replaced within this period.
Varidesk Varichair Review
---
What Does The Varichair Do?
Varidesk Varichair allows a person to exercise whilst at their desk when working. It does this by allowing you to lean on a chair with an articulating pedestal to engage the bodies leg, back and core muscles. The Varichair pedestal rotates in several directions, meaning the user can exercise different muscles by engaging in different actions whilst at their desk.
Is Varichair Effective?
The Varichair is a product that tends to split opinion. If you are looking for comfort then this isn't the product for you. However, the Varichair is effective in the area it is designed to be. It allows you to lean on it whilst you work at standing desk and engage all the intended muscles to ensure you aren't inactive during the work day. It is effective for combatting cramps and pains at work, such as back pain. This is because the user is no longer sat on a desk chair constantly leaning back. They are instead exercising muscles and maintaining a good body posture.
What Are The Best Features Of The Varichair?
The standout feature of the Varichair has to be its dynamic range of movement. Due to this ability to move in so many directions, it creates a versatility to the way each person exercises at their desk. Even if a person has been sat at their desk all day, using the Varichair, there will be another way to utilize the product so that they can exercise a different muscle. The Varichair allows you to exercise back, core and leg muscles merely by sitting with a different posture. Furthermore, because the seat has such a low back, it promotes leaning forward and using the dynamic movement feature. This helps to create right body posture, as well as regular exercise.
Where Does Varichair Fall Short?
Although the Varichair does exactly what it says it will, it does have some shortcomings. The products main failure is the lack of comfort many experience when using it. Varichair may not be designed for comfort and long term sitting, but this is sometimes a necessary part of working. When this is the case, the Varichair's cushion offers very little protection from the harsh frame of the chair and is therefore very uncomfortable. Furthermore, in this case, the lack of a high back on the seat and the constant movement makes it difficult to relax and take a break from exercising.
Another feature of the chair that fails to meet expectations is the adjustable height. Whilst the adjustable height is fine for most users, it does not go low enough for everyone. Especially those with low desks. This renders the product almost useless for anyone with a low desk.
Finally,  the price of the Varichair could also be considered a shortcoming. Despite many of its features, it does not offer much more than many of its cheaper competitors. The product is a case of paying quite a lot more, for only a slight quality increase.
Shipping, Warranty And Returns
Shipping is free to all US states with the exceptions of Hawaii and Alaska, which are priced at standard FedEx costs. Free shipping takes 2-5 days. International shipping is also available to certain countries via Amazon, however it may cost more. International delivery costs will change depending on the nation.
If you are not happy with the product or it is faulty, you may wish to return it or replace it. The product can be returned and full refunded for the first 30 days after ordering. After that period it cannot be returned. However, the Varichair is under warranty for a year. This means that if it is faulty, you can get in touch with the company and they will either fix the product or replace it, as per your request.
The Bottom Line
In short, the Varidesk Varichair is a very effective product when used at the right desk for shorter periods of time. If used for too long it can simply become uncomfortable and act as a deterrent for work and exercise. As far as the product quality goes, it is reliable and made from good material. However, the price is quite high for what you are paying for, especially as there isn't that much difference between the Varichair and its competitors.
If you are looking to exercise at a desk for a few hours a day then Varichair may be perfect. However, if you are looking for comfort or longer term desk exercise then it may not be the ideal solution.
Still can't come to a decision after reading our review of Varidesk Varichair? There's a different option you may find interesting: Herman Miller Embody.
---