The Wobble Stool by Uncaged Ergonomics Review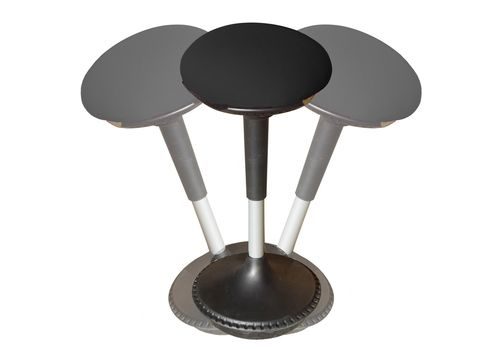 ---
The Wobble Stool is a great tool used for active sitting. The stool allows you to move 360 degrees without leaving your seat. By doing this it increases your body's circulation and helps to promote healthy living.
The product has a weighted base which means it is not likely to slide around the floor, like many of its competitors would. This means you can spin and move around freely without worry.
The Wobble Stool by Uncaged Ergonomics
Overview
Price
$99.99
Material
Plastic, steel and aluminium structure, with a fabric or leather cushion
Minimum Height
23 inches
Maximum Height
33 inches
Colors Available
Black leather, black fabric, blue fabric, red fabric
Weight Capacity
250 lbs
Where Produced
USA
Shipping
Free shipping to USA mainland that takes 3-5 business days. Shipping to Hawaii and Internationally will cost more and may take longer. International shipping rates cover freight only and not taxes at customs.
Warranty
90 day warranty on parts made by Uncaged Ergonomics
Uncaged Ergonomics Wobble Stool Overview
---
What Does The Wobble Stool Do?
The Wobble Stool is a multi use stool which promotes active sitting and improved circulation, whether you are at work or in a bar. It swivels 360 degrees so that it is easy to manoeuvre whilst seated and has a weighted base so it doesn't slide around.  The aim of the Wobble Stool is to enhance functional sitting and healthier living.
Is The Wobble Stool Effective?
The Wobble Stool fulfils its main purpose, which is to allow the user to be more active when seated. It improves circulation as the user in regularly moving around whilst using the product. However, the cushion is made from poor material and can be uncomfortable for longer periods of time. This means that the user would find it difficult to use the stool for a full day at work. This lessens the positive effects of the stool.
What Are The Products Most Useful Features?
The most useful feature of the Wobble Stool is its 360 degree swivelling motion. This feature allows the user a great deal of flexibility to their movement and is very useful for improving circulation.
Another useful feature is the weighted base. This means the stool is stable whilst in use and returns to an upright position when not. By ensuring the Wobble Stool doesn't slide away when turning, the weighted base allows the user to get the most out of the product.
Are There Any Downsides To Wobble Stool?
On the other hand, wobble stool has its downsides. One of those downsides is the poor quality material the seat cushion is made from. Due to the poor quality material, the seat is uncomfortable to use for longer periods and can make sitting quite difficult. The cushion also tends to break up after long term use and make the seat even more uncomfortable. Additionally, due to the shape of the cushion, it promotes an unnatural body posture which can cause aches and pains in different areas of the body.
Another downside is the Wobble Stools inability to stay in the desired position. Due to this, it requires regular readjustments which are both time consuming and inconvenient. Furthermore, there is no clear explanation in the manual about how to go about these readjustments.
Warranty, Shipping And Returns
The product has a 90 day warranty on parts made by Uncaged Ergonomics. Shipping of the product is free within mainland USA and takes 3-5 business days. Shipping to Hawaii and International shipping may take longer and be of a higher cost. Furthermore, international shipping rates are based on the cost of just the freight and do not include taxes at customs. There is a 30 day, no questions asked, return policy for this product.
The Bottom Line
In short, the Wobble Stool is a creative solution for those who suffer from circulatory issues. However, it is not a perfect solution. Its 360 degree swivelling movement is a great feature for those who wish to keep moving, especially alongside the weighted base, which allows for movement without sliding. Yet, the lack of cushioning provided by the seat means the stool cannot reach its full potential and falls a little short as a method of improving health.
Have doubts concerning Wobble Stool? There are actually lots of great options. For example, take a look at our Focal Upright Mogo Seat review to get a better perspective.
---