Serta Works Ergonomic Executive Office Chair Review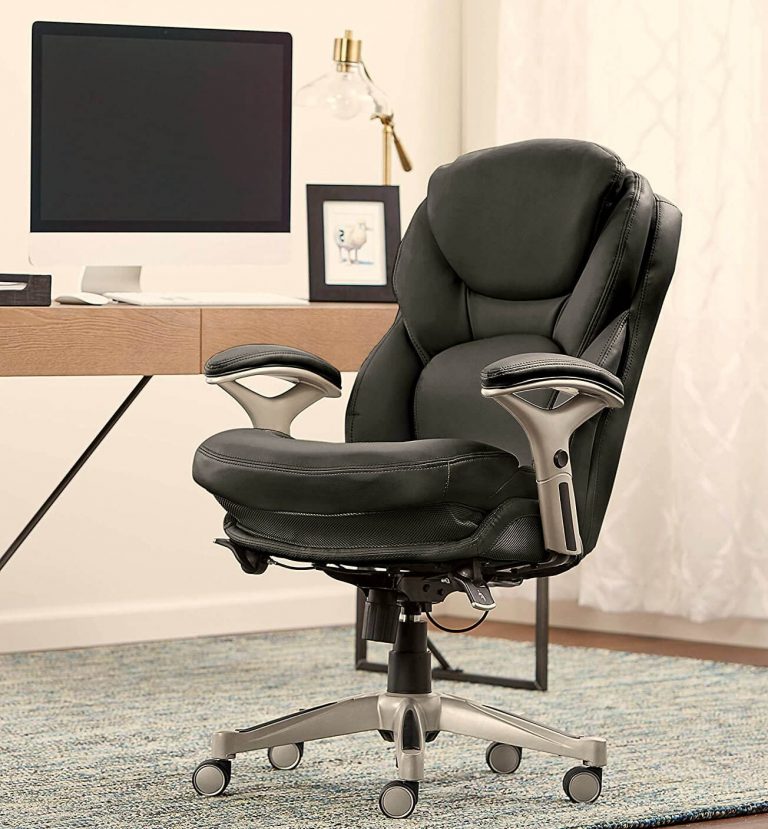 ---
Serta Works Ergonomic Executive Office Chair is a seat that provides comfort, flexibility, and durability to its users. This product features several compelling components that make it one of the best ergonomic chairs available in the market today. It can support weights in the range of 350-400 lbs. The dynamic AIR lumbar support offers pivoting support that adjusts according to the user's body and sitting position. Across the complete backrest are ergonomic pillows that provide exceptional comfort and ease for users as they work. The upholstered armrests feature soft pads and cushions which further offer a comfortable sitting position. The ergonomic chair features a pneumatic lift where users can adjust the tension and make precise adjustments to the height or tilt of the chair. The actuated lever also provides a lockout feature through which the current adjustment could be locked. This adjustable height feature of the product allows it to be used easily with a standing or sitting desk.
Serta Works Ergonomic Executive Office Chair
Overview
Price
Starts at $229.49
Lift Type
Pneumatic seat height adjustment
Material
High-quality steel, puresoft faux leather
Sizes Available
29.8" x 25.8" x 42.8" (75.7cm x 65.5cm x 108.7cm), backrest height is 25" (63.5cm)
Colors Available
Black, Cream, Light Gray
Weight Capacity
350 – 400 lbs (158 – 181 kg)
Manufactured
USA
Shipping
Free Shipping offered within the USA.
Warranty
1-year limited warranty for cushions and parts
Overview of Serta Works Executive Office Chair
---
Specifications
Serta ergonomic office chair is one of the best office chairs available today. It has a strong and sturdy construction where it can accommodate a maximum load of 350 lbs (158 kg). The Serta Big and Tall Office Chair has a maximum load capacity of 400 lbs (181 kg). The dimensions are 29.8" x 25.8" x 42.8" (75.7cm x 65.5cm x 108.7cm) and its weight is approximately 41 lbs (18.6 kg). The product is constructed from high-quality steel with bonded leather upholstering and puresoft faux leather cushions. Serta Office Chair has an AIR Lumbar support which is not static, unlike other similar products. It adjusts according to the user's body and sitting position. This ensures a good fit and makes it a good chair for back pain. The backrest has a height of 25" (63.5 cm) and is completely covered with ergonomic pillows to enhance the comfortable experience. The armrests also feature large pads which offer comfortable support for the arms while sitting. The model also features a pneumatic lift through which users can make the required height adjustments. This is achieved through actuated levers with a lockout system at the side which adjust the height and the tilt of Serta Works.
Appearance and Maintenance
Serta Desk Chair is one of the best office chairs for back support. It not only provides the required ergonomic comfort but also serves as an aesthetic addition to any office. It comes in three different colors: Black, Cream, and Light Gray. It is an aesthetically pleasing furniture that is constructed to provide strength and durability. It is made from high-quality materials including bonded leather and faux leather. The faux leather does not make the user sweat or feel hot which is a problem with traditional leather. The lumbar support, pillow cushioning on the backrest, and padded cushions on the armrest all add to the increased comfort and usability that Serta Office Chair has to offer. Its height can easily be adjusted through the side levers which also feature a lockout mechanism. This ergo chair helps improve the user's posture as it gets adjusted according to the position of the user's body. It comes with a user manual which describes in detail all the troubleshooting and maintenance issues that might arise during its use.
Assembly and Accessories
Serta Works Executive Office Chair provides enhanced comfort and flexibility through its various features and ergonomic design. When it is ordered from the manufacturer, it is delivered to the destination address in a box. The product comes in a half-assembled form. The assembly instructions are outlined in detail in the installation guide provided with the ergonomic chair. Users can easily follow these instructions to assemble the product in a few minutes, and it is ready to be used. Once assembled, users can adjust its height and tilt whenever they want. Due to the ergonomic design of Serta Office Chair, it is able to adjust with just a little weight shift of the users to provide ultimate comfort to them. It is one of those high-end office chairs which can be used with standing or a sitting desk to enhance their experience. This product serves as an excellent accessory to a height adjustable desk as it allows users to adjust its height as the height of the desk is increased or decreased.
Packaging and Shipping
Serta office chairs provide their users with ergonomic comfort making them the best chairs for back pain. It is delivered to the user's doorstep by the manufacturer when it is ordered. The shipping dimensions are 30" x 26" x 42" (76.2cm x 66cm x 106.7cm) with a shipping weight of 52 lbs (23.6 kg). The manufacturer offers free shipping to all states within the USA. International shipping is provided for certain countries with the respective shipping rates. Users can contact the manufacturer for detailed information about international shipping. Domestic same-day shipping is also offered. The shipped package contains all the components of the ergonomic chair along with the user manual and assembly instructions. Users can follow the assembly instructions to assemble it within minutes for it to be used. The manufacturer offers a 1-year warranty, for the chair cushions and other parts, which is also supplied along with the other documents of Serta Office Chair.
Benefits of Serta Works Executive Office Chair
Serta Office Chair is an ergo chair that provides its users with a number of advantages which makes it superior to its competitors.
It can be considered the best chair for posture as it features the lumbar support and pillow cushioning which adjust according to the user's position. The cushions and pillows allow the users to sit in an ideal posture which is also comfortable for them.
The height of Serta Office Chair can easily be adjusted according to the user's preference through the side levers which utilize a pneumatic lift. The tension in the levers is adjustable making the adjustment smooth and precise.
The AIR lumbar support, ergonomic pillows, and upholstered arm pads offer the ultimate comfort and convenience to users.
This ergonomic chair is constructed in an environment-friendly bonded leather which is not only convenient but pleasing to the eye as well.
The different models of the Serta Desk Chairs can accommodate different ranges of weight so users can choose from many options to choose the one which best suits their requirements. It is also available in a variety of appealing colors.
The Bottom Line
Serta Works Executive Office Chair is a type of ergonomic office chairs that offer numerous benefits to users. It is a stylish product with a sleek and decent design that complements any modern office and interior. This ergonomic chair with lumbar support helps users with back pain and improves their posture. The pillows and cushioning along the backrest move along with the user to ensure a comfortable fit and snuggle. Its height can easily be adjusted according to user preferences with minimum effort. The actuated levers at the side help in adjusting the height and tilt of the ergo chair so that users are provided with a comfortable and enhanced experience. The different Serta office chairs can support a weight range of 300-400 lbs. Serta Works office chair come at reasonable price thus making them an ideal choice for any office or study room. Although users complain about the durability of the chair after about a year, this product is an excellent choice for anyone with a limited budget who wants to experience advanced ergonomic comfort.
Have doubts regarding Serta Works Ergonomic Chair? There are actually plenty of high-quality alternative options. For example, take a look at our Varidesk Varichair review to have a better perspective.
---