Mogo Seat Leaning Chair by Focal Upright Review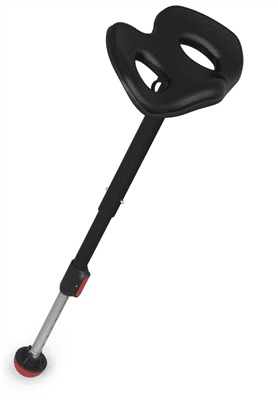 ---
The Mogo Seat is a leaning chair with a difference. Based on the basic premise of a pogo stick, this leaning chair comes with a rubber base that allows you to pivot in any direction without sliding.
The product comes with a foldaway feature and a travel bag, which allows it to be easily transported to any location.
Mogo Seat Leaning Chair by Focal Upright
Overview
Price
$129
Material
Nylon seat pan, foam seat cushion, rubber foot, aluminum leg
Minimum Height
18.5 inches
Maximum Height
38 inches
Colors Available
Black or red
Weight Capacity
300 lbs
Where Produced
USA
Shipping
Free standard shipping takes 1-6 business days to all of the USA except Hawaii and Alaska, for which the cost is $15.
Warranty
1 Year
Mogo Seat Overview
---
What Does The Mogo Seat Do?
The Mogo Seat is a portable leaning chair which aims to give your body a long needed break from standing. It is designed to be easy to use in any scenario. This means you can use it at home, in the office or even in the garden. Mogo is designed so that it is easy to deploy and adjust the height, so it is ready for any eventuality.
Is The Mogo Seat Effective?
The Mogo Seat has one clear purpose, which is to be a portable, versatile ergonomic chair that allows you to lean rather than stand in a variety of situations. In this regard, it is a very effective product. It allows you to lean at a standing desk, whilst at a garden party or just generally. However, one issue with the products effectiveness is its comfort. Due to the seat being made of relatively cheap material, it becomes painful to use the seat long term. This renders is considerably less effective.
What Are The Products Most Useful Features?
The most useful feature of the Mogo Seat is undoubtedly its portability. The seat efficiently folds away in no time, meaning it can be stored or maneuvered with ease. This feature is enhanced by the bag that comes with the product, making it even easier to transport.
Another useful feature of the Mogo Seat is the rubber foot which gives the product plenty of grip on almost any surface. Whilst many of its competitors tend to slide around when used, the Mogo Seat is very stable in this regard.
Are There Any Downsides To The Mogo Seeat?
The Mogo Seat is a far from complete product however. The materials the product is made from are of a poor quality and therefore have a tendency to fall apart over time. Furthermore, this means using the seat to lean on for more than 10 minutes becomes uncomfortable and renders the seat useless.
The Mogo Seat can also cause health issues instead of helping with them. This is down to the product placing too much pressure on the spine. Additionally, if the seat isn't angled properly when leaning, it can fall and inflict injuries on the user.
Warranty, Shipping And Returns
Mogo seat has a one year warranty which includes all parts and can only be shipped within the USA. Shipping takes 1-6 business days and is free for all states with the exception of Hawaii and Alaska, which cost $15. If the product is faulty or does not meet the customers desired expectations, the product can be returned within 30 days.
The Bottom Line
To summarise, the Mogo Seat is an innovative approach to the leaning chair. It presents a solution to the common issue of the chair slipping and is by far the easiest of all the leaning chairs to transport. However, it does not come without its failings. It is only useful for short term use due to the poor quality materials making it uncomfortable and presents a health risk if great care isn't taken when setting the product up. Due to these factors, the Mogo Seat doesn't excel as much as it could.
Still cannot choose after reading about Mogo Seat? There's another solution you could find interesting: Serta Works.
---