Mobis Leaning Chair Review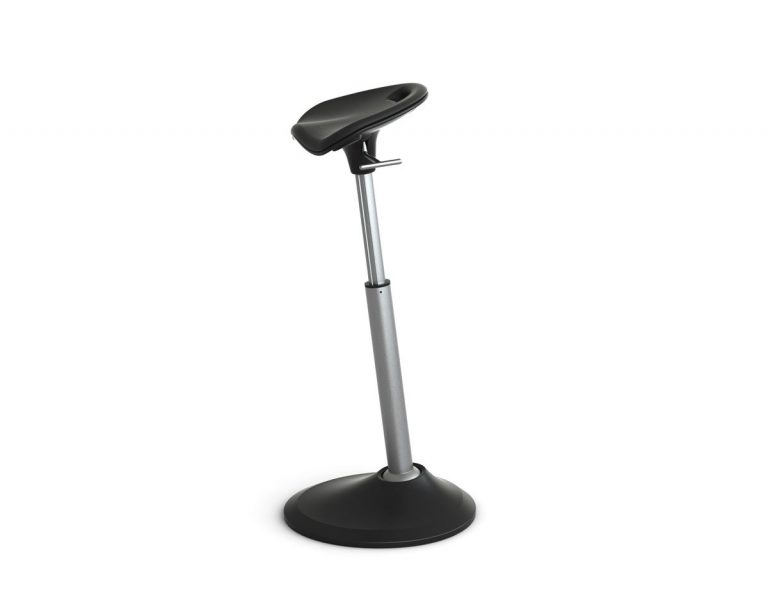 ---
The Mobis Leaning Chair is an angled chair which aims to improve your body posture and health by helping you to lean, rather than sit whilst working.
The product comes with a practical handle for transporting the chair and has adjustable height to suit every user.
Mobis Leaning Chair
Overview
Price
$399.99
Material
Foam seat cushion. Powder-coated, anodized extruded aluminum pivoting seat leg. Steel gas piston cylinder. Nylon, aluminum, rubber and carbon steel leg base. Brass and high-carbon steel leg pivot joint.
Minimum Height
25 inches
Maximum Height
35 inches
Colors Available
Matte black, cobalt, chili pepper, citrus
Weight Capacity
300 lbs
Where Produced
USA
Shipping
Free standard 1-6 business day shipping for all of the US except Hawaii and Alaska. For Hawaii and Alaska shipping costs $15. International shipping is available to most countries however it may be a higher cost due to customs charges and taxes.
Warranty
Lifetime warranty for all parts except seat cushion and piston which have a 5 year warranty.
Mobis Leaning Chair Review
---
What Is The Purpose Of The Mobis Leaning Chair
The purpose of the Mobis Leaning Chair is to allow you to work from an upright position. It aims to engage your muscles and keep your spine straight for healthier working. The chair does this by pivoting with your body movement to take pressure away from your back and joints whilst working.
Is The Product Effective?
Although the Mobis Leaning Chair does do exactly what it is intended to, it isn't particularly comfortable to lean on and you cannot sit on it for very long at all. This is especially the case if you are male due to the unfortunate placement of the central ridge.
When leaning, the chair does take weight and pressure away and help you spine, however discomfort simply moves to other areas of the body.
What Are The Standout Features Of The Mobis Leaning Chair?
The standout feature of the Mobis leaning chair is probably its general strong design. Unlike other competitors on the market, this chair could take a lot of wear and tear when in use and being transported, meaning it would be useful for long term users who want to make an investment that lasts.
Another standout feature is the chairs built in handle, which helps to make the chair easy to transport.
What Are The Negatives Of The Mobis Leaning Chair?
The first negative of the Mobis leaning chair is the most important. It has no real unique selling point or real feature that would draw people in. Although the chair is a solid build, it offers very little other than a robust build.
Secondly, the chair is quite uncomfortable, especially for men. Even when leaning on the chair as designed, the cushion offers little to no protection from the other, harder materials. The central ridge on the seat also makes it difficult to sit on the chair. For men it is placed in such a place that sitting cannot even be considered.
The chair also lacks stability. On hard floors it tends to slide away so the user gradually gets further from their desk, which is obviously not ideal.
Finally, after long term use, the Mobis Leaning Chair can squeak, which is irritating for both the user and those around them.
Warranty, Shipping And Returns
The product has a lifetime guarantee of most of its parts, with some exceptions. The cushion and the piston have a 5 year warranty instead.
The Mobis Leaning Chair can be shipped to most US states for free. However, deliveries to Hawaii and Alaska cost $15. Free standard shipping to the lower US states takes 1-6 business days.
International shipping is available to most countries however it may be a higher cost due to customs charges and taxes. Shipping is also available from third party sellers via Amazon which comes under a range of costs.
Returns are also available. To return the product it has to be in the same packaging it was purchased in. Returns have to be made within the first 30 days of ordering.
The Bottom Line
In short, the Mobis Leaning Chair offers the same as any standard leaning chair. It's lack of true standout features mean its solidity and reliability count for very little. Especially when you take in to account several of the issues with the product.
The price, uncomfortable nature and the tendency for the product to slide around, all mean that the Mobis Leaning Chair probably isn't worth its price. However, it is reliable and will last long term if needed to.
Still cannot decide after reading our review of Mobis Leaning Chair? There's an alternative solution you may find interesting: Steelcase Leap.
---