Ergonomic Locus Seat by Focal Upright Furniture Review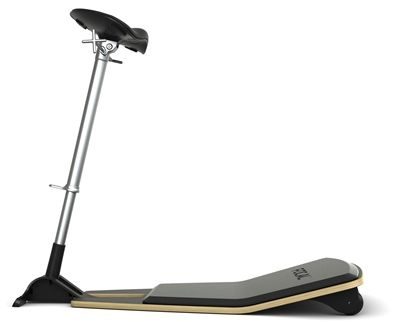 ---
Many workers suffers from back pain on a standard chair. This is where the Locus Seat comes in. The Locus Seat is an alternative to a standard desk chairs and offers users the chance to lean whilst working. This takes the pressure away from the back and helps to build strength in the leg muscles.
The Locus Seat is all about reducing stress on the body, so it also comes with an anti fatigue mat, with the aim of taking away excess stress on the legs from use.
Ergonomic Locus Seat by Focal Upright Furniture
Overview
Price
$518-$550
Material
Foam seat cushion, aluminum pivoting seat leg, steel gas piston cylinder, plywood base platform
Minimum Height
31 inches
Maximum Height
41 inches
Colors Available
Black, Citrus, Red, Black Nubuck
Weight Capacity
300 lbs
Where Produced
USA
Shipping
Free standard 1-6 business day shipping for all of the US except Hawaii and Alaska. For Hawaii and Alaska shipping costs $15. International shipping is available to most countries however it may be a higher cost due to customs charges and taxes.
Warranty
Lifetime Warranty with exceptions: 5 Year Warranty: Seat Cushion, Piston, Wheels, Grip Tape. 10 Year Warranty: Seat Base
Locus Seat Overview
---
What Is The Purpose Of The Locus Seat?
The Locus Seat is designed to adjust to every move you make whilst sitting/leaning on it. It aims to enhance your body posture by changing the way you sit from the traditional right angle to a more circulation friendly position. By doing this it also aims to engage your legs muscles and make sitting a comfortable experience again.
Is The Product Effective?
When it comes to relieving the pressure points in your body of stress, the Locus Seat is a very effective product. The Seat moves and adjusts to the position you want to sit in, so is ideal for all your working needs and your moods. Even if the anti fatigue mat isn't helping and you are still feeling strain from pressure, you can simply switch positions and perch at a different angle.
The Locus Seats versatility doesn't end at offering a manner of different ways to perch on the chair. Its adjustable height also ensures it takes away as much strain as possible from your body and makes sure it is just as effective for each individual that uses it.
What Are The Standout Features Of The Locus Seat?
The standout features of the Locus Seat have to to be its variety of posture enhancing abilities. These include the angled foot ramp, anti fatigue mat and height adjustable base and seat. These features all combine together seamlessly to create a product which not only eases pressure on the back but spread its evenly around the body. This ensures that you do not feel strain anywhere near as much as you would in a normal seat.
Does The Product Have Any Shortcomings?
The main shortcoming of the Locus Seat is its price. It is an incredibly solid product, however it may simply be too expensive for many people or even smaller corporations to employ in their business. In addition to the price, on occasion the product could be uncomfortable to use for prolonged periods of time in the same position. However, it is designed to let you change position and change the pressure points on your body easily. This means that any negative impact of the product can be easily counterbalanced.
Warranty, Shipping And Returns
The product has a lifetime guarantee of most of its parts, with some exceptions. The exceptions include the seat base, which has a 10 year warranty instead and the seat cushion, piston, wheels and grip tape, which have a 5 year warranty.
The Locus Seat can be shipped within the US for free, however Hawaii and Alaska do cost extra at $15 per delivery. Free standard shipping within the US takes 1-6 business days. International shipping is available to most countries however it may be a higher cost due to customs charges and taxes. Returns are also available. To return the product it has to be in the same packaging it was purchased in. Returns have to be made within the first 30 days of ordering.
The Bottom Line
Locus Seat is a great alternative to a standard seated work environment. It helps to give you a better body posture, whilst keeping your muscles working at the same time.
Despite its price, many employers may find the seat worth every penny due to people feeling more energised when sitting or leaning on the Locus Seat instead of a standard seat. This may in turn increase productivity.
Furthermore, the additional features included with the Locus Seat, such as the fatigue mat, are a great bonus and enhance the experience users will have with the product.
The Locus Seat may well be on the higher end of the price scale, but it is an efficient and quality product.
Like Locus Seat by Focal? You may as well want to have a look at our Wobble Stool review.
---