FluidStance The Level Balance Board Review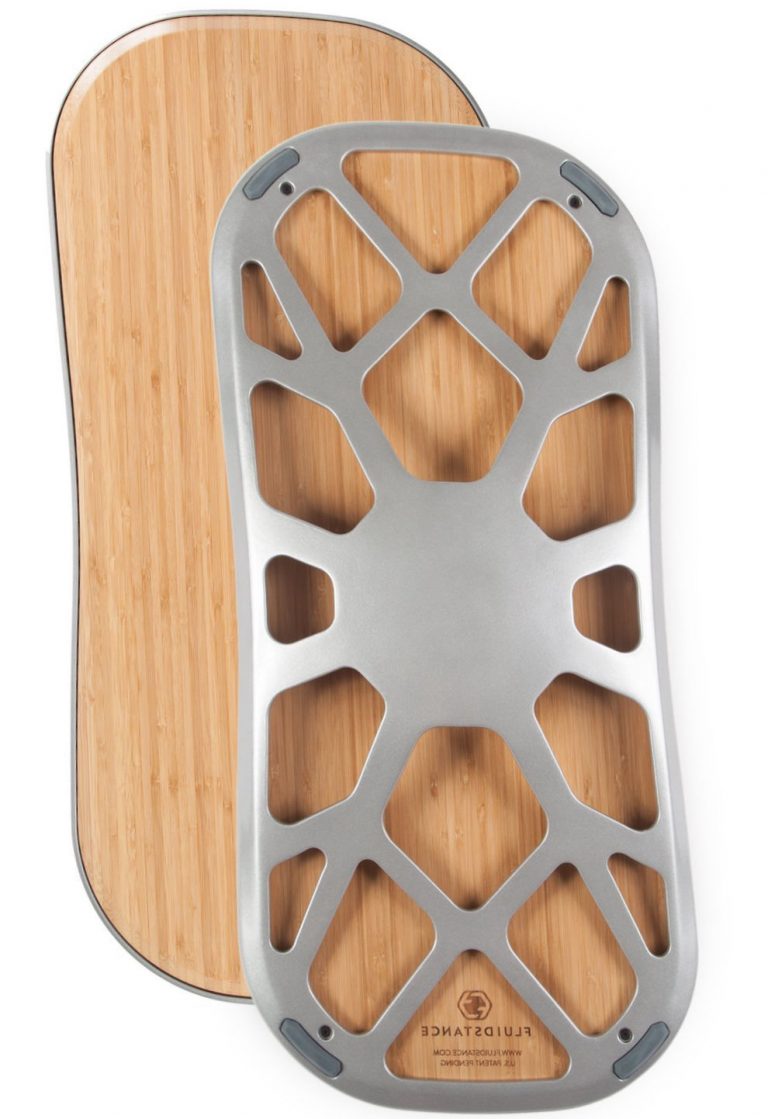 ---
FluidStance The Level Balance Board is a superior quality balance board that offers fluid 360 degrees motion to its users. It has a stylish design with a sturdy construction. It is constructed using high-quality wood and aluminum which creates an ergonomic and eco-friendly device. It is perfect to be used with a standing desk to counter the sedentary style of working while sitting. Users can stand on this board and balance on it while they work on a desk. This allows their feet and ankles to be in constant movement and burn calories along the way which would not be possible if they work while sitting. The smooth motion of the balance board keeps the ankles and feet within a normal range of motion. This does not put a strain on the ankles or overextend the ligaments. The device has a number of approvals including Mayo Clinic's NEAT certification which makes it stand out among its competitors.
FluidStance The Level Balance Board
Overview
Price
$289 to $389
Material
Die-cast aluminum with three types of natural wood (Bamboo, Walnut, and Maple)
Sizes Available
The board's dimensions are 26.5" x 12.2" x 2.5" (67.3cm x 31cm x 6.3cm)
Colors Available
Natural Maple Finish (light color), Natural Walnut Wood (Dark color), Natural Bamboo color
Board Weight
7 lbs (3.2 kg)
Weight Capacity
250 lbs (113.4 kg)
Manufactured
USA
Shipping
Free shipping offered through Amazon Prime
Warranty
Lifetime warranty against manufacturer's defects and flaws
FluidStance The Level Balance Board Review
---
Specifications
The Level Balance Board by FluidStance is a high-quality, environment-friendly device that boasts great construction, beautiful design, and a number of benefits. The balance board is made from high-quality natural bamboo, walnut, or maple wood. It has an aluminum base which made in a solar-powered facility and involves a zero waste casting process. Thus, it has an eco-friendly design and construction. The board dimensions are 26.5" x 12.2" x 2.5" (67.3cm x 31cm x 6.3cm). It has a weight of 7 lbs (3.2 kg) and a weight capacity of 250 lbs (113.4 kg). The board has a slightly concave design with no added cushion, rocker, or roller. The concave shape of the wooden deck makes it a wobble board which allows omnidirectional movement. The degree of balancing that this board offers is not very large; thus, it is less challenging than other balance boards and is quite appropriate for beginners. It is not necessarily feasible to be used in the gym or for workouts, but perfect to be used with a sit-stand desk. It allows users to mimic the natural walking motion while they work on a desk. It helps them remain in motion, burn calories, and improve their energy and efficiency by 20%.
Appearance and Maintenance
FluidStance The Level Balance Board is an aesthetically pleasing and stylish balance board that comes in a number of colors. Colors depend on the type of wood used for construction. It could be a light colored one made from natural maple wood, a bamboo colored from bamboo wood, and a dark colored from natural walnut wood. The base, which remains the same in all boards, is made from die-cast, military-grade aluminum. This equipment has an intricate finish which is achieved through powder-coating. The base of the board has rubber grips attached to the sides which does not allow the board to make noise as it touches the ground during rocking. Due to its finished and slippery upper surface, it is easy to clean and maintain. However, the board can slip a bit if used on a hard and slippery floor. An exercise mat can be used for this purpose and the balance board placed on the mat for optimal comfort. The balance board comes with usage and maintenance instructions which describe all the relevant information about it.
Assembly and Accessories
The Level Balance Board by FluidStance is a high-quality, top-of-the-line balance board that offers a great number of advantages and benefits. It can be bought from the manufacturer's outlets or ordered online. When it is received and its box opened, it does not require any assembly or installations. The balance board comes in one piece. There are no separate attachments or accessories which are to be fitted with the board to make it usable. As soon as it is opened, it is ready to be used. Users can stand on it and start balancing on it to reap its advantages. This balance board serves as a perfect accessory to a sit-stand desk or a standing workstation. It allows users to be in constant motion while they work on a desk. The natural, fluid motion of the board puts minimum strain on the ankles and mimics the natural walking motion of a person. Because of its construction from wood and aluminum, it can slip on hard floors. An exercise mat can be used as an accessory with the board to prevent it from slipping or making squeaky noises. An anti-slip mat can be used on top of the board to prevent users' feet from slipping which is a problem if they stand on The Level without shoes.
Packaging and Shipping
FluidStance The Level Balance Board, when ordered online, is delivered directly to your doorstep. The shipped package dimensions are 30" x 15" x 6" (76.2cm x 38.1cm x 15.2cm). The shipping weight is 10 lbs (4.5 kg). The shipped package contains the balance board as one piece with no other elements or attachments. The user guide and other support documents are also included in the shipped package. The manufacturer offers a lifetime guarantee for any manufacturer defects or flaws. The warranty is also supplied along with The Level. The manufacturer offers free shipping with Amazon Prime to all the lower 48 states of the US. For Hawaii and Alaska, the normal shipping charges apply. Currently, international shipping is not offered. If the users want any other accessory, it can be ordered along with this board or at a later time.
Benefits of FluidStance The Level Balance Board
The Level by FluidStance is a premium-quality balance board that offers great versatility and ease of use to its users. It has a unique and stylish design that is quite attractive. Its construction is strong and durable which is achieved through an environment-friendly manufacturing process. The deck made from natural wood offers beautiful options for users to choose from. It does not have any attachments and can be used instantly out of the box. The concave shape allows fluid 360 degrees motion like a wobble board. This helps users in burning calories and remaining physically active as they work on a standing desk. This activity not only helps in improving one's fitness but also one's efficiency and productivity. The balance board can ideally be used with a standing desk to keep the user's legs and feet in motion. This helps counter the standing fatigue faced by users of standing desks by mimicking the natural walking motion of an individual.
The Bottom Line
FluidStance The Level Balance Board is a category-defining, high-quality balance equipment that is far ahead of its competitors based on its design, features, and advantages. It is an ergonomic and eco-friendly board that is made from recycled materials and is completely recyclable. This balance board can be used by users who spend long periods in front of a desk. Sitting while working is disastrous for health, so a standing desk is the best option. However, standing stationary while working puts a lot of strain on the feet and ankles which can be countered by using a balance board to stand on. The Level serves as a perfect balance board on which users can stand and introduce movement in their routine by rocking on it. This improves their balance, coordination, efficiency, and energy. Although this device is one of the most expensive ones available, its various advantages, flexibility, design, and durability make it a balance board of choice.
We suggest you check out our Indo Balance Board guide in case you don't know whether you'd like to get FluidStance Level Balance Board.
---