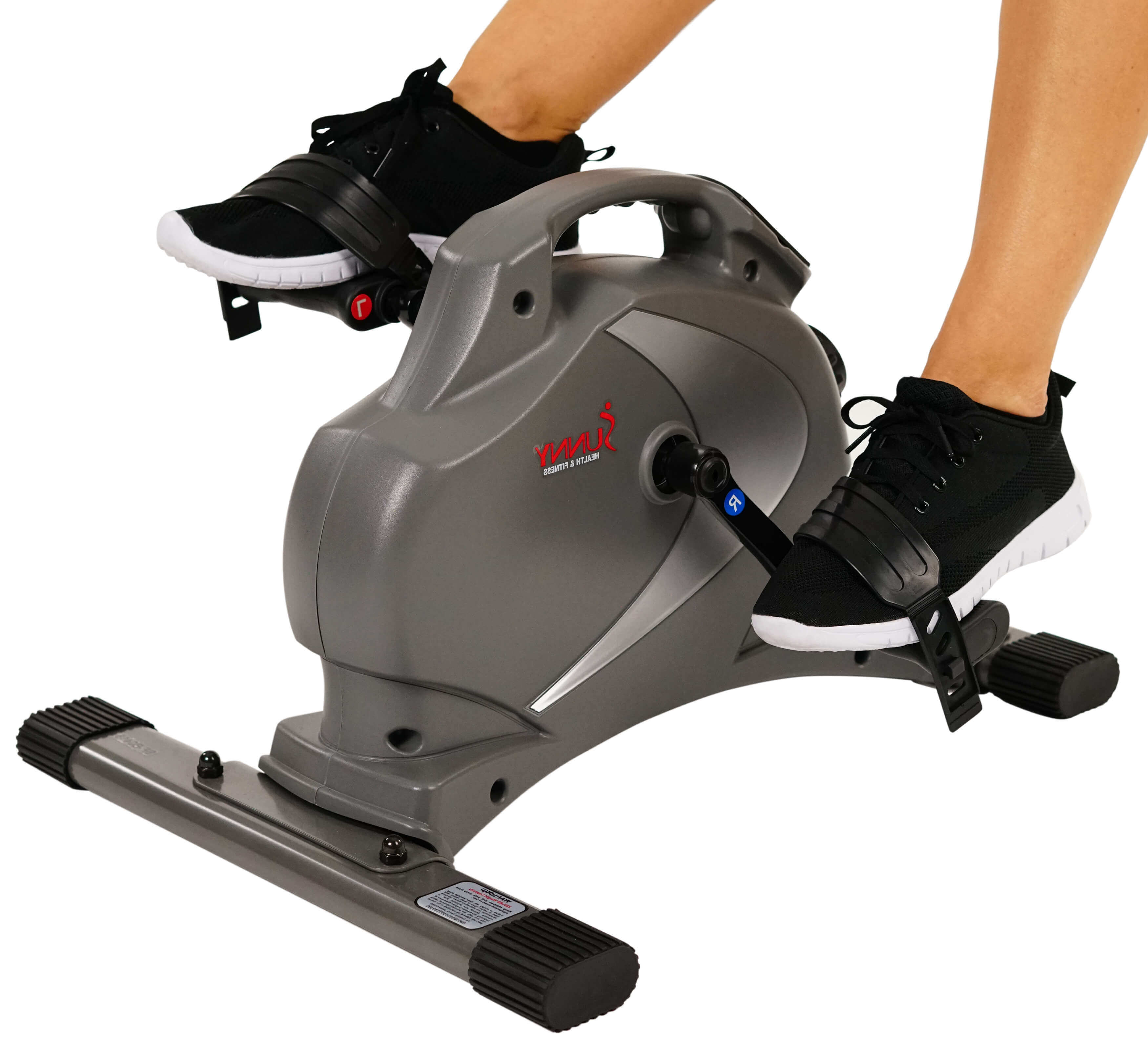 Sunny Health And Fitness Magnetic Mini Exercise Bike is a health improving equipment to keep at the office or home. This is an affordable under-desk cycle for people who are looking to stay active while they sit down. Sunny exercise bike offers sturdy construction and is suitable for most people, but does have a somewhat low weight limit. Sunny Health exercise bike is great for a wide range of purposes and is a lightweight option as well, especially when compared to some of the other exercise bikes that we have seen on the market.
While Sunny exercise bike have some advantages to persuade the user, there are some particular downsides that we also have to consider when we look at the Sunny Health & Fitness SF-B0418 in particular.
Pros And Cons Of Sunny Health And Fitness Magnetic Mini Exercise Bike
---
Sunny Exercise Bike Pros
This magnetic bike is equipped with an LCD display unit that can provide the user with feedback on different factors. The display shows current speed at which the user is paddling the bike, along with the distance traveled and calories that the user has burnt. There is also a timer on the LCD display unit.
A magnet is built into the Sunny Health desk cycle to provide resistance. There are eight different resistance levels that the user can switch between, depending on the pace at which they prefer to peddle the bike.
This desk cycle is a lightweight option that the user will be able to carry around easily. At only 21lbs, this is one of the lightest exercise bikes. This particular Sunny health bike is perfect for users who wish to take a piece of equipment from the office to their home.
This Sunny fitness bike features a sturdy construction that is made from high-quality steel. This provides for durable performance and a long-lasting product, given that the user complies with the weight limit of the magnetic exercise bike.
Sunny Exercise Bike Cons
This Sunny stationary bike has a low maximum weight limit. This may be inappropriate for many people who have a desk job that is over the weight limit – as they would not be able to utilize the particular desk cycle.
The fact that the Sunny exercise bicycle has a relatively high pedal stroke means many users will find that their knees will bump against their desk if they are using a standard desk. Many people will have to upgrade to an adjustable height desk if they want to use Sunny Health under-desk bike.
Sunny Health And Fitness Magnetic Mini Exercise Bike Overview
---
Sunny Health And Fitness Magnetic Mini Exercise Bike is a convenient, lightweight, and portable product that can be easily integrated into active and healthy offices. Sunny Health is the best under-desk bike for users with a limited budget who still wants an exercise bike that will last for some time. Sunny Health exercise bike comes with a limited warranty and has a number of added features that add to its overall convenience and value.
LCD Display Unit
The Sunny Health And Fitness exercise bike comes with a convenient LCD screen, which can be easily attached to the product's structure. This digital monitor can provide the user with instant feedback on factors related to their activity. The digital monitor features a scan mode that can help the user keep track with their calculations. Furthermore, the monitor is able to display the following data for the user:
Calories burnt during a session
Time spent on the session
The speed at which the user is peddling
The distance traveled during the session
Resistance Settings
Sunny Health And Fitness spin bike come with an adjustable resistance setup that ensures the user can set the resistance to a setting that best suits them. Sunny exercise bicycle utilizes a magnet in order to produce resistance, which is very convenient and also highly effective. The user can adjust between eight resistance settings easily – the setting can be changed by using a simple dial system. This particular feature makes this desk cycle perfect for beginners who are only getting active but still ensures individuals with more experience and leg strength can also use this under desk cycle.
Portable And Lightweight
Sunny exercise bicycle weighs only 21lbs. This makes this particular Sunny cycle one of the lighter options on the market, definitely making this bike an ideal product for those looking for a more compact solution. This desk cycle is also smaller than some alternative options out there – measuring 22" x 18" x 14". A handle is also available to ensure it is easy for the user to carry the bike around with them.
Potential Problems
While Sunny Health under desk bike peddler certainly has some convenient features, we did find a couple of issues. The low weight limit of the only 220lbs can be a significant problem for the user – this is not the ideal under-desk bike for heavier individuals who might want to add an under desk cycle to their office.
It should be noted that Sunny under desk bike may sometimes slide on the floor. This can be inconvenient for many potential users, especially when placing the bike on a slippery floor. Another potential issue would be the fact that the pedal is relatively high up – at 12.5 inches. That's why Sunny under desk bike is inconvenient for tables with a desktop that is not high enough from the ground.
Warranty
Sunny bike comes with two different warranties – this is a crucial factor that customers do need to take into account. The structural frame of the desk cycle has a one-year warranty period. Customers will be able to request a repair on issues that occur with the product's framework during the first year following the initial purchase date of Sunny exercise bicycle. In addition to this warranty, a second warranty also accompanies the purchase of this product. This includes a 180-day warranty period for the components and the additional parts that make up this under desk bike.
The Bottom Line
---
Sunny Health & Fitness SF-B0418 Magnetic Mini Exercise Bike is an excellent option for people who are on a tight budget but should be a preference for individuals who have an adjustable height desk, due to the high pedal stroke. This exerciser has a solid construction that is sturdy and this exerciser comes with a one-year warranty period.
We find Sunny Health mini cycle exercise bike as an excellent option for use in the office, as well as for users who wish to keep their legs active while they are watching television back home. Sunny exercise bicycle has a relatively light total weight, along with a top handle, making it a more portable option that some alternatives that we have seen.