Best Two-Tier Computer Height Adjustable Desks
Most popular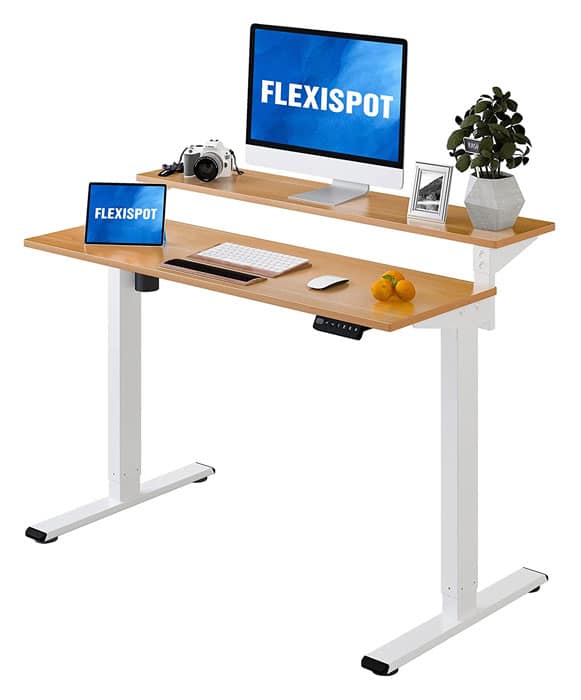 Review Score
Flexispot EF1 2 Tier Standing Desk
Adjustable upper shelf
Programmable height settings
Spacious work surface
Low pricing tag
Flexispot warranty
Not for nothing, this two-tier computer desk has become the most popular product in this category. The desk has a fairly spacious work surface, which is perfect for multitasking people. The ergonomic two-tiered desk design allows the computer to be positioned at an eye-safe level. You can choose the desired height of the top shelf from 0 to 5 inches. The built-in control panel allows further programming of the preferred height for two or more users. This design allows monitors, keyboards, and mice to be positioned at an ergonomic and comfortable height that is safe for your eyes and back. Moreover, the adjustable height makes it possible to change the position of your body while working: you can work both sitting and standing. The desk is made of environmentally friendly ultra-strong materials, so it will serve you for many years.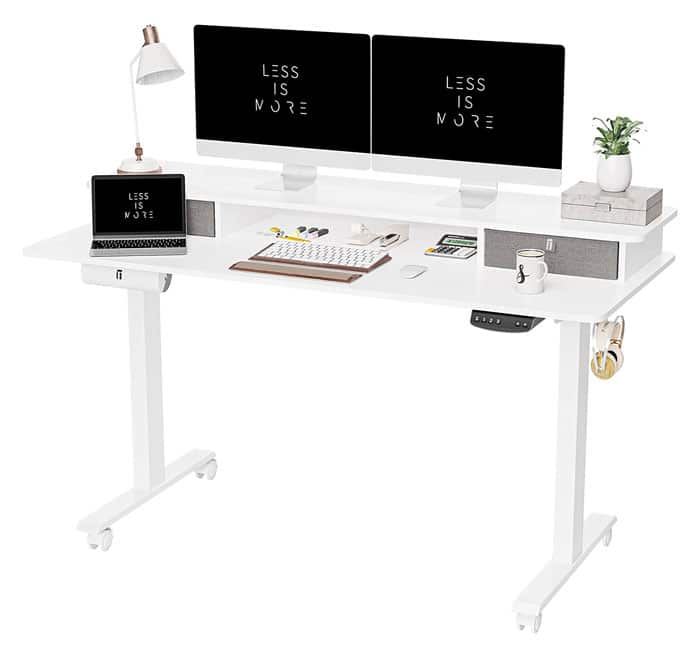 FEZIBO Electric Standing Desk with Double Drawer
Electric height adjustable and lift system
Up to 4 drawers
Eco-friendly materials
Spacious workspace
5 years warranty
For those who like to have everything close at hand, FEZIBO offer a spacious two-tier desk with a double drawer for storing the things you need. The desk is equipped with an electric height adjustment and lifting system, which will allow you to adjust the desk especially for you and make your work at the computer as comfortable and safe as possible.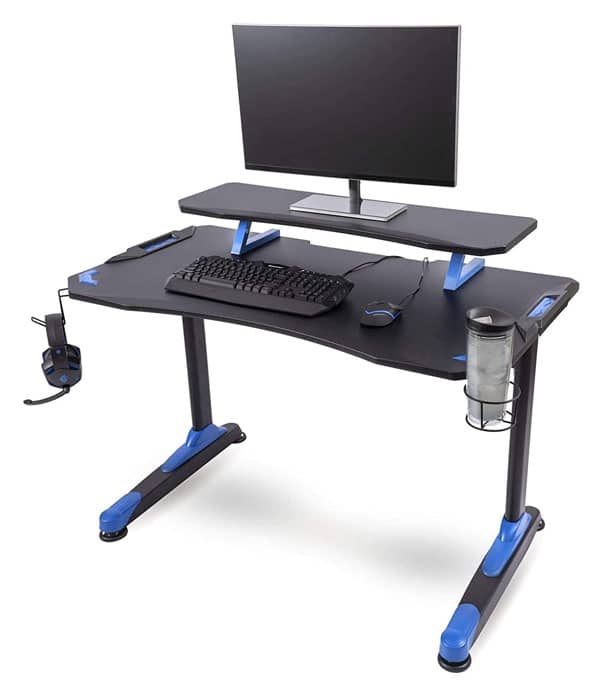 Stand Up Desk Store Two-Tier Gaming Desk
Comfortable and ergonomic
Built-in cup holder, headphone hook, and cable management system
Adjustable furniture feet
High-strength materials
If you are fond of computer games, then this table is definitely for you. The ergonomic two-tier desk design and built-in cup holder and headphone hook allow you to successfully complete the next level of your favorite game. Adjustable furniture feet keep the table firmly on the floor.