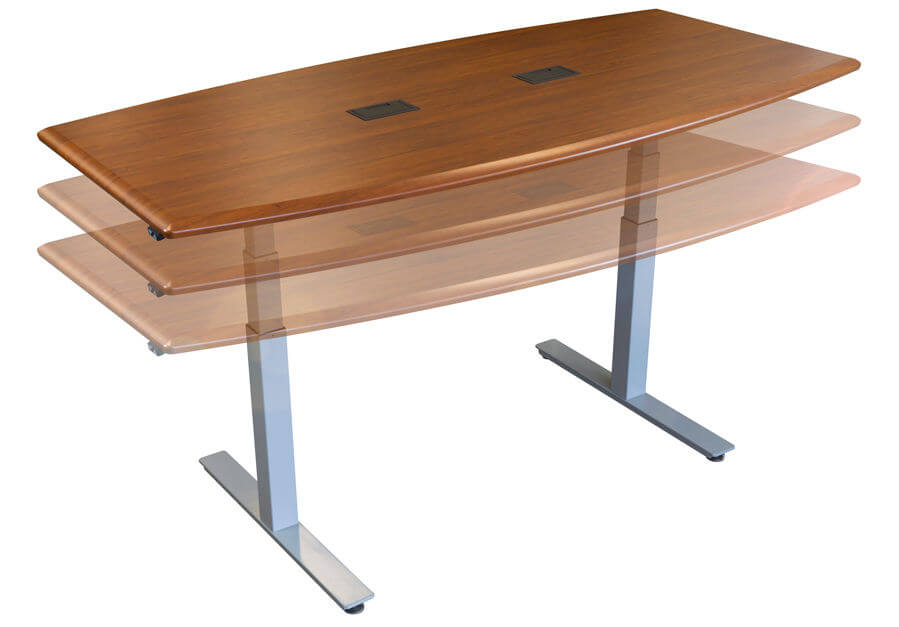 ImovR Synapse Adjustable-Height Conference Tables are a type of standing desks that bring about versatility and elegance to your office space. These are the types of conference desks whose height can be adjusted to make it a sitting or a standing desk whenever one wants. The tables are constructed from high-quality steel bases with 3D-laminate table tops with Ergo-contoured edges. These desks are available in a number of colors, shapes, and finishes which offer users a wide range of variety to choose from. These unique conference tables have an electric mechanism through which the table's height can be adjusted within seconds. The sit-stand tables allow a vertical adjustment between 25" to 51". This vertical adjustment enables users to become more active, efficient, and productive as they stand and work. When they become tired, they can easily adjust it back to a sitting position. Different models of these tables are available according to the type of excess features that they offer such as power sockets, USB ports, and the different tabletop shapes.
ImovR Synapse Adjustable-Height Conference Tables Pros and Cons
---
Pros:
Easy height adjustments to switch between sitting and standing
Wide range of colors, shapes to choose from
Aesthetically pleasing table top design and finishing
Great warranty options offered
Power sockets and USB powers for charging various devices.
Cons:
The steel frame has a crude design which is not very attractive
The table's height poses a problem if two or more individuals of different heights are standing by it.
The maximum height of the desk may not be convenient for individuals taller than 6'.
Review of the Synapse Adjustable-Height Conference Tables
---
Specifications
The Synapse Adjustable-Height Conference Tables offer great benefits and versatility to users. Desk's frame is made of high-quality steel. The tabletop, which is made from 3D laminated blade-edge wood, has a thickness of 1.125" (2.8 cm). The desk comes in 4 different shapes and nine different sizes. The different conference tables dimensions are:
30" x 72" (76.2cm x 182.9cm),
30" x 83" (76.2cm x 210.8cm),
30" x 96" (76.2cm x 243.8cm),
36" x 72" (91.4cm x 182.9cm),
36" x 83" (91.4cm x 210.8cm),
36" x 96" (91.4cm x 243.8cm),
42" x 72" (106.7cm x 182.9cm),
42" x 83" (106.7cm x 210.8cm),
42" x 96" (106.7cm x 243.8cm).
The table can accommodate a maximum weight of 490 lbs (222.2 kg). It's height can be adjusted between 25" to 51" by a simple push of a button. The electric system of height adjustment allows the sit-stand table to be moved smoothly with a fast travel speed of 1.7" per second. Desk has a noise signature of 42 dB and features anti-collision detection. The table's edges are Ergo-contoured to provide a comfortable surface to lean on during meetings.
Appearance and Maintenance
These conference sit-stand tables are aesthetically pleasing and stylish and they that can be a good addition to any office or meeting room. Imovr Synapse Desks are available in four shapes:
racetrack,
convex,
boat,
rectangle.
A number of color options are provided for these tables including Designer white, Northern Cloud, Shark Grey, Black, Light Maple, Almond Cherry, Hayward Cherry, Clove Mahogany, Shaker Cherry, and Urban Walnut. The tabletop has a smooth, laminated finish which does not gather dust and makes cleaning very convenient. The height of the table can be adjusted by pushing a button with minimum effort in very less time. The tabletop can easily be unscrewed and the table legs folded to move the table easily from one place to another. All kinds of troubleshooting and maintenance issues are described in the user support documents provided with the table.
Assembly and Accessories
Imovr Synapse are one of those standing height conference tables that require minimum assembly and installation when they are received. Users just have to open the box, take out the table that is already almost pre-assembled, fold its legs up, insert four machine screws, flip over the conference table, and it is ready to be used! No need for complicated installation guides or instructions to start using the desk.
It is a conference table whose height can be adjusted through an electrical mechanism and two buttons provided. It also offers great conference table cable management through the in-built power sockets and USB ports provided. To make these conference desks even more comfortable, users can buy the various types of "active chairs" available in the market as an accessory. They work great for a table with adjustable height and are ideally suited to switch between sitting and standing desks.
Packaging and Shipping
The Synapse table can easily be ordered online and it gets delivered to the destination address. The shipped package contains the desk which is almost pre-assembled. The legs are folded to make it fit into a compact box. Users just have to unfold the legs and secure them with machine screws to start using it immediately. The shipping package dimensions and weight depend on the size of the sit-stand table ordered. The manufacturer offers free shipping to all states of the USA. Currently, international shipping is not offered for these conference desks. ImovR offers a lifetime warranty for the steel frame and a 5-year warranty for the tabletop, electric mechanism, and other parts. The warranty card is supplied along with the shipped package. The package also contains the user guides and other support documents related to the Synapse conference table.
Benefits of the Synapse Adjustable-Height Conference Tables
ImovR Synapse Conference Tables, with a height-adjustment feature, are one of the best conference desks available on the market today. With a wide range of vertical adjustment feature, it allows users great versatility to adjust the table's height according to their preferences. These desks allow users to hold meetings while standing which results in better concentration, attention, energy, and productivity. Users are also able to counter the side effects of sitting during long meetings and bring about some physical activity into their sedentary routine. When they want to sit, they can easily do so by just pushing a button. The table allows smooth and fast height adjustment. It can also be easily relocated to any location by just unscrewing a few screws, moving the sit-stand table, and putting back the screws. Synapse Conference Table comes in a variety of sizes, shapes, and colors which ensure that users can find a desk which is ideally suited to their particular situation and requirements.
The Bottom Line
---
ImovR Synapse Height-Adjustable conference table offers great variety and height-adjustment features that make it stand out among its competitors. It offers a stylish and elegant design that serves as a great addition to any meeting room. With its strong and sturdy construction, it offers great durability and versatility. Its height can be adjusted to switch between standing and sitting positions with minimum effort. The electric height adjustment mechanism is smooth and fast. It comes in a variety of designs and sizes so users can choose the one which best suits their requirements. Its price is also quite reasonable when compared to its competitors. The only downside of the desk is to agree upon a particular table height when individuals with largely varying heights are to work on it. Other than that, it is an ideal desk that offers comfort, flexibility, versatility, and durability at a reasonable price in comparison to similar products like the 72" Crank Adjustable Standing Conference Table.