72" Crank Adjustable Standing Meeting Table by EBSCO Industries Review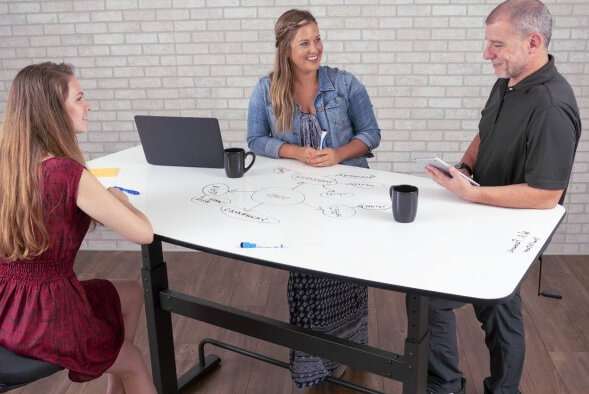 The 72" Crank Adjustable Standing Meeting Table is a mid-sized adjustable height conference table that helps improve one's fitness, health, and well-being. It was introduced in 2018. It comprises a strong steel frame with a high-quality wood tabletop. A hand crank is provided on the table's side to make the required height adjustments. The desk has four rubber stops at the base of the frame which provide a strong and stable base for the table. Foot bars, which are also provided in the table frame, offer enhanced comfort for users sitting on stool bars or drafting chairs. The white desk has a dry erase tabletop which helps users exchange ideas and notes during meetings. The product offers a reasonable amount of vertical height adjustment which lets users easily transform their workstation between sitting and standing positions. By using this transformation, they are able to bring about some physical activity into their work routines and gain the corresponding health benefits.
72" Crank Adjustable Standing Meeting Table Pros and Cons
---
Pros
Offers easy hand crank height adjustment feature
Comes with a dry erase tabletop
A medium sized desk which can be used in offices as well as at home for kids
Strong and durable construction
Comes with foot bars which offer increased comfort while sitting on bar stools or drafting chairs
Cons
The desk construction is not very aesthetically pleasing
The hand-crank manual height adjustment mechanism is not as smooth and user-friendly as an electric one.
The maximum height might still be too low for individuals taller than 6'.
Review of the 72" Crank Adjustable Standing Meeting Table
---
Specifications
EBSCO 72" Crank Adjustable Meeting Table is a strong and sturdy conference desk that helps users gain the benefits of working while standing for long durations of time. The table's frame is constructed in high-quality steel which is finished in durable powder-coated paint. The tabletop is made from high-quality wood which comes in two different types of finish. The overall desk dimensions are 72.25" x 36.125" (183.5cm x 91.7cm). The tabletop is slightly narrower on the sides with a width of 30" (76.2cm). The table's height can be adjusted from 29.75" (75.5 cm) to 49.75" (126.4 cm). This adjustment is carried out using the side hand crank which can be turned in either direction to increase or decrease the height. The maximum load that the conference table can bear is 154 lbs (69.8 kg). The steel base of the frame has the dimensions 47" x 28.5" (120cm x 72.4cm). It has foot bars which allow users to rest their feet while they sit on bar stools easily. This provides flexibility for users as some of them may choose to stand while working on the adjustable meeting table whereas the others may sit comfortably on the bar stools at the same height configuration.
Appearance and Maintenance
This 72" desk is a simple yet beneficial standing meeting table that comes in two different colors for users to choose from. One of them has a Charcoal Frame with Butcher Block Top, and the other one has a Charcoal Frame with White board Top. The white board top allows users to write anything on it with a temporary board market which can be erased easily and cleaned off. This is a user-friendly feature especially during meetings where different participants can share their ideas while writing on the tabletop which can be erased later on. The material of construction is of premium quality which makes this adjustable height conference table quite durable and sturdy although it may not be as aesthetically pleasing as one may expect. Its height can easily be changed by turning the crank. The manufacturer offers support for any maintenance issue or defects experienced by users during usage. The collaboration table also comes with a user manual which details all the possible troubleshooting scenarios and describes their corresponding solutions.
Assembly and Accessories
The 72" adjustable height wood table is a type of a stand-up meeting table that offers great versatility and flexibility due to its design and construction. This conference desk comes in the unassembled form. The received package contains the wooden tabletop, the steel frame, the hand crank, the foot bars, and all the required screws and nuts for securing it together. This standing conference table also comes with an installation guide with complete step-by-step instructions on how to assemble the desk before using it for the first time. The instructions are easy to follow and described using images. The side hand crank can be fixed on either side of the desk according to the user preferences. This standing conference room table can be used with accessories such as bar stools or drafting chairs. The foot bars at the base of the desk allow these type of chairs and stools to be used comfortably at any height of the table.
Packaging and Shipping
The 72" Crank Adjustable Standing Meeting Table is a height adjustable conference table which allows users to burn calories and improve their fitness as they stand while working. It can be ordered from the manufacturer and then delivered to the destination address. The shipped package has the dimensions 73" x 37" x 50" (185.4cm x 94cm x 127cm). The shipping weight is 130 lbs (59 kg). The shipped package contains the steel frame, wooden table top, the crank, and all the other components. Users have to assemble all the pieces together using the installation guide provided with the table. The shipped package also contains all the other support documents and warranty card. The manufacturer offers two-day shipping for all states of the USA. Shipping rates depend on the exact state and address where the meeting table is to be delivered. International shipping is not offered for this stand-up meeting table.
Benefits of the 72" Crank Adjustable Standing Conference Table
Desk height can be adjusted on demand depending on whether it has to be used as a standing meeting table or a conventional sitting table. Its height can be adjusted easily by manually turning the hand crank. When in the standing position, it enables users to increase their energy and efficiency as they burn calories and improve their circulation while standing. The size of the desk is quite convenient which can easily accommodate 3-4 individuals along with their laptops and accessories. The conference table also features foot bars which are usually not present in similar meeting tables such as the Adjustable Height Flip Top Table. These foot bars allow users to comfortably sit on bar stools when it works as a standing table. Some users can stand while others can sit comfortably on the same table. The desk has a strong and sturdy design which can accommodate a convenient amount of load.
The Bottom Line
---
The 72" Crank Adjustable Standing Conference Table is an affordable desk that offers a number of benefits and versatility to its users. It is a strong furniture with a firm base and tabletop. Its height can be increased or decreased whenever the user wants. Although the height adjustment mechanism is not electric, it can easily be achieved through the hand crank provided on the table's side. This desk offers versatility to users who can switch from standing to sitting positions or vice versa with minimum effort. This helps them remain active, energized, and efficient along with burning some calories. The tables price is also quite reasonable when compared with its counterparts. The foot bars at the base of the conference table offer added comfort and ease during sitting. Thus, this meeting table is an excellent choice for any corporate office which wants to incorporate some physical activity into the stationary routines of its employees. That too at a very attractive price!