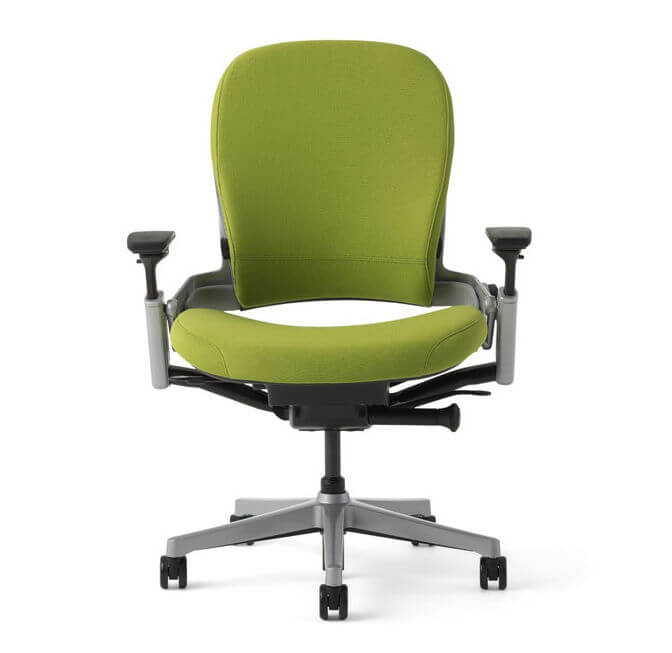 Steelcase Leap Office Chair is an ergonomic computer chair that offers great flexibility and versatility to its users in the kind of adjustments it provides to make their experience as comfortable as possible.Steelcase Leap was introduced in 2006 but continues to be considered as one of the best ergonomic office chairs. It features a strong and sturdy aluminum frame on which the upholstery can be in leather, vinyl, or fabric based on user choice. The back of the ergonomic chair features lumbar support which moves according to the user's spine movement to provide a comfortable fit and snuggle. The result is that users can sit on Steelcase Leap for hours and hours without feeling any pressure on their back or spine. The height of Steelcase Leap chair can also be adjusted through the pneumatic lift mechanism provided. The base of the office chair has lockout casters which allow it to be moved easily from one place to another. Additional accessories such as a headrest can be used with the chair to enhance one's experience and productivity.
Pros and Cons of Steelcase Leap Chair
---
Steelcase Leap Pros
A highly ergonomic chair that offers multiple seat adjustment options
Back lumbar support that can be adjusted according to user preferences
Sleek and stylish design
Steelcase Leap Comes in a wide range of designs and materials
Strong and sturdy construction
Steelcase Leap Cons
Armrests do not match other parts in the type of comfort that they provide
Weight capacity is a bit less considering its other counterparts
The lowest price option has quite simple features and options
Overview of Steelcase Leap Office Chair
---
Specifications
Steelcase Leap Chair is the best office chair for posture as it provides a highly comfortable and adjustable back which moves with the user. Steelcase Leap is constructed in a high-quality polished aluminum base. The seat, cushions, and armrests are made from polyurethane foam. The product dimensions are 24.8" x 27" x 43.5" (63cm x 68.6cm x 110.5cm). The height of Steelcase Leap Chair can be adjusted between 38.5" and 43.5" (97.8cm-110.5cm). The seat also allows some depth adjustment between 21"-24" (53.3cm-61cm). Users can make all these adjustments to find the position that best suits them. Steelcase Leap features dynamic lumbar support which moves along the unique spine motion of every individual. The armrests can also be moved according to the user's positioning of arms and hands so that it puts minimum strain on them. The weight of the product is 48 lbs (21.7 kg), and it can accommodate a weight up to 300 lbs (136 kg). Steelcase Leap v2 Plus has a maximum weight capacity of 500 lbs (226.8 kg) making it one of the most heavy duty chairs available. The lockout casters enable Steelcase Leap to be moved anywhere with minimum effort and then locked to keep it firmly in place.
Appearance and Maintenance
Steelcase Leap is a strong, sturdy, and durable ergo chair that offers excellent ergonomics and luxury to its users. This product has a sleek and stylish design which matches any modern office interior. The product comes in four different frame finish colors including Black, Midnight Solar Black, Platinum, and Polished aluminum frame and base. The upholstery color options include:
Black,
Burgundy,
Buzz2 Alpine,
Buzz2 Black,
Buzz2 Blue,
Buzz2 Cyan,
Buzz2 Grey,
Buzz2 Sable,
Camel,
Coconut,
Graphite,
Nickel,
Gray,
Navy.
The upholstery is available in three different materials namely vinyl, leather, and fabric. This Leap chair can be considered as the best ergonomic chair thanks to its dynamic lumbar support and LiveBack technology. This ergonomic chair comes with a user manual which describes in detail the various adjustment options available to the clients so that they can experience all its benefits. It also includes all the troubleshooting and maintenance instructions.
Assembly and Accessories
Steelcase Leap Office Chair is received in a box when it is ordered from the manufacturer or the retail shop. The box, when opened, contains all the components of the ergonomic chair which can be assembled to make the end product. The shipping package includes an assembly manual which guides users through the steps of constricting the product. The steps are described in detail in an unambiguous manner using diagrams and illustrations. With the help of the guide, users can assemble the product within minutes. After that, they can fine tune the seat and various other adjustments to find a position that best suits them and their posture. Steelcase leap headrest can be used as an accessory to the office chair to provide added comfort and support for the head during sitting. Users who want to challenge themselves while sitting and working on Steelcase Leap can use a balance board to increase their physical activity while sitting.
Packaging and Shipping
Steelcase Leap Office Chair is an ergonomic chair which offers a wide range of benefits to its users. It is supplied from the manufacturer either directly, or through Amazon or other retailers. The manufacturer supplies the product in the following regions of the world:
Asia Pacific,
Central America,
South America,
North America,
Europe,
the Middle East,
Africa.
Same-day free shipping is offered for all domestic orders within the USA. For other regions, shipping charges apply which are dependent on the destination country and city. The shipped package has the dimensions 24.8" x 27" x 43.5" (63cm x 68.6cm x 110.5cm). The shipped package weight is 65 lbs (29.5 kg). The shipping package contains the product in unassembled form. It also contains all the manuals and user documents including the warranty offered for this product. Warranty may vary for different regions of the world. Its related information can be acquired from the manufacturers.
Benefits of Steelcase Leap Office Chair
Steelcase Leap Chair is an ergo office chair that offers a lot of advantages to users.
One of the main benefits of Steelcase Leap is its lumbar support that moves with the user's spine movement. It uses the LiveBack technology which enables the chair's back to be moved dynamically as the user moves in it.
The seat of the office chair glides forward and back so that users can adjust their posture without affecting the way they work.
The armrests also move dynamically to provide added support and comfort. All these height adjustments make Steelcase Leap the best chair for lower back pain.
The height of this ergonomic chair can also be adjusted at runtime making it feasible to be used with a sitting or standing desk.
Steelcase Leap comes in a variety of designs, colors, accessories, and other options. This gives users a number of options so that they can select the one which best suits their needs.
The Bottom Line
---
Steelcase Leap Office Chair is one of the best ergonomic office chairs available on the market today. It is a beautiful and attractive chair which has a sturdy and robust design. It has been constructed for sustainability and durability. It offers different adjustments including height adjustments, armrests movement, back tilt, seat gliding, and more. All these ensure that users are provided with a highly customized and enhanced experience where they could sit for long durations of time. One main advantage of the Leap chair is that it comes in a number of models with different features and specifications giving users a variety of options to choose from. When compared with Steelcase Gesture Office Chair, this comes at a slightly lower price making it a bit more affordable. It makes its mark as one of the best chairs for back pain owing to its dynamic lumbar support and LiveBack technology.