Learniture Adjustable-Height Active Learning Stool Review
Learniture Adjustable-Height Active Learning Stool
Overview
Seat Material
Polyurethane molded foam w/ vinyl upholstery
Frame Material
Polypropylene w/ steel gas lift center support
Weight Capacity
265 lbs.
Seat Height
18 1/2"–28" (adjustable)
Seat Size
12 5/8" diameter
Base Size
12 5/8" diameter
Overall Width
12 5/8"
Overall Depth
12 5/8"
Overall Height
18 1/2"–28" (adjustable)
Assembly
Assembly Required
Product Weight (Lbs)
26
Shipping Method
UPS / FedEx
Warranty
5-year limited
Today, most people try to increase their productivity at the workplace or study room. With digitalizing most people spend a lot of time sitting in front of their PCs and laptops. Permanent sitting every day can cause serious problems with the back. Problems with health will make you stress more and burn out faster. Many medical resources say that making breaks and even a small amount of physical exercise could relieve stress, but most of them agree on the fact that you need to change your position many times throughout the day. This way to treat this problem makes the traditional workspace ineffective.
There's a lot of ideas to upgrade your workspace on the Internet. The most reasonable ones are connected to standing tables and workplaces with adjustable heights. Anyway, to work with these upgrades correctly, you might want to find a chair that can compete with any table height adjusted. The other good thing to have about this kind of seat is to have a possibility to have a semi position when you neither stan nor seat. One of the brands to work in this direction with furniture for modern study rooms and workspaces is Learniture.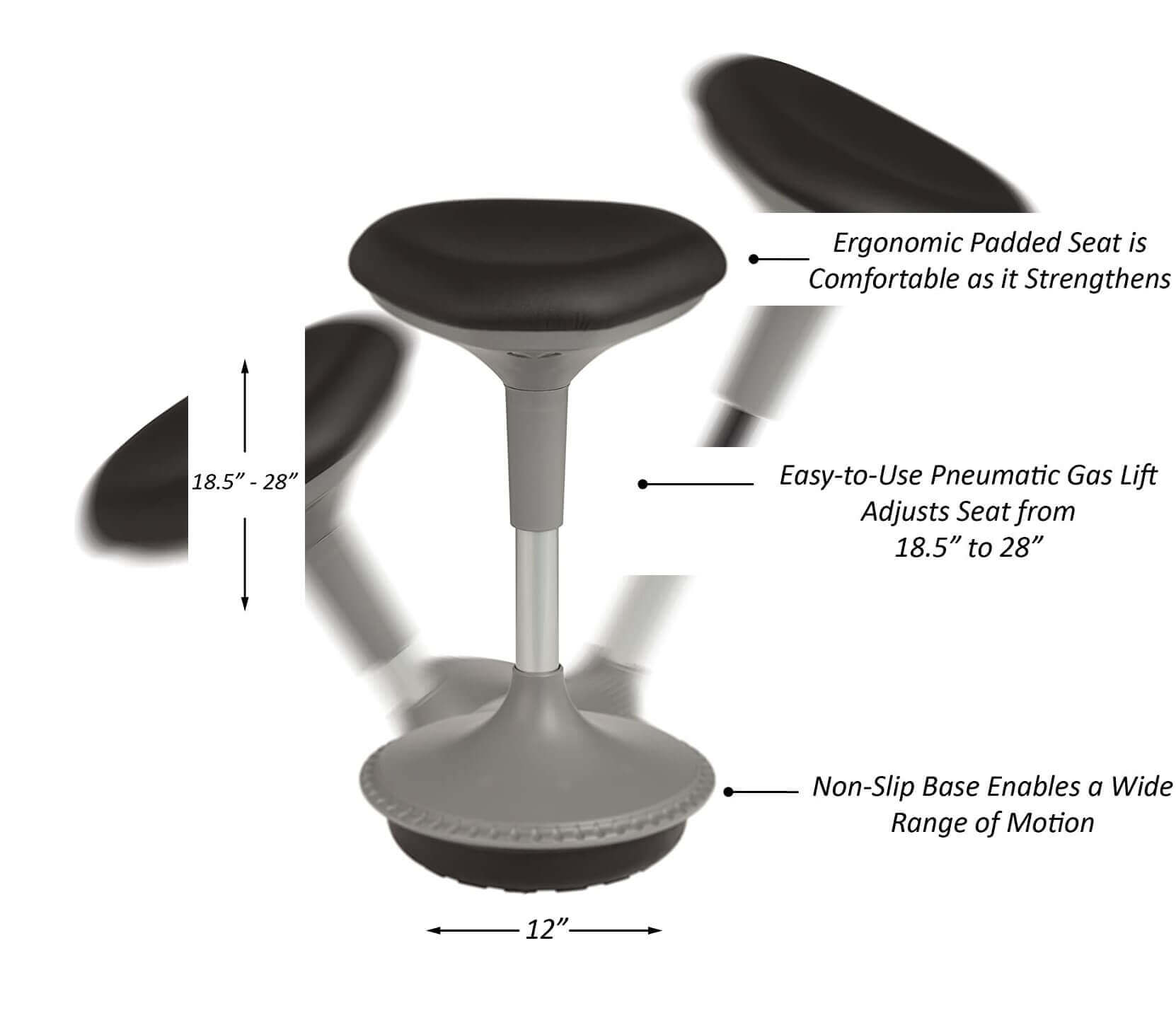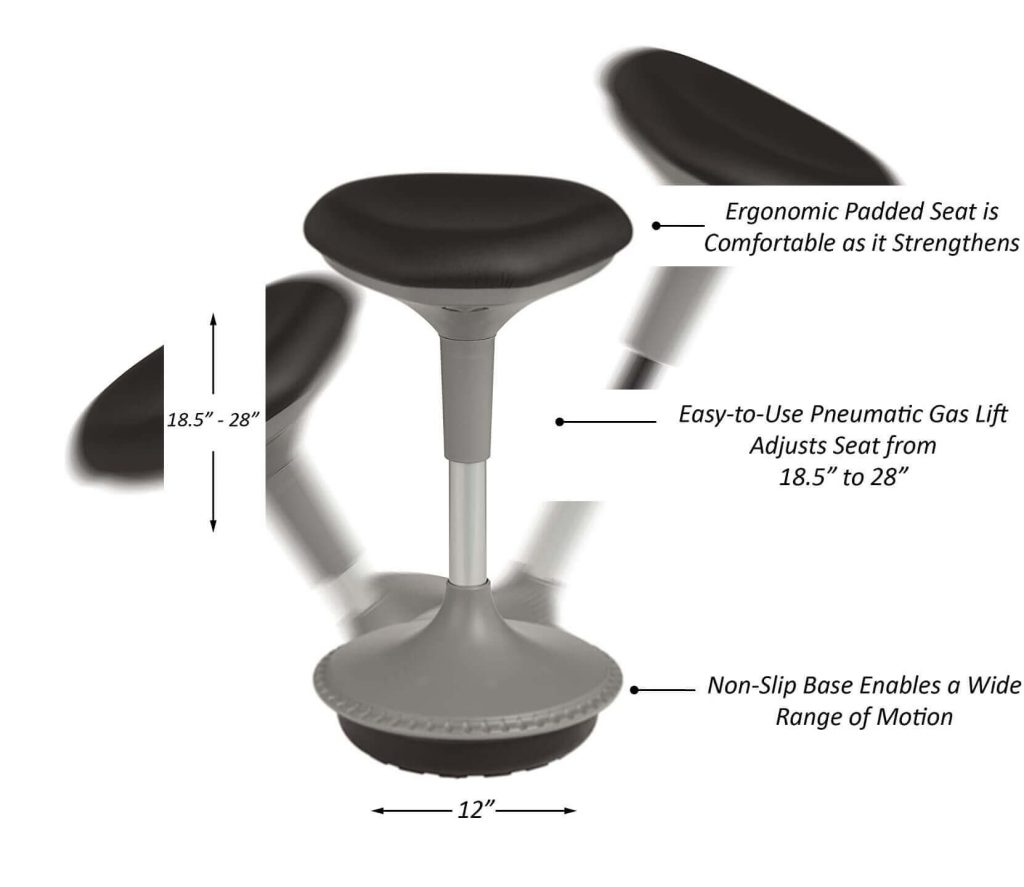 Main Features
In our article, we will walk you through the major specs, ultimate features, applicability, and more to help you make the right choice of a standing desk stool for domestic or office work or studying activities.
Below, there is a list of the crucial secs any buyer would be interested in discovering. Have a look:
Seat height is adjustable from 18.5" to 28."
Upholstery is made of vinyl
Steel gas lift center support
Some assembly required
For Work and Study
There are certain functional options that are crucial when you want to find an active chair. The base of this stool is rounded to keep your body in a slight rocking motion that keeps back muscles in shape. It is protected from slipping and allows a wide range of motion. Keeping your feet strictly on the floor and placing gravity center down to the legs could help to relieve muscle stress from the shoulders, lumbar, and back. Also, it is a great feature for very active students that like to twist and dangle their feet: they can move a lot without leaving their seats.
The backless design of this chair is made that way on purpose. Without lumbar support, your back muscles learn to hold themselves. The design itself encourages proper posture that strengthens your back. Airflow and breathability are also getting better because of the position that you're in when you use Learniture stool. Learniture is a company inspired by teachers, and they certainly know that every student is different. They make flexible furniture that can grow and evolve with their students. Their design projects allow different pieces of Learniture to adapt to each other, work together and create unique spaces.
Height Adjustment and Functionality
To use this chair with the standing table, you need to have the possibility to change the height of the stool to match the height of the table. To adjust height many times a day to change your posture during work, you'll need a mechanism that allows you to do so. Many other manufacturers on the market want users to do it by hand. Furniture has a pneumatic gas lift that allows you to adjust the seat's height easily. To adjust the height simply press the button located under the stool seat. You will be able to adjust up to fifteen inches to the height of your chair. If you have serious problems with your back you should consider a chair with lumbar support. If you choose a stool with no back support, you should take breaks and change positions to ease your back.
For group sessions, you'll want a seat that is comfortable for every participant, no matter how tall they are. These chairs are pretty lightweight and are easy to move around to create a new creative space and a productive group environment. Also, it is much easier to store a lot of these chairs in a tiny room because of their size. The frame of this chair is made of polypropylene which makes it easy to clean.
Final Word
Another reason to consider having this certain chair is its price. It is more affordable than other products on the market. However, it is properly built and constructed. You can fill the whole classroom with modern furniture for a decent check. Furniture also has great customer reviews on their fast delivery service. Your new chair will be delivered right at your doorsteps and sometimes even earlier than you would expect. The company tries hard to even make a nice package design to be portable and ergonomic. It is incredibly easy to assemble this chair on your own. It literally takes few minutes to check what you've got and put it all together and start to wobble around on your new adjustable learning stool—it is needed to be mentioned that you can choose a color for your wobble chair from five colors available. Also, some products by Learniture got five-year warranty.
---