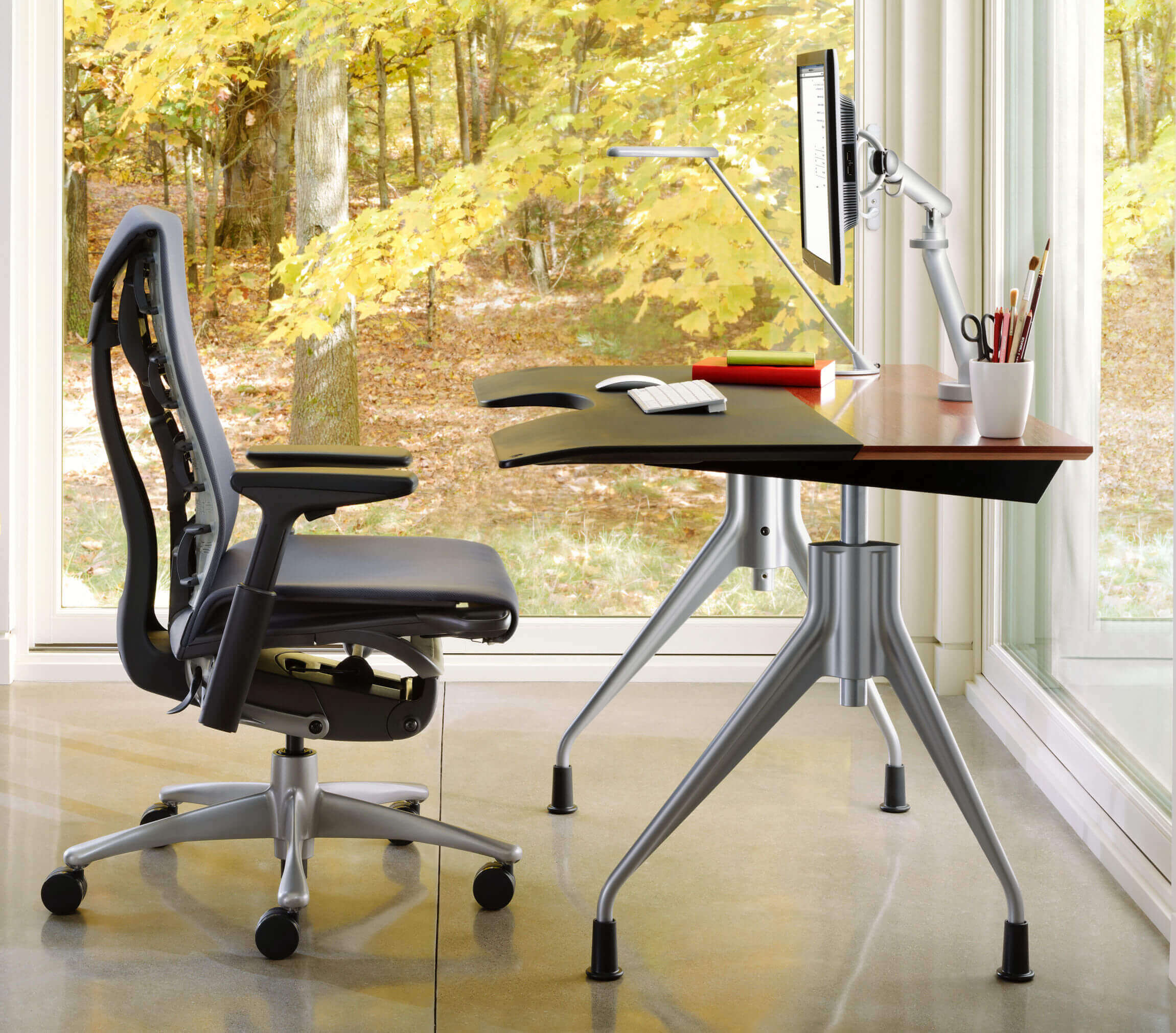 Herman Miller Embody Chair is a state-of-the-art product that offers advanced ergonomics and comfort to its users through the various features that it provides. Herman Miller Embody was introduced in 2009 and is specifically designed to promote good posture while sitting and working. The back of the seat is designed with a matrix of pixels and shaped like a human spine. When a user sits on it, this ergonomic chair aligns itself according to the spine shape, and the pixelated back moves along with the user's movement to provide a pleasant and comfortable fit. The dynamic lumbar support moves along as the user moves forward or reclines; thus never leaves the user's back. It helps in improving blood circulation and promotes efficiency and productivity. This ergonomic chair is a type of mesh desk chair that does not allow users to sweat or feel hot even if they spend hours sitting on it. It is available in a variety of colors and fabric designs which allow users to choose the one that best suits their office or workplace interior.
Embody Chair by Herman Miller Pros and Cons
---
Herman Miller Embody Pros
A stylish chair with a unique design
Provides ergonomics through its dynamic lumbar support
Back of the chair aligns itself with the user's spine and movements
Good warranty provided
Mesh fabric design ensures that users don't feel hot while sitting
Herman Miller Embody Cons
Quite an expensive chair
Users complain of creaking noise when the chair is turned
The height adjustment feature is also faulty at times according to customer reviews
Overview of Herman Miller Embody Chair
---
Specifications
Embody Chair by Herman Miller is a high-tech ergonomic chair that helps users with their posture and provides ultimate comfort for long sittings. This ergonomic chair is an environment-friendly product which is made from sustainable materials and is 95% recyclable. Herman Miller Embody frame is constructed in premium quality aluminum which is polished and available in different finishes. Its dimensions are 29" x 29.5" x 43.5" (73.6cm x 75cm x 110.5cm). It allows for a seat depth adjustment between 15"-18" (38.1cm-45.7cm). Three different models of the Herman Miller chairs are offered with different height ranges: Low-Height range is 15"-19" (38.1cm-48.2cm), Standard-Height range is 16"-20.5" (40.6cm-52cm), and the Extended-Height range is 17"-22" (43.2cm-55.9cm). This ergonomic chair's weight is 52 lbs (23.6 kg), and its load capacity is 300 lbs (136 kg). The back and seat of Herman Miller Embody are constructed from a matrix of pixels which aligns with one's spine and moves along with the movement of the body. The seat also moves as the user reclines or moves forward on the desk. This ensures that the user's back is always supported by the backrest providing a floating feeling to them. The pneumatic lift for height adjustments is achieved through the side knobs within seconds.
Appearance and Maintenance
Herman Miller Embody Chair is a unique-looking and aesthetically pleasing product that is available in a variety of colors and finishes. The polished aluminum frame is available in two types of finishes: White and Graphite. The base of Herman Miller Embody is available in four different finishes: Polished aluminum, Titanium, Graphite, and Black. The seat and backrest are created in mesh fabric which offers various color options in four different categories:
The Rhythm category options include: Charcoal, Mink, Black, Molasses, Mulberry, Green Apple, Peacock, Berry Blue, and Twilight.
The Medley category color options include: Pewter, Bayou, Cinder, Trail, Tundra, Loden, Peacock, Blue Grotto, and Blueberry.
The Mercer category includes: Stone, Ash Brown, Charcoal, Cayenne, Chutney, Pesto, Teal Blue, Ultramarine, and Acal Berry.
The Balance category has the following color options: Green apple, Blue Moon, Berry Blue, Iris, Carbon, and Black.
This mesh office chair helps users remain cool even after sitting for hours on it.
Assembly and Accessories
Herman Miller Desk Chair is the best computer chair for long hours sitting that provides users with comfort and flexibility. This ergonomic chair, when received from the manufacturer, comes in the unassembled form. Users can easily assemble it with a minimum effort after following the assembly instructions provided in the user manual. The steps of the assembly guide the users in constructing Herman Miller Embody from scratch. Once assembled, users can fine-tune the setting and make the necessary height and depth adjustments according to their body and posture. The height and armrest adjustment of Embody Chair makes it an excellent choice to be used with a sitting or standing desk where users can adjust themselves according to the different heights of the desk. A balance board can be used with this product to add some challenge while working to improve one's fitness. It also helps in improving posture while sitting.
Packaging and Shipping
Herman Miller Embody Chair can be ordered from the manufacturers who deliver it to the destination address. They offer two-day free shipping to all the lower states within the USA. The shipping rates for Hawaii and Alaska depend on the local postage rates. The shipping weight of the package is 61.5 lbs (27.9 kg) and its dimensions are 29" x 29.5" x 43.5" (73.6cm x 75cm x 110.5cm). The shipped package contains Herman Miller Embody components which users have to assemble themselves. The user manual and assembly instructions are also provided with the package which describes in detail how Embody Chair must be assembled and used. They also describe how the various seat and height adjustments can be made to customize the experience for each user. The manufacturer offers a 12-year warranty for the parts and frame. The warranty is also supplied along with the package.
Benefits of Herman Miller Embody Chair
Herman Miller Embody Chair is one of the best ergonomic chairs in the market today and offers a number of benefits.
This ergo chair is designed after years of research to provide users with an experience where they can sit on Herman Miller Embody for hours without feeling tired or exhausted.
The backrest of the Embody Chair, which has a matrix of pixels, moves with each user's movements to provide a comfortable fit for them. The user can recline or lean forward on the chair, and the back supports him all the way. This is achieved through dynamic lumbar support that moves with the spine.
This product can also be considered as the best office chair for lower back pain.
The armrests can also be lowered or raised dynamically depending on the type of work the user is doing.
The chair's height can be adjusted through the pneumatic lift mechanism that makes smooth and precise adjustments.
The Bottom Line
---
Herman Miller Embody Chair is a stylish and sleek chair that offers a number of benefits to its users. As soon as users sit on it, they have the feeling of floating as the whole chair adjusts itself to accommodate the user's body. Users can adjust the height, armrests, and tilt of the ergonomic chair to make themselves more comfortable. The natural movement of Herman Miller Embody along with the movement of the body ensures that the body circulation improves. This, in turn, helps in sending more oxygen to the brain which improves user's efficiency and productivity. This is the best chair for posture improving as well thanks to its dynamic lumbar support. Although this chair is expensive when compared with its competitors such as Steelcase Gesture Office Chair and Steelcase Leap Office Chair, it offers more signifiacnt benefits to its users and is built for greater durability.