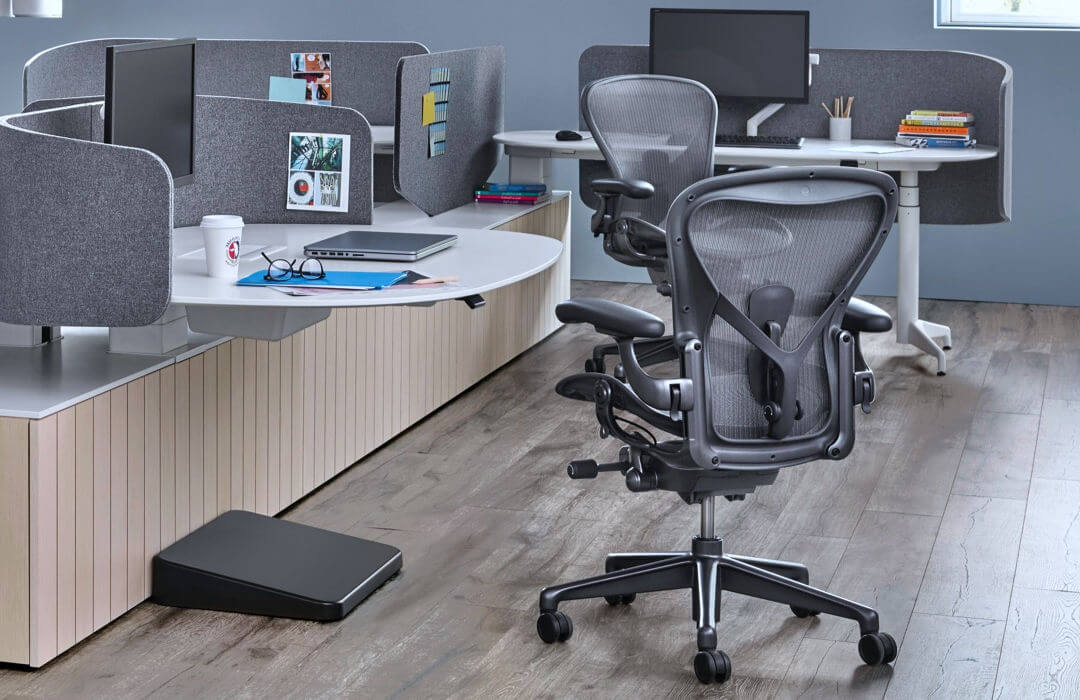 Herman Miller Aeron Mesh Office Chair is the most ergonomic chair when compared with its counterparts in the market. This product is not only comes in different sizes and models but it also offers great flexibility to users to adjust it according to their preferences. This seat was introduced in 2009 and has won several awards and certifications as one of the best ergonomic chairs ever made. The backseat is made from a breathable mesh material which does not make users sweat or feel hot even after hours of sitting. Herman Miller Aeron offers pneumatic seat height adjustment along with tilt adjustment according to choice. The armrests can also be moved forward or backward as well as up or down. All these adjustments can be locked at the point where users feel the most comfortable. The dynamic lumbar support moves along as the user reclines or leans forward. Herman Miller Aeron has been built for flexibility and durability so that it can offer great ergonomics and comfort to users for years and years.
Herman Miller Aeron Mesh Office Chair Pros and Cons
---
Herman Miller Aeron Chair Pros
Shipped fully assembled
Provides high level of comfort and flexibility to users
Seat and backrest made from breathable, woven textile material for enhanced comfort
Adjustable lumbar support and tilt offered
PostureFit technology ensures good posture and combats fatigue while sitting
Herman Miller Aeron Chair Cons
Price is expensive when compared with other ergonomic chairs
There are no pads or cushions on the seat or back which may prove to be uncomfortable
Color options are limited; only grayscale shades available
Only one seat depth offered which cannot be adjusted
Overview of Herman Miller Aeron Mesh Office Chair
---
Specifications
Herman Miller Aeron Chair is a highly beneficial and dynamic seat that provides users with a variety of options to make their experience as comfortable as possible. It is constructed in high-quality polished aluminum frame and base which comes in a variety of colors and finishes. The seat and backrest are made from patented pellicle weaved suspension textile material which makes them breathable and elastic for added comfort. Herman Miller Aeron comes in three different sizes each having a different height adjustment.
Size A has dimensions 26.5" x 42" x 14.5" (67.3cm x 106.7cm x 36.8cm) and it offers height adjustment between 14.5"-19.5" (36.8cm-49.5cm).
Size B dimensions are 26.5" x 43.5" x 15.5" (67.3cm x 110.5cm x 39.3cm) with height adjustment between 15.5"-21" (39.3cm-53.3cm).
Finally, Size C has dimensions 26.5" x 45.5" x 16.5" (67.3cm x 115.5cm x 41.9cm) and allows height adjustment between 16.5"-23" (41.9cm-58.4cm).
Size A has a weight capacity of 300 lbs (136 kg) whereas both size B and C have a weight capacity of 350 lbs (159 kg).
Appearance and Maintenance
The Aeron Chair by Herman Miller is a decent and sophisticated device that comes in various shades of gray. It has a stylish design which is also strong and sturdy. It comes in three different shades of seat and backrest with each having different options for frame color respectively. The Mineral seat and back has three frame/base finish options including Dark Mineral, Satin Aluminum, Polished Aluminum. The Carbon seat and back also has three frame/base color options:
Dark Carbon,
Satin Carbon,
Polished Aluminum
Finally the Graphite seat and back comes in two frame/base finishes: Graphite and Polished Aluminum. The Aeron Chair is easy to clean and maintain. It comes with a user manual which also includes maintenance instructions on how to clean the product in case of different types of stains or spillovers. By following those instructions, users can easily maintain the Herman Miller Aeron to make it look as new as possible even after months and months of usage.
Assembly and Accessories
Herman Miller Aeron Chair is a state-of-the-art chair that offers great comfort to users to increase their productivity and efficiency. The product can be ordered from the manufacturer or through Amazon from where it is delivered to your doorstep in a box. When the package is opened, the chair does not require any assembly. Users can just open the box from the side and slide the product out of the box. They can then remove the plastic wrap, and the chair is ready to be used. This mesh back office chair can be used with or without armrests based on the user's comfort level. Other accessories which can be used with this ergonomic chair to improve and enhance one's experience include a balance board, an anti-fatigue mat, or an attachable headrest.
Packaging and Shipping
This mesh desk chair by Herman Miller provides comfort, elegance, and flexibility all in one chair through its compelling features and design. The shipped package consists of a box which contains the Herman Miller Aeron fully assembled. Users just have to slide the chair out of the box before they can start using it. The shipped package dimensions are approximately 17" x 27" x 42" (43.2cm x 68.5cm x 106.7cm). The shipping weight is 64 lbs (29 kg). The box features side handles which allow users to carry it  easily. The manufacturer offers free domestic shipping to all states within the USA. Two-day shipping is also offered on demand. The package also contains all the support documents and user manual of the Herman Miller Aeron. The 12-year warranty offered by the manufacturer is also included in the shipped package.
Benefits of Herman Miller Aeron Office Chair
Herman Miller Chairs are one of the best ergonomic desk chairs that one can find that not only provides good aesthetics but great functionality too.
The Aeron chair can be considered a good posture chair as well as a good chair for back pain.
The unique design of the chair along with the dynamic lumbar support provided to ensure that the user's back is as relaxed as possible when sitting on it.
The backrest is made from a mesh textile material that dissipates heat and moves with the movement of the user's back.
Whether the user is reclining or leaning forward, the design of the chair ensures that his/her body is supported to improve posture and prevent fatigue.
The chair's height and tilt can be adjusted dynamically by the user to achieve the most comfortable position. The result is a highly ergonomic computer chair that gives its competitors a run for their money.
The Bottom Line
---
Herman Miller Aeron Mesh Office Chair provides great flexibility and versatility in the various options and features to make users' experiences as comfortable as possible. It is an attractive chair that has a durable and sturdy construction. It is made from environment-friendly materials and is 95% recyclable. Herman Miller Office Chairs including Aeron and Embody chair can be considered as the best ergonomic office chairs that are ideal for posture and back pain as well. Users are able to improve their productivity and efficiency even after sitting on the chair for long durations of time. Although this product is one of the most expensive ergonomic chairs in the market, it offers excellent benefits and flexibility to its users. Once you use it, no chair will ever be good enough! Thus, Herman Miller Aeron is highly recommended in spite of its high price.