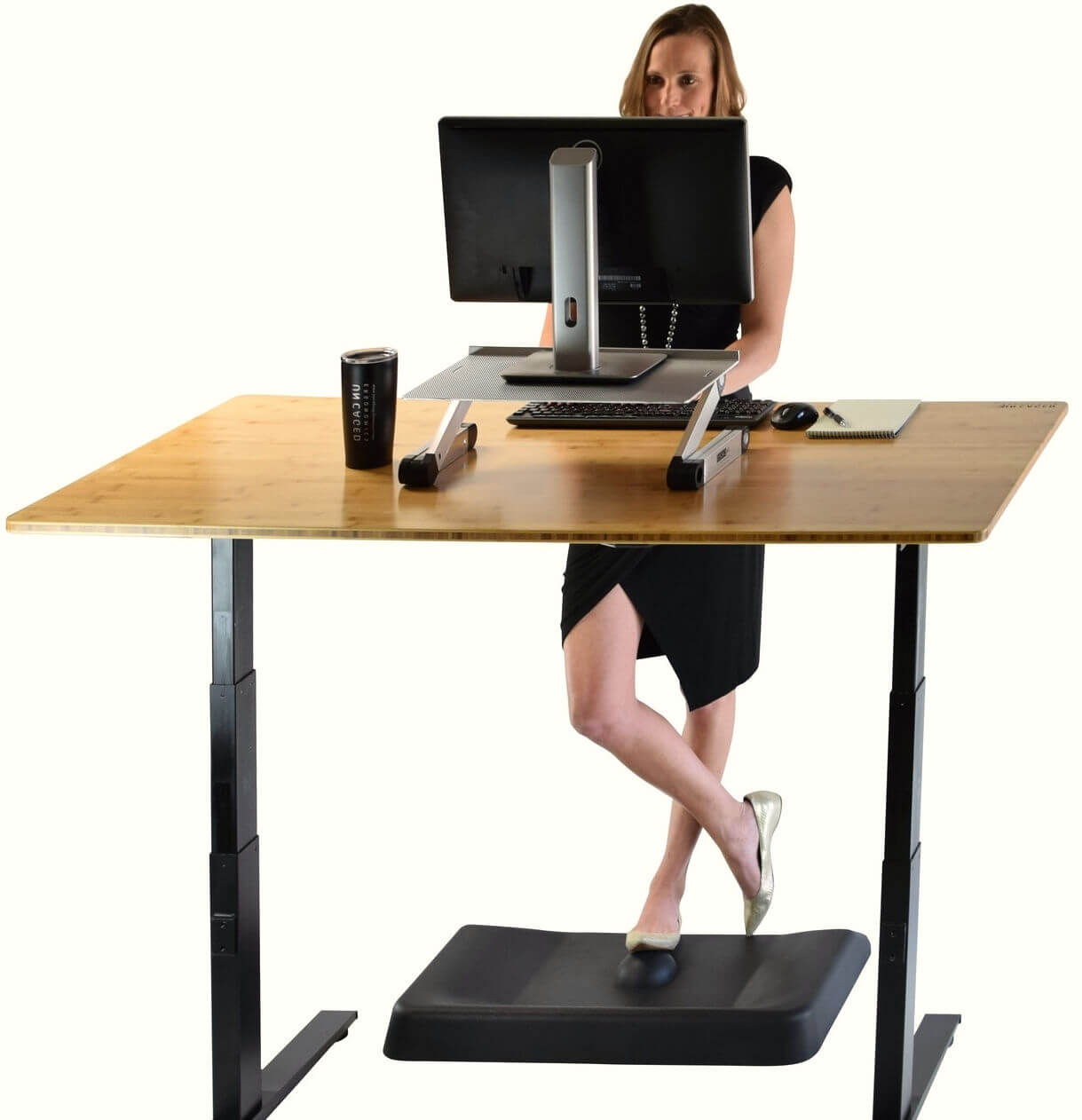 Active Standing Desk Mat made by Uncaged Ergonomics is a quality product that was developed to feature an ergonomic design that easily fits in with any surrounding, like the office, at home, in the kitchen, or perhaps in front of the mirror in the customer's bathroom. These cushion floor mats offer added support below the user's feet to assist in providing a more significant reduction in fatigue and other symptoms that tend to occur when standing in a single position for too long.
Even though this particular comfort floor mat is a good option for many customers looking for a comfortable way to stand at adjustable height desk, there are some potential drawbacks that do need to be accounted for. The anti-fatigue comfort mat has a relatively high price tag, especially when compared to some of the other cushioned floor mats on the market today. Furthermore, the limited guarantee may also be another inconvenient factor to be considered.
Pros And Cons Of Active Standing Desk Mat
---
Active Standing Desk Mat Pros
Active Standing Mat is an ideal solution for customers who find that the flat options on the market do not offer adequate cushioning to keep their feet comfortable. This is especially useful when the customer has to stand up for many hours during a single session, as these cushion mats can deliver a more significant relief of fatigue that often comes with this issue.
Uncaged Ergonomics standing mat was designed to provide the user with complete freedom to stand the way that they feel comfortable. The user can easily change their position and stance without feeling any restriction in terms of spacing on the pad.
The anti-fatigue comfort mat was also developed to assist in providing a way to relieve the tension comes with standing too long. The product claims to assist in reducing the risk of experiencing fatigue when using a standing desk, as well as to help the user experience a reduction in potential complications, such as ankle pain.
This particular standing desk mat comes with a 30-day test period. After the user has purchased the product, they will be able to try it out for the first month and ask the manufacturer to refund their money if they are not happy.
Active Standing Desk Mat Cons
These cushion mats are only available in one single size. There are no larger sizes or flexible options that the customer can select from when ordering the product. The product may be ideal for many users, but some potential customers might find the product is too small for them.
The product only comes with a 30-day guarantee window. If the customer finds that they do not like the desk mat after this period, they will not be able to return it. It also does not seem like this anti-fatigue mat comes with a warranty, which means if punctures and other issues occur, the product will not be fixed at the manufacturer's expense.
Active Standing Desk Mat Overview
---
Active Standing Desk Mat was designed as a non-flat mat that provides the user with an effective way to reduce fatigue that is usually imposed by long periods of standing up while working. This desk floor mat can be easily integrated with an existing office setting due to its ergonomic design, but also poses as an excellent way to reduce fatigue when cooking time-consuming recipes. The product was engineered to assist in providing the user with a way to not only have a comfortable pad under their feet but also to help them continuously move from position to position.
Active Standing Mat Size
For many people interested in buying a standing desk pad, the Active Standing Desk Mat may be a great option. These comfort mats weigh only eight pounds, making them portable enough to easily carry from home to the office and, once again back home after work. The product has an appropriate surface area that will be ideal for many users, measuring 32 inches by 19.75 inches.
At the same time, while these desk mats may be useful for most customers, there will be some people who could find that the surface is too small. Unfortunately, this standing floor mat only comes in one single size option, which means users who find that the size is not adequate for them will have to turn to another brand who produces desk floor mats for a larger option.
Design
The idea behind the design of these standing floor mats is to provide the user with a product that is not only functional but also good-looking. The product will easily fit into any office, be it a modern office or a location with a more antique take on the interior design.
The product only comes in a single color option – this is black. This, however, does not mean that there are restrictions in the design. Cushioning at the center, along with added padding on the sides, make the design great for people who want one of these anti-fatigue floor mats that can support a variety of different standing positions.
The product is made from a quality and high-density molded foam material. This is a durable material that can withstand water. Additionally, the material selection for the cover makes the Active Standing Desk Mat exceptionally easy to keep clean.
Guarantee
The Active Standing Desk Mat comes with a 30-day guarantee period, along with a no questions asked return policy. This has both advantages and potential drawbacks that should be taken into consideration. The major benefit is that the user can buy the product and try it out without losing their investment if they are not completely happy with what the standing mat can offer them. On the other hand, there are no additional warranties that come with the product. This means that any problems the user faces after the first 30 days will not be covered by the manufacturer.
The Bottom Line
---
The Active Mat is an excellent addition to various office settings, as well as other scenarios where the user needs to stand for long times. This may include putting on makeup in front of a mirror, as well as when working in the kitchen. While the durability and the fact that Active anti-fatigue floor mat is waterproof are certain advantages, it may not be the best desk mat for people who are low on budget. The standing pad has a higher price than some other desk mats available with similar features. For many customers, opting for a desktop mat with a more affordable price tag may be the more appropriate option.