Desk Jockey Office Footrest Cushion Review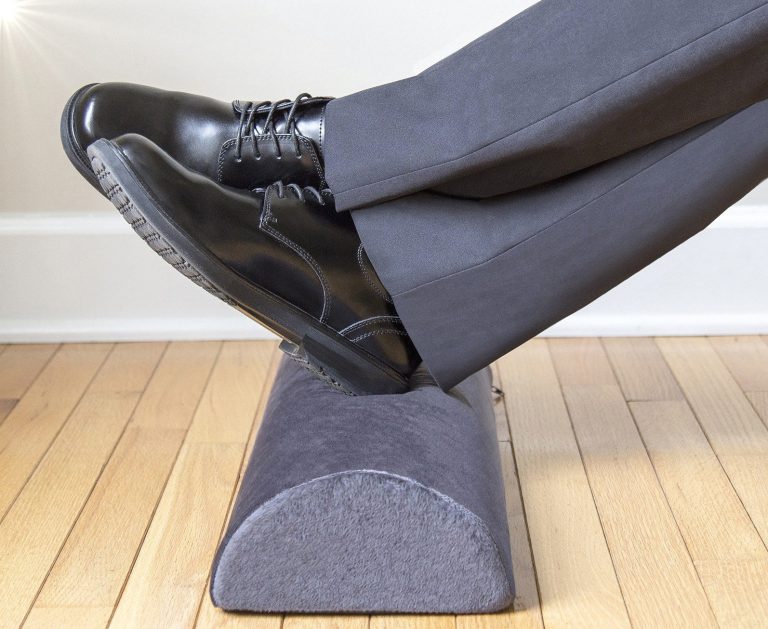 ---
Desk Jockey Office Footrest is an ideal option for anyone who needs a cheap way to add an extra level of support to their feet when they sit down. Especially in those cases when a person is required to sit down for long periods to get their work done on a computer or in front of a desk. This product was designed to act as comfortable and relatively soft support that is placed underneath a table, allowing a user to rest their feet on the surface.
It is important to take note that Desk Jockey Office Footrest may not be a perfect choice for people looking to take advantage of rocking footrests, as the product will be kept still at all times while in use. With this in mind, the benefits such as improved blood circulation often associated with rocking footrest options do not apply to this particular product. There are, however, a few benefits to be considered, especially for people who are on a very low budget.
Desk Jockey Office Footrest Cushion
Key Specifications:
Price: Starting at $29.99
Colors Available: Gray or Black
Size: 20 x 8.3 x 4 inches
Weight: 1.4 pounds
Shipping: Free local shipping to 48 US states
Warranty: 15-Year Warranty (Limited Warranty)
Desk Jockey Office Footrest Review
Desk Jockey Office Footrest is basic product that is placed underneath a table or perhaps in front of a standard chair. The product can be used in a variety of settings, whether at the office or home. The footrest features a basic design that is filled with a therapeutic grade memory foam. This type of material is known to provide a high level of comfort, which means a user's feet will remain relaxed and also comfortable while rested on Desk Jockey Office Footrest.
The product comes with a warranty and offers sturdy construction. The sturdy construction ensures a person can use the product on a day-to-day basis in their office and even at home without fear of the product wearing out too quickly. In some cases, the product may even be returned to the manufacturer for a repair if it wears out quickly after purchasing.
Construction And Design
The construction of Desk Jockey foot stand cushion is quite impressive when we take the price of the product into consideration. Most competitor products on the market that sell at a similar price offers a poor overall construction quality, leading to a product that will quickly wear out and possibly become unusable.
The product does come in two colors, including black and gray. Many customers may find that these two colors are quite similar, which means there is not much flexibility when it comes to choosing an appropriate color option to be added to a user's office. Still, both black and gray colors are known to fit in with different types of surroundings easily.
Desk Jockey Office Footrest is a relatively large foot stand, with a length of 20 inches, a depth of 8,3 inches, and a height of 4 inches. This helps to ensure that even those users who have larger feet than what would be considered "average" can comfortably rest both of their feet on the product.
The construction does not allow for any modifications to the product, such as the ability to adjust its size. This is an important factor that a person should take into consideration when they are trying to determine if Desk Jockey Office Footrest is an appropriate product to help improve the comfort of their feet and offer their feet support when they sit.
Warranty
Desk Jockey Office Footrest comes with a limited warranty and a 60 days money-back period. Although the warranty period itself is quite extended considering the type of product that we are reviewing here. The product is accompanied by a 15-year warranty from the original manufacturer. When one considers the fact that the entire product is made from a memory foam material, the 15-year warranty does seem quite impressive.
At the same time the warranty does not protect the product against all possible conditions that may interfere with its ability to provide a comfortable place for a user's feet to be rested. The warranty will cover only certain conditions – customers interested in the product should take close note of these terms before they decide as to whether or not they want to buy the product.
The Bottom Line
Those who are looking to add some support for their feet while grounded during the working hours of the day without a motion should consider Desk Jockey Office Footrest. The product comes with a memory foam design that is comfortable and soft, while also providing adequate support for the arch and feet. This can help to reduce pain in the lower limbs, often caused by prolonged sitting.
While the benefits of Desk Jockey Office Footrest surely are great, this product is not for those looking to have a swing or a rocking motion under their feet when they are seated. The product also comes with a very limited warranty and does not ship to all international locations. Other than these potential drawbacks, the product does still seem to be a good option for anyone with a budget lower than $30.
---