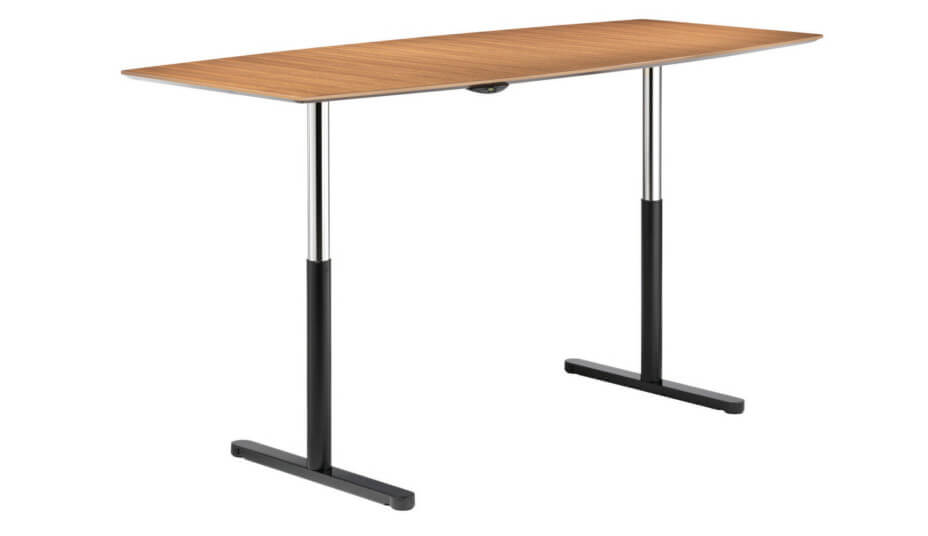 Travis 661 Height Adjustable Conference Table focuses on the health benefits associated with standing up during working hours, instead of being sedentary and sitting all day. The marketing efforts from the company thus far have placed a large emphasis on the fact that this adjustable conference table can assist the user in alleviating back pain and other symptoms that are often associated with sitting down too long.
Travis 661 stand-up meeting table itself does seem to provide an overall sturdy design, but we did find that there is a lack of appropriate information available for this model. Many customers will find it difficult to get their hands on the table if they are interested in fitting their office with a Travis Height Adjustable Conference Table. The lack of specifications and details also makes it difficult for the customer to understand if this might be an ideal option for them.
Pros And Cons Of Wilkhahn Travis 661 Height Adjustable Conference Table
---
Travis 661 Height Adjustable Conference Table Pros
Travis Height Adjustable Conference Table seems to be available in three different sizes, which is convenient for those customers looking for more flexibility when it comes to purchasing a standing desk for their conference room.
The larger option does have a significant improvement in overall space when compared to some alternative conference desks that we have looked at.
The fact that it comes with an electric height adjustment system makes it a more convenient option, as the height of the table can be easily adjusted with the push of a button. This greatly enhances the convenience and ease-of-use for those who will be around the table.
Travis 661 Height Adjustable Conference Table Cons
No extensive details are available on the Travis Height Adjustable Conference Table. This can leave a customer in the dark when it comes to determining whether or not this is a good product to install in a conference room in their building.
The price of the product needs to be requested at the majority of the dealers that stock the table. This can be an inconvenience and does not provide the layer of transparency that a lot of customers are looking for when it comes to buying a height adjustable table for the conference room, or any other location in the office for that matter.
The product is made from standard materials and does not seem to feature any significant advantage over competitor products in terms of durability and overall performance. This is another potential adverse factor that customers should take note of.
Travis 661 Height Adjustable Conference Table Review
---
Travis 661 Height Adjustable Conference Table comes with some flexibility during the initial purchasing process, as customers can choose between three different sizes. This is convenient as the customer would be able to ensure the table meets the criteria of the room where it will be installed– choosing the right size option means the conference table will fit into the room without constricting space too much, but still provide an adequate surface area to accommodate everyone attending the conference or meeting.
The product does have a couple of strong points that should be accounted for but, at the same time, we noticed that the manufacturer lacks to provide detailed specifications for the product – even in the documentation that can be downloaded. This, however, does not necessarily mean this is an adjustable height conference table that should not be considered for a conference room.
Height Adjustability
While data on the product's height adjustability specifications are somewhat limited, we did learn that the table uses an electric motor to accommodate different levels of height. This should definitely be seen as a convenience since manual height adjustment tables tend to run into issues and often requires more than one person to adjust the height without causing the surface to become unstable.
No details have been provided in terms of the motor's power or other specifications that can help the customer understand how long they would have to wait for the height to be adjusted. The minimum height setting seems to be 30 inches, with a maximum height setting of 46 inches. This is relatively standard when comparing the height settings to those presented by competing for height adjustable conference tables that are currently available on the market.
Construction
The table features a construction that primarily relies on two different types of material. The frame that holds the table together is made from a standard steel material. No specific details are provided regarding the type of steel. At the same time, the majority of these tables usually contains a quality steel frame, so the same could be expected from the Travis Height Adjustable Conference Table.
The surface area of this table is constructed from a medium-density fibreboard material. This is a relatively common type of material used in these products and provides adequate durability for day-to-day usage in most cases.
The product comes in various sizes. The table's length and width can be customized according to the requirements of the customer. The width settings that the table is available include a 35-inch and a 39-inch option. There are three different length options that customers can choose from, including a 70-inch option, a 78-inch option, and a 90-inch option. Customers should ensure the option they choose will be able to fit their conference room adequately.
Design
The table's top surface has a rectangular and barrel shapes with sharp and flat edges on the left and right sides. This can be convenient for conferences, as well as meetings. The top also features a glider base. The Travis Height Adjustable seems to be only available in a single color, which is a natural wood finish with a light brown color. There does not seem to be any alternative options available. The frame is only available in silver according to the information we have gathered.
The Bottom Line
---
Many people would like to opt for a standing height table in the conference room due to the health hazards imposed by a sedentary life. A lot of people are exposed to its symptoms due to the work that requires them to sit down all day, might find that the Travis 661 Height Adjustable Conference Table by Wilkhahn is a suitable option for them. This is due to the large focus on the health benefits mentioned by the company behind the desk.
Overall, we found that the Travis Height Adjustable Conference Table is certainly not the worst option on the market. Unfortunately, since there is a significant lack of information regarding certain specifications of this standing height conference table, including its price in general, it is difficult to reach a final verdict as to whether this table may be a better option than some competitors.