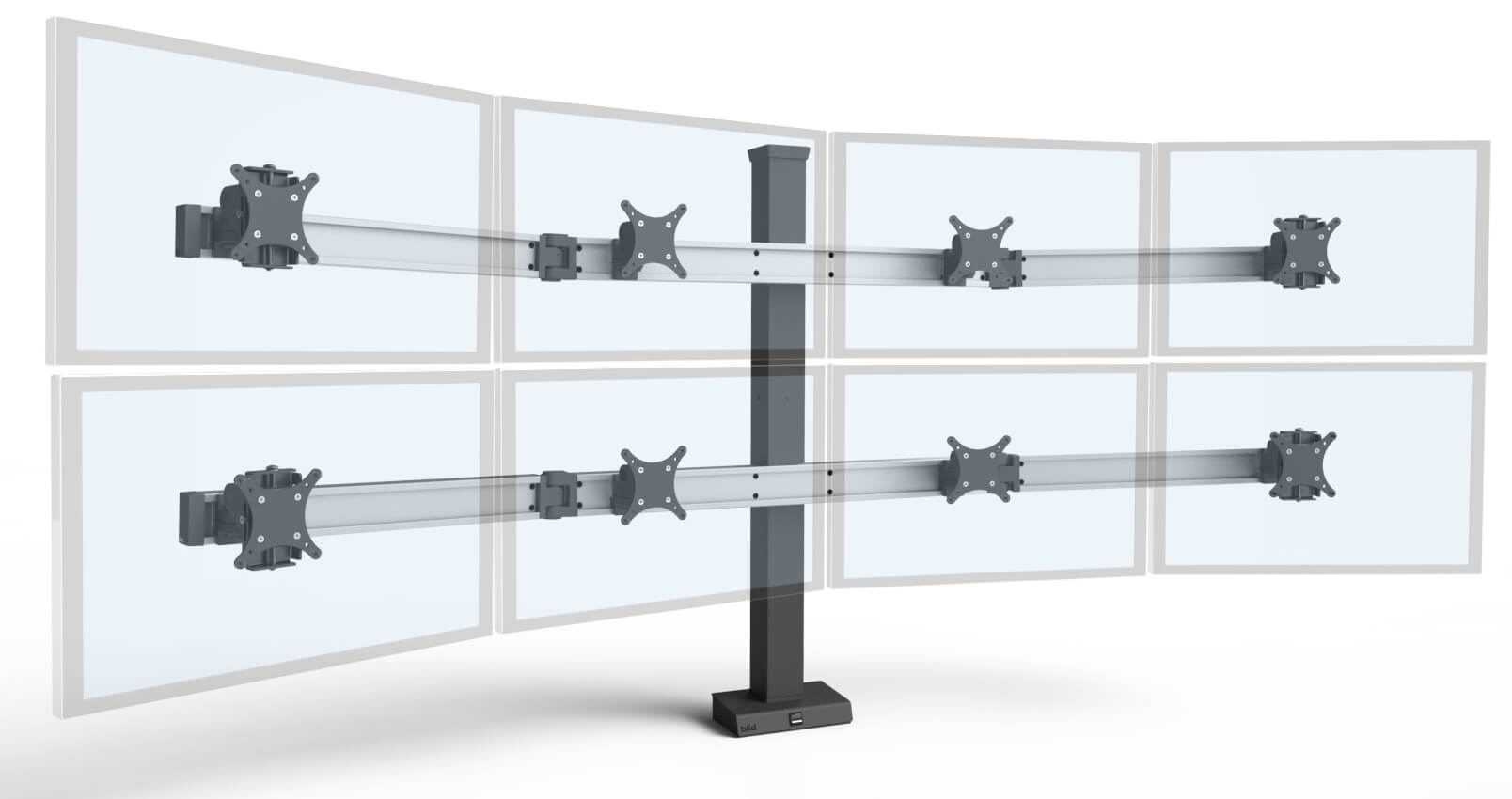 Bild Multi-Monitor Mounting System made by Innovative company is high-quality, customizable multiple monitor stand. It was developed to support a relatively large number of screens, providing the perfect setup for offices that need 2 or more displays equipped to a single system. The Bild computer monitor stand is available in a variety of configurations and allows for multiple monitor mounting. In cases where modifications can be made, the customer will be able to make the appropriate adjustments to add additional modifications.
The product utilizes a spring lift system, similar to options like the range of Vivo monitor stands, to provide the customer with a convenient way to adjust the layout of their displays. A number of options can be selected from when the customer places an order as well, which can help to increase the total number of screens that can be added to the system, as well as provide stronger materials to hold heavier monitors.
Pros And Cons Of Bild Multi-Monitor Mounting System
---
Bild Multi-Monitor Mounting System Pros
There is a quite large variety of options that the customer can choose from when it comes to buying this particular multi-monitor stand. This allows the user to buy a particular setup that is perfect for the specific configuration in their office and ultimately ensures they do not overspend by opting for a setup that has too many arms.
The customization options allow the customer to choose the color and specific configuration of the Bild Monitor Arm that would best suit their setup, as well as the aesthetics of the office where they will be installing the product.
The Bild adjustable monitor stand allows the customer to choose if they would like a flat or an arch configuration. This can be great for a variety of settings and also adds more versatility to the overall setup of the monitor arm.
The Bild Monitor Arm can support multiple displays at a time, which is a significant advancement over quite a large number of competitive options. The customer can customize it and add additional arms without the need to remove screens attached before.
Bild Multi-Monitor Mounting System Cons
The data about The Bild monitor mounts available on the Internet is very limited. While we were able to obtain some information about the product, a large amount of data is still missing.
Only two colors available.
Manufacturer provides 10 year limited warranty, but some users complains about it effectiveness when it comes to replace a broken parts.
Innovative Bild Multi-Monitor Mounting System Overview
---
The Bild Monitor Mount is a configurable desk monitor arm. It was designed for offices that may need to add multiple monitors to a single system setup. The mounting system can support up to 16 displays at the same time, which is one of the most significant advantages offered by the monitor arm.
The 99% of monitor mount is primarily made from recycled materials, but still offers a very sturdy overall construction that can support heavier displays. In addition to being a potentially ideal option for many offices, this product is thus also good for those offices that want to support the environment with "Going Green" campaigns.
What is Multi-Monitor Mounting System?
The Bild Monitor Mount is a complete system that supports a minimum of two screens mounted simultaneously. While the general maximum number of monitors that are supported by this product is noted as 16, the customer should be advised that with the right combination of extensions for their Bild multi-monitor stand, it would be possible to extend the product further to add even more.
Configuration and modifications of the Bild Monitor Arm system are exceptionally easy. The Innovative company has ensured that customers with no technical skills are able to easily adjust the system to suit the setup that they need to configure without the need for special tools. The entire system can be easily adjusted by unclipping sections or adding new clip-in sections. Additional monitor brackets can be easily attached by simply clipping them into the appropriate section – there is no need for these brackets to slide out of sections, which means additional monitors can be added at any location without much effort.
Popular options that customers seem to opt for include Bild 3 and Bild 4 monitor stand over four configurations.
Configuration Options
When a customer places an order for the Bild Monitor Mount, they are usually able to choose from a number of configurations that will help to make the product more suitable to the customer and the specific office environment where it will be installed.
The customer is able to choose from two different column colors. These include silver and black.
There are three different options when it comes to choosing an appropriate tilter bracket to come with the Bild Monitor Mount.
The standard option can hold 2 monitors of up to 30 lbs each. Customers who will require brackets that can mount heavier brackets can opt for the heavy-duty spring option. This will, however, add over $200 in additional costs to the order. The heavy-duty option supports a weight of up to 55 lbs per display that is mounted on the system. A standard quick release system is also available. This system adds additional costs as well, but will not elevate the maximum supported weight.
The customer can choose between various mount options to satisfy their particular preferences. The standard option is a bolt-through mount, but the two additional options that customers can choose from include rail mounts and desk clamp mounts.
Additionally, depending on where the customer will buy the product from, there might be an option to add height adaptors to increase the height of the mounted monitors. The customer will need to buy an appropriate number of height extenders depending on how much of a height extension they would desire, as well as the particular configuration of their monitor mounting system.
The Bottom Line
---
The Bild Monitor Mount can provide an appropriate setup to mount multiple monitors in an office, with support for as many as 16 monitors. With the advanced setup, even more, displays can be supported. The Innovative company that produced The Bild is USA based manufacturer with headquarters in Easton, PA. The Innovative is known to adhere to the top environmental and BIFMA standards.
This is a good option for customers looking for the best monitor mounting arm that can offer them a multiple monitor mounting solution. For those who are rather looking for a simpler solution, the Jarvis Monitor Arm is good for mounting a single screen. The range of Human Scale monitor arms is good for people on a higher budget, while a best cheap dual monitor arms desk mount would be the Ergotech monitor arm.