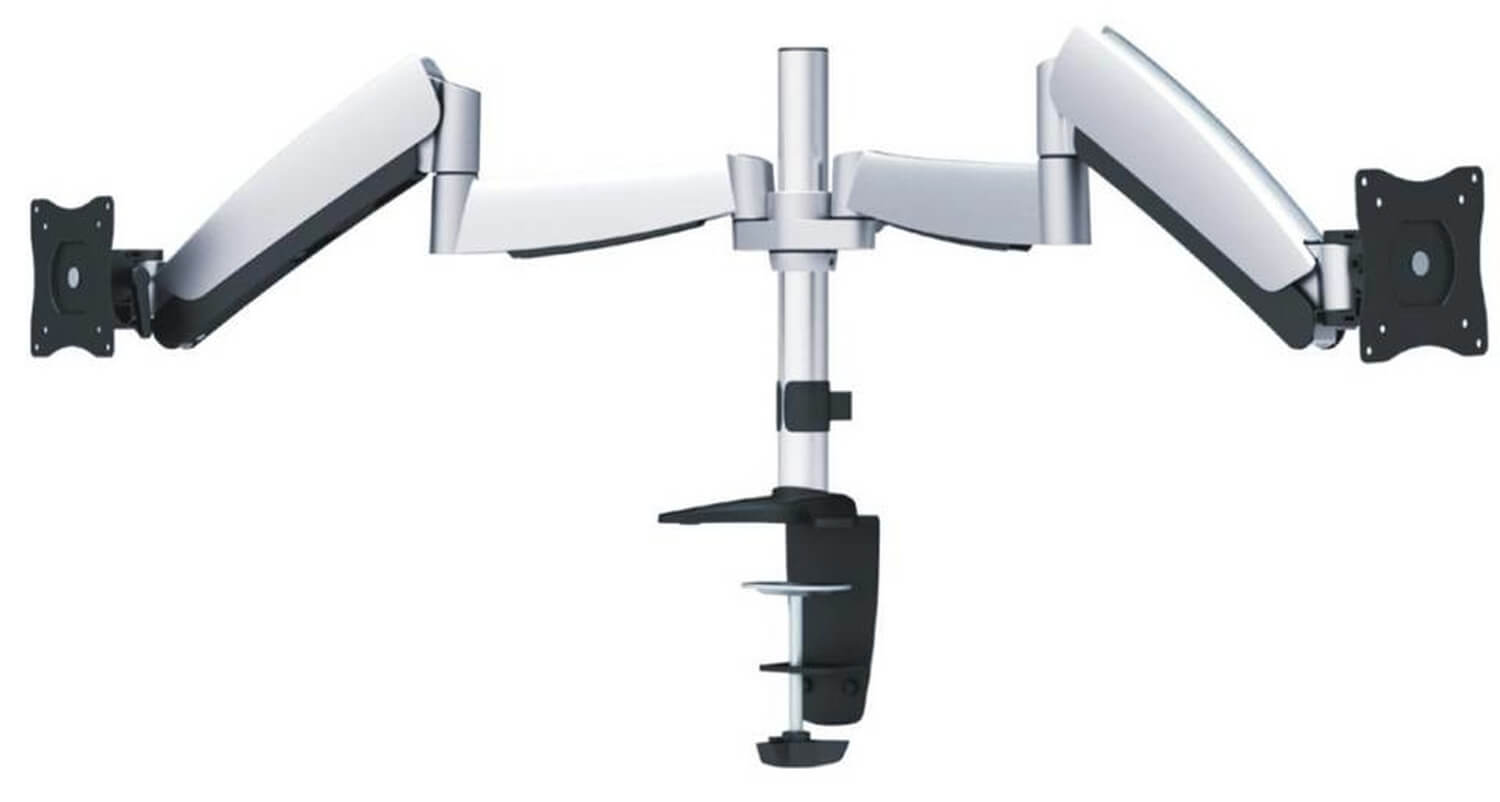 Ergotech 320 Series Monitor Arm is part of a larger product line from the Ergotech brand. It is known for producing some of the best monitor arms for people who are on a meager budget. This particular option is available in a single and dual mounting option and was designed to provide an easy way to elevate the height of the screen. Instead of providing a solution to mounting a larger number of displays like the Bild Monitor Arm, for example, Ergotech Monitor Arm was rather designed to focus on the potential health-related benefits that have been associated with an increased height of a monitor while sitting or standing during working hours.
While many convenient features are surely noteworthy in terms of the Ergotech 320 Series Monitor Arm, it should be pointed out that there is a couple of limitations that need to be noted regarding the product that might not make it one of the best dual monitor arms for everyone. While this option may not provide the customer with the same features as an option like Vesa monitor mounting solutions or perhaps the Humanscale M/Flex arm, it is still a good option for some people.
Pros And Cons Of Ergotech 320 Series Monitor Arm
---
Standing Desk Guides takes a look at the pros and cons of the Ergotech 320 Series Monitor Arm to help readers understand whether this may be an appropriate option for elevating the height of screens in their office, or if they should consider spending a little more on a product like the Jarvis Monitor Arm or another competitive option.
Ergotech 320 Pros
Ergotech 320 Series Monitor Arm comes in a variety of options that the customer can choose from. This allows the customer to choose the particular option that will be most convenient in their office, depending on the specific number of displays that they need to mount on the system, as well as the particular configuration that is required.
The CO24 option comes with a dual monitor arm mount that makes it easy to have two monitors elevated at the same time.
All three models that form part of the Ergotech 320 Series are exceptionally affordable and cheaper than most other options that a customer would be able to find. This makes these great for customers who are on a minimal budget and unable to afford some of the higher end monitor arms that have been released.
Ergotech 320 Cons
The fact that this product is cheap does not make it an appropriate option for everyone on a low budget, as this product also features a primitive overall design. The product does not offer the stability that customers would come to expect from a monitor arm andis potentially hazardous in some office settings.
The Ergotech 320 Series Monitor Arm comes with a very limited warranty that only lasts for five years.
Ergotech 320 Series Monitor Arm Overview
---
Ergotech 320 Series Monitor Arm comes at a low price, but that also means the construction is weaker than some alternative monitor arms stands that the customer is able to opt for when they are looking to add one of these accessories to their office configuration. Certain configurations can be utilized to make the product more convenient, but the Ergotech 320 Series Monitor Arm is not as customizable as some of the other options that we have reviewed, such as the Humanscale M/Flex Monitor Arm.
Ergotech 320 Series Models
Ergotech 320 Series Monitor Arm is available in three different options that customers will have to choose from upon purchasing the product. The cheapest is the C011, which comes with a primitive design and costs only $62.99. This is a single articulating product with a single segment.
Customers who prefer a second segment can opt for the C012, which comes with an additional second segment, which is horizontally-adjustable, and available for a slightly higher price of $89.99. Both of these options are appropriate in settings where the customer only needs to mount a single monitor – such as in cases where the customer finds that the height of their monitor is causing strain on their neck.
A third option is available for customers who need to mount two monitors on the arm. The C024 was designed with a dual arm system and is available at a higher price tag. The C024 comes at $139.99.
Mounting System
Ergotech 320 Series  monitor mount system utilizes a relatively basic design with either a single or a double segment configuration. The arms can also be adjusted to a specific height and length that will best suit the user. The arms are mounted on a mounting pole that is centrally located and has a fixed height of 14 inches. While the overall construction of the mounting system is adequate for many screens, the customer should not expect the same performance compared to a product like Humanscale monitor arms series, or perhaps Bild 3 and Bild 4 monitor mounting solutions.
There are two different mounting options that customers can choose from when they attach the assembly pole to their desktop. One of the popular options include a desk edge clamp, but customers can also rely on a grommet mount if they wish to.
The overall assembly of the mounting system is relatively straightforward and easy. There is no need for any special skills or assembly tools, as most of the parts easily fit into each other.
It should be noted, however, that once assembled, it does seem like the Ergotech 320 Series Mounting Arm is not as sturdy as most of the other products that we have seen. The product is unstable once the displays have been mounted. The dual system seems to be even less stable when both monitors are mounted.
Warranty
Ergotech 320 Series Mounting Arms come with a limited warranty. Customers are provided with a five-year warranty period on the purchase of any mounting arm that is part of this particular series from the Ergotech brand. It should be noted that the warranty has a number of restrictions that customers do need to take note of. Customers are advised to closely analyze the terms regarding the warranty to understand exactly what will be covered and what type of damages and faults they will be responsible for before they make a final decision on whether or not they wish to fit their office with Ergotech monitor arm.
The Bottom Line
---
Ergotech 320 Series is a line of three different monitor arms that customers can utilize to help lift their displays to support their neck, spine better, and back, while they are sitting down during work. These are some of the most affordable options that are currently available on the market, but the issue here is the fact that most customers will find that the products that make up the Ergotech 320 Monitor Arm Series are not stable. Customers looking for a better quality product may wish to take a look at options like Vivo monitor stands.
Customers should carefully look at the specifications of the Ergotech 320 Series Monitor Arm and carefully consider if this is the appropriate option for them. While the product may be cheaper than many of the other available monitor arms, the instability and the poor sturdiness of the monitor arm can be hazardous in the office and even lead to potential damage to the displayss mounted on the system.