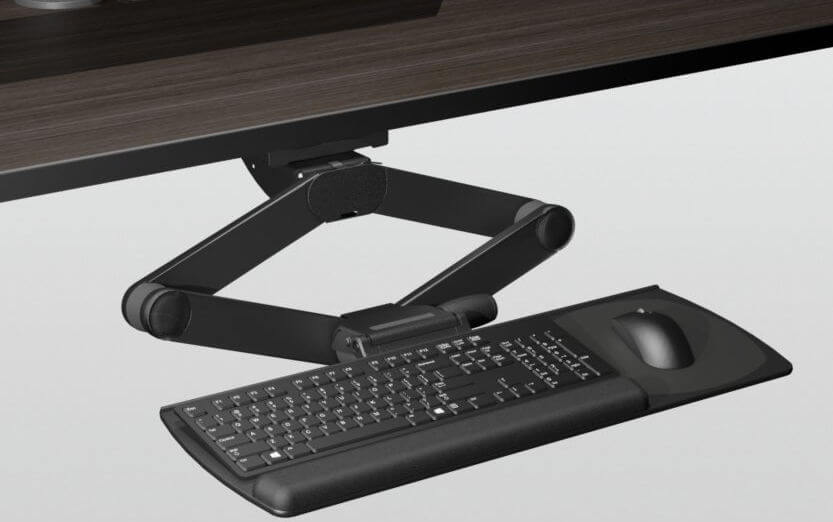 Workrite S2S Ultrathin Keyboard Tray System is a state-of-the-art and premium keyboard tray that offers users with a wide range of movement in various directions, thus, allowing them great flexibility and versatility. It is a sit-stand keyboard tray which allows users to easily adjust the height of the device as they sit or stand while working on the desk. With a simple push/pull system, the tray's height can be set without pressing any knob or lever. It can be ideally used with a fixed workstation which can then be converted into a sit-stand workstation upon choice. Workrite keyboard tray allows various height adjustments above as well as below the desk. It also offers +10 to -20 degrees of tilt. This provides a perfect position for the user to type for hours without feeling any pain or pressure in his/her hands or wrists. The glide track is smooth which meets ANSI/BIFMA X5.5 standards. This is the best office keyboard tray for anyone who wants ergonomic comfort and ease.
Pros and Cons of Workrite S2S Ultrathin Keyboard Tray
---
Workrite S2S Ultrathin Keyboard Tray System Pros
An ultra-thin device that provides the greatest height adjustment out of all the ergonomic keyboard trays
Offers a 30 degrees tilt including negative tilt
Offers versatility in height adjustment above as well as below the desk level
Mouse pad can be attached on either the right or the left side
Lifetime warranty offered
Workrite S2S Ultrathin Keyboard Tray System Cons
Keyboard tray does not retract completely when not in use.
Workrite S2S system is expensive when compared with some other ergonomic keyboard trays.
Installation is a bit difficult.
Overview of Workrite S2S Ultrathin Keyboard Tray System
---
Specifications
Workrite S2S Ultrathin Keyboard Tray System is an ergonomic keyboard tray that can be raised or lowered to meet the requirements of various users. It is constructed from solid phenolic material in an ultrathin and sleek design. Its dimensions are 27" x 11.5" x 0.25" (68.6 x 29.2 x 0.6 cm). It offers a vertical height adjustment up to 16" (40.6 cm) above the desk and up to 6" (15.2 cm) below the desk level. Two different models are provided with different track lengths. One is 17" (43.2 cm) long, and the other is 22" (55.9 cm) long. For the 17" track, the keyboard arm extends 0.75" (1.9 cm) from the front whereas it extends 5.75" (14.6 cm) from the front for the 22" track. The weight of the 17" track is 18 lbs (8.1 kg), and that of the 22" track is 20 lbs (9 kg). It features a Lift and Lock height adjustment mechanism which does not use any lever or knob. The tray also offers a 30 degrees tilt from +10 degrees to a negative tilt of -20 degrees. This ensures a healthy wrist and hand positioning.
Appearance and Maintenance
The S2S Ultrathin Keyboard tray by Workrite is one of those stand keyboards that allow users to adjust its height according to their standing position. It has a sleek and stylish design as it is ultra-thin and lightweight. It is available in only one color:
Black tray with silver railing and track.
It is constructed from a high-grade plastic material with nylon tracks. The tracks allow a smooth gliding motion during its adjustment. There is palm support that can be attached to the right or left side of the keyboard tray, or it can be removed altogether. Because of the high quality of construction material, it offers excellent performance that requires minimum maintenance of any kind. It can easily be cleaned off for any stains or dust particles with a simple damp cloth. The user manual and other support documents provide all maintenance instructions which users can follow to achieve optimal performance and ease.
Assembly and Accessories
The S2S keyboard tray is a type of clip-on keyboard trays that can be clamped to a desk. It can then be adjusted at runtime according to user preferences. The keyboard tray is delivered in the unassembled form. An assembly and installation guide is provided with the product components that describe all the steps users have to do to assemble and install it to a desk. Once installed, users can adjust the height, tilt, and orientation of the mouse pad according to their requirements. The package also comes with an optimized document holder and cable management that helps declutter the work surface. The users can also buy a Jel wrist rest as an accessory to this keyboard tray. It offers enhanced comfort for the wrists during typing. Another accessory that can be used with this keyboard tray is a Bench Mount Kit that allows a monitor to be mounted on the desk. It, then, allows the monitor to be adjusted according to the user's position and posture.
Packaging and Shipping
Workrite S2S Ultrathin Keyboard System is an ergonomic keyboard tray which can be ordered from the manufacturer or through other retail shops or e-commerce websites. Almost all of them offer free shipping to all the lower 48 states of the USA. For Hawaii, Alaska, APO/FPO addresses, and other international destinations, shipping charges apply. The details of the exact shipping charges can be acquired by contacting their support team. The shipped package contains the tray components, the user manual, assembly guide, and other support documents. Users can assemble the product by following the instructions outlined in the documents. The manufacturer offers a lifetime warranty for manufacturer defects and faults. The warranty information is also supplied along with the shipped package. They return, repair, or exchange the product free of cost if customers are not satisfied with it. The shipping dimensions and weight depend on the type of model ordered for the S2S.
Benefits of Workrite S2S Ultrathin Keyboard Tray System
Workrite S2S Ultrathin Keyboard System can be considered the best office keyboard tray based on its various features and advantages that it offers. Some of these benefits are listed below:
It is a highly ergonomic keyboard tray with a lightweight design yet strong construction.
Its unique design enables it to be a worthy addition to any office or room.
It offers a height adjustment above and below the desk.
It also offers negative tilt which allows users to work tirelessly for hours. They can improve their work efficiency and productivity without feeling exhausted or stressed out.
It is a sit-stand keyboard tray that enables its users to switch between sitting and standing positions effortlessly.
This is achieved through a Lift and Lock mechanism that takes minimum time and effort.
It features a removable palm rest which can be attached to either side of the keyboard tray.
Workrite S2S system offers a smooth gliding motion through the nylon track.
They S2S comes with an optimizer document holder and cable management.
The Bottom Line
---
Workrite S2S Ultrathin Keyboard Tray System is one of the best ergonomic keyboard trays available. It offers users with an advanced experience where they do not feel any pain in the arms, wrists, shoulders, or back thanks to its negative ergonomic tilt. Users can adjust S2S height according to their requirements whether they are sitting or standing. All these adjustments can be made within seconds with minimum effort. When compared with other ergonomic keyboard trays, it is not the most expensive keyboard tray available although its price is towards the higher side. But this high price pays off through the exceptional quality and flexibility that it offers. The S2S system offers durability and sturdiness, especially when compared with KT1 and WorkEZ products by Uncaged Ergonomics. Thus, this keyboard tray is highly recommended for anyone who wants to have a durable ergonomic experience and who can afford its higher price.