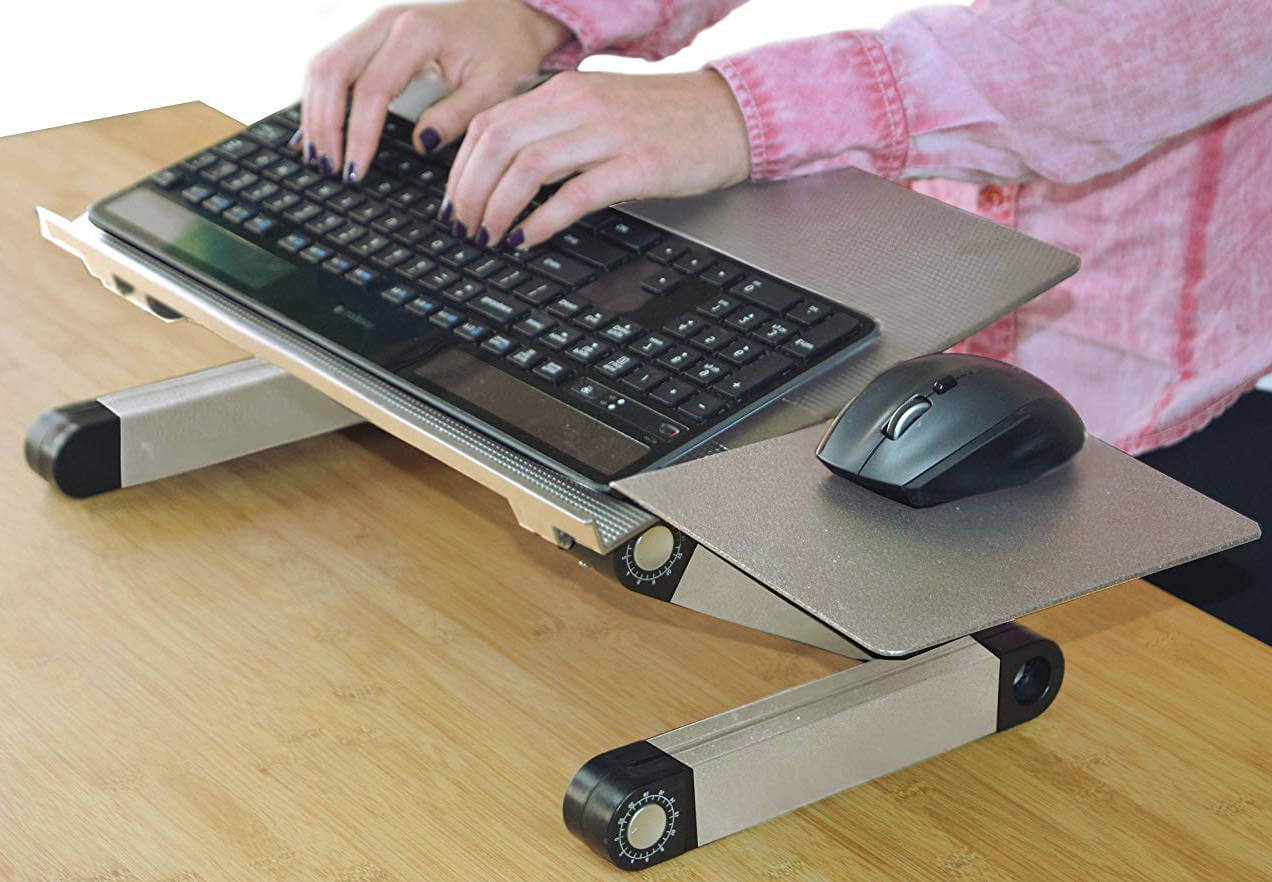 The WorkEZ Keyboard Tray by Uncaged Ergonomics is one of the best portable ergonomic keyboard trays that one can find. It offers portability, usability, convenience, and ergonomics through its many features and adjustment options. It was introduced in 2015 as a lightweight ergonomic solution. It is a keyboard riser which is easily collapsible and removable. It requires no assembly or installation. Users can just place it on their desk and start using it while sitting or standing. Uncaged Ergonomics WorkEZ keyboard tray and mouse pad offer independent height adjustments up to 18". Both of them also provide an independent negative tilt through 15-degree increments. Users can choose a neutral or negative tilt, according to their typing preferences, that does not cause them any pain or discomfort in the wrists, arms, elbows, or any other joint. The mouse pad can be attached to the left or right side of the keyboard tray with minimum effort. Because of its less weight, this ergonomic keyboard tray can easily be carried around anywhere and placed on any desk.
Pros and Cons of Uncaged Ergonomics WorkEZ
---
Uncaged Ergonomics WorkEZ Tray Pros
A portable keyboard and mouse tray that is easily collapsible.
Requires no assembly or installation.
Offers a comfortable, ergonomic experience through the negative tilt and height adjustment.
Can be used while sitting or standing
Mouse pad can be adjusted independently
Uncaged Ergonomics WorkEZ Keyboard Tray Cons
There are no rubber grips or stoppers at the base of the tray which make it slip or move on the desk while typing.
The keyboard slips on the tray when typing at an angle.
Users complain of the mouse tray being wobbly.
Warranty period is very less, i.e. 90 days.
Overview of Uncaged Ergonomics WorkEZ Keyboard Tray
---
Specifications
Uncaged Ergonomics WorkEZ keyboard tray is an adjustable keyboard stand that offers users with great comfort and ease. It is a portable keyboard tray that can be placed on top of a desk and it would be ready to be used. It comprises a height-adjustable keyboard tray with a mouse pad attached to either one of its sides. The whole product is constructed in lightweight aluminum with an elegant finish. The overall width of the keyboard tray is 19.4" (49.2 cm). The dimensions of the keyboard tray are 18" x 11" (45.7 x 28 cm) whereas the dimensions of the mouse tray are 7" x 7" (17.8 x 17.8 cm). The height of both trays can be adjusted independently between the range of 2" – 18" (5 – 45.7 cm). The product offer 360 degrees tilt. By utilizing the negative tilt, users can choose a position that promotes better wrist health and a good posture. This enables them to work for hours and hours at a time without feeling exhausted or fatigued. The weight is 3.9 lbs (1.8 kg), and it has a maximum weight limit of 13 lbs (5.9 kg).
Appearance and Maintenance
The WorkEZ keyboard tray by Uncaged Ergonomics is a computer keyboard stand that allows users to adjust its angle and height to find a level with which they are most comfortable. It features a simple yet sleek design with lightweight construction. There are two separate trays for the keyboard and mouse; each of them can be adjusted according to user choice. Uncaged Ergonomics WorkEZ is available in two different colors:
It is completely collapsible and can be easily carried around wherever one wants. Users can choose a neutral typing position or a negative tilt to ensure that their hands and wrists are at the perfect ergonomic angle. The keyboard and mouse tray can easily be cleaned and wiped off. There is a user manual provided with the package which describes various problems, and their corresponding solutions that users might encounter during use. It also describes cleaning and other maintenance instructions for this particular keyboard riser.
Assembly and Accessories
Uncaged Ergonomics WorkEZ keyboard tray is one of those computer keyboard risers that are highly portable and flexible. One of the biggest plus points of this keyboard tray is that it is delivered fully assembled. Users do not have to assemble or install it before using it. They can just take it out of the delivery box, remove any packing material, place it on a desk, and start using it immediately. They can adjust the height, tilt, or angle of each of the two trays according to their comfort through the side levers attached. There are certain accessories available which can be used with this product to increase one's comfort and convenience. A small mat can be used on top of the desk where the tray could be placed. This does not let it slip while typing as well as prevents the tray from scratching or damaging the desk surface. A mouse pad can be used on top of the mouse stand to provide a better surface for the mouse to operate.
Packaging and Shipping
WorkEZ keyboard tray by Uncaged Ergonomics offer great comfort and ease to users through its many features and flexibility. It can be ordered from the manufacturers site or Amazon. Same-day free shipping is offered for all states of the USA. International shipping is not offered currently for this product. The shipped package contains the keyboard tray in the assembled form. It does not require any installation and is ready to be used out of the box. The shipping dimensions are 19" x 2" x 10" (48.2 x 5 x 25.4 cm) and its shipping weight is 3.9 lbs (1.8 kg). The shipped package also contains the user manual and all other support documents including the warranty. The manufacturers offer a 90-day warranty for manufacturer defects and faults. They also offer a 14-day free return or exchange policy through which users can return or exchange their product if they are not 100% satisfied with it.
Benefits of Uncaged Ergonomics WorkEZ Keyboard Tray
The WorkEZ keyboard tray offers a number of benefits to its users some of which are listed below:
It is a lightweight product that can easily be carried around with minimum effort. Thus, it offers great portability.
It requires no assembly or installation. Users can start using it immediately by just placing it on top of their desk.
The tray offers a keyboard lift through a height adjustment of up to 18" which makes it a good choice to be used while standing as well.
It offers a negative tilt which helps users maintain a good posture and a healthy positioning of the hands. This results in a stress-free and fatigue-free work experience promoting better health and wellness.
The keyboard and mouse platforms can be adjusted independently according to one's preferences.
It is available in two colors providing users with an option to choose the one which best suits their room interior.
Uncaged Ergonomics WorkEZ can easily be collapsed to save space and to offer portability.
The Bottom Line
---
WorkEZ keyboard tray is a device that requires no assembly or installation. It is a portable stuff that offers different forms of movement to provide users with the best and comfortable work experience. It can be placed on top of a desk and its height adjusted accordingly. It also offers a negative tilt for advanced ergonomic comfort. It is available at a very affordable price which seems to be the cheapest among all ergonomic keyboards in the market. Whether it is the KT1 Uncaged Ergonomics keyboard tray or Ergotron Neo-Flex Underdesk Keyboard Arm, WorkEZ provides ergonomics, comfort, and ease at a much lower price when compared with these two. Although there are a few downsides to this keyboard tray, still it can be considered a good choice for people looking for an ergonomic keyboard tray but cannot afford the expensive ones available in the market.