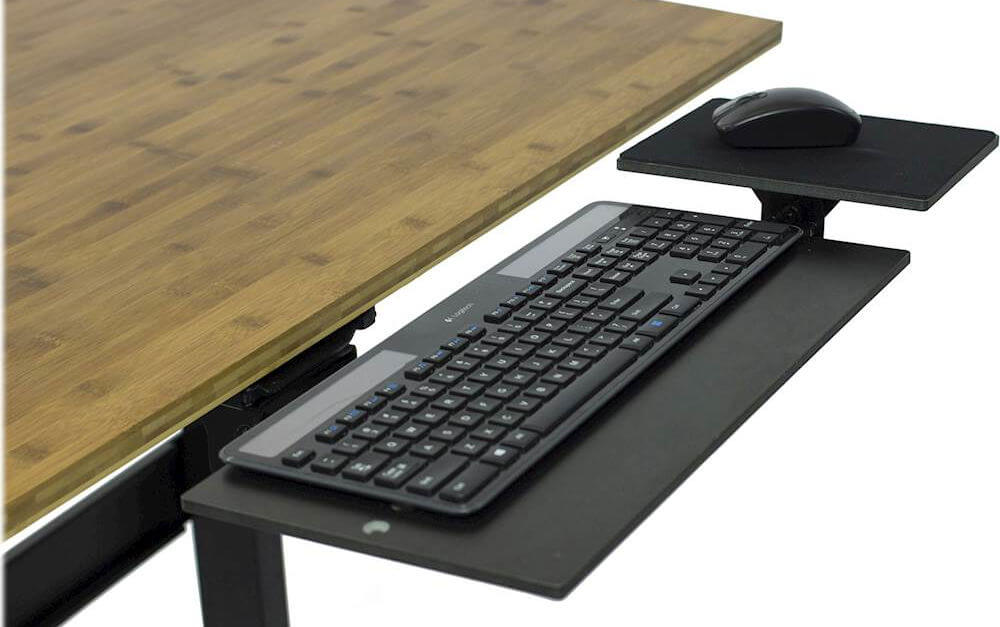 Uncaged Ergonomics KT1 Keyboard Tray can be considered the best keyboard tray that provides users with the ultimate flexibility in movement. KT1 was introduced in 2016, and it comes at quite an affordable price. It has a solid construction in steel and Bakelite plastic. The tray is attached with a rail which can be mounted under the desk. The tray can then be slid in and out, moved left to right, and tilted in the negative direction to provide the best angle for typing. The tray can also be raised or lowered to provide the most optimal position where the users do not feel any strain or pressure in their arms, back, or shoulders. This promotes a better posture and physical health which improves the user's productivity. There is a separate mouse tray that can be attached on either the left or right side of the keyboard tray. The mouse tray moves independently from the keyboard tray but provides all kinds and direction of movement as the keyboard tray offers.
Pros and Cons of Uncaged Ergonomics KT1
---
Uncaged Ergonomics KT1 Pros
An ergonomic keyboard tray that comes at an affordable price
Offers great flexibility through the tilt, swivel, and raise options.
Mouse tray and keyboard tray can be adjusted independently
Can be used with a sitting or standing desk.
Offers smooth sliding option and retracts completely under the desk to save space.
Uncaged Ergonomics KT1 Cons
Only a 90-day warranty is offered.
The tray's railing gets in the way and knocks with the user's knees while sitting.
Users complain about the installation process to be quite difficult.
The locking mechanism of the tray is not very smooth and requires a lot of effort.
Overview of Uncaged Ergonomics KT1 Keyboard Tray
---
Specifications
The KT1 by Uncaged Ergonomics provides flexibility, comfort, and ease of use, all in one keyboard tray. Not only is it a stylish under desk keyboard tray but also offers great benefits which make KT1 a good choice for prospective buyers. It has a frame and railing made from high-quality steel which has a powder coat finish. There are separate trays for the mouse and keyboard. Both KT1 keyboard and mouse tray are made from premium Bakelite material. The keyboard tray dimensions are 18.5" x 8.75" (47 x 22.2 cm) and the mouse tray dimensions  are 7" x 8.75" (17.8 x 22.2 cm). There is a railing which mounts to the desk and has a length of 16" (40.6 cm). The weight of the tray is 12.2 lbs (5.5 kg) and has a weight capacity of 8 lbs (3.6 kg). Once installed, the tray can be adjusted according to user preferences. It offers a negative tilt which is perfect for healthy positioning of the hands and wrists. The mouse pad is also adjustable independently. This ensures that users can work effortlessly for long periods without feeling fatigued or exhausted.
Appearance and Maintenance
Uncaged Ergonomics KT1 Keyboard Tray is one of those pull-out keyboard trays that gets mounted under the desk. It offers a stylish and modern design through the laminate-finish Bakelite trays. It is available in a Matte Black color that serves as a great addition to any desk or office. The keyboard tray has anti-skid stoppers that do not allow the keyboard to slip while typing. The keyboard platform and the mouse pad can be adjusted either through the height, tilt, or swivel adjustment options. This type of ergonomic keyboard tray can best be used with a standing desk as it lets users adjust it according to their position to ensure a good posture. The tray is easy to clean and maintain. Because of its laminated finish, users can easily wipe it off with a simple damp cloth, and it gets nice and clean. The tray comes with a user manual which includes maintenance instructions on how to use and maintain this product for optimal performance.
Assembly and Accessories
The KT1 by Uncaged Ergonomics is an advanced keyboard tray mount that can get attached with a desk to provide users with a comfortable and ergonomic experience. It is not shipped in the assembled form. Users receive the tray components that will have to be assembled by them. The installation guide is supplied along with the tray components. It describes all the steps that the user has to take to assemble and install it with any desk. Users are guided through every step from start to finish to install the keyboard tray. Since this ergonomic keyboard stand can ideally be used with a standing desk, certain accessories can be used with it. One of such accessories is an anti-fatigue mat that lets users stand and work for long durations of time without feeling stress or pain in their feet and calves. If users want to incorporate some challenge and physical activity in their routines, they can also use a balance board to stand on while they work.
Packaging and Shipping
The KT1 keyboard tray can be considered the best office keyboard tray as it offers excellent versatility and convenience through its features. It can be ordered through the manufacturers or Amazon. Both offer same day, free shipping within the USA. The shipping dimensions of the package are 19" x 5" x 10" (48.2 x 12.7 x 25.4 cm), and its shipping weight is 12.35 lbs (5.6 kg). The shipped package contains the keyboard tray, the mouse tray, the railing, and the clamps. It also contains all the support documents including the user manual and installation guide for assembling the tray. The manufacturers offer a 14-day free return and exchange policy in which users can return or exchange the keyboard tray if they are not satisfied with it. Other than that, they offer a 90-day warranty for manufacturer defects and faults. All the related documents and warranty are also supplied with the shipped package.
Benefits of KT1 Uncaged Ergonomics Keyboard Tray
The KT1 by Uncaged Ergonomics is an under desk tray for a keyboard and mouse that offers users with a number of features through which they are able to improve their work efficiency. A number of benefits are provided by this ergonomic keyboard stand including the following:
The keyboard tray is available at a highly affordable cost, especially when compared with other ergonomic keyboard trays such as the Elevon desk extension by iMovR.
It provides 360 degrees swivel motion and a negative tilt which promotes good posture.
It can be considered the best gaming keyboard tray as it lets players play swiftly with agility without feeling stressed out.
The keyboard can be raised or lowered according to the user position.
The mouse pad can be attached to either side of the keyboard tray.
The mouse tray can also be adjusted independently according to user comfort and convenience.
It can be used with a sitting or a standing desk.
The Bottom Line
---
Uncaged Ergonomics KT1 Keyboard Tray is one of the best clip-on keyboard trays that offer great ergonomics and comfort to users. Through its swivel, sliding, tilt, and adjustable height options, users are provided all the benefits of an ergonomic keyboard. However, this product does have its share of shortcomings. It cannot be used comfortably with a sitting desk as the user's knees bang with the railing of the tray. It comes with a surprisingly short warranty duration of 90 days after which the manufacturer will not claim any responsibility for any defect or fault. Still, the low price of the KT1 makes it a good choice among ergonomic keyboard trays. It is definitely superior to some non-ergonomic keyboard trays such as Vivo MOUNT-KB05E Extra Sturdy Clamp-on keyboard and mouse tray which do not offer any negative tilt. Thus, this tray can be considered a good option for anyone who wants an ergonomic experience but has a limited budget.