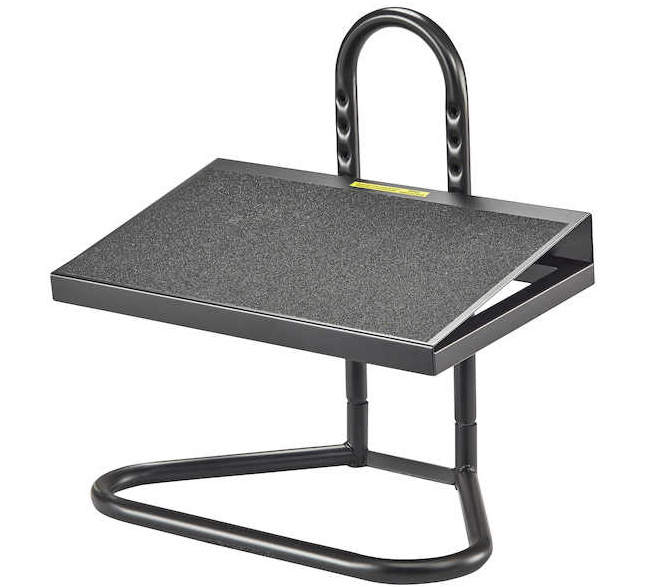 Task Master Adjustable Footrest is a device manufactured by Safco Products, a brand known for producing high-quality durable accessories. Task Master comes with a limited lifetime warranty, which adds significant value to the purchase, and has an adjustable height system that ensures the footrest can accommodate almost every potential user who might be interested in placing such a product underneath their desk at the office, or perhaps even in front of their couch at home.
While this footrest is more expensive than some alternatives we have found on the market, many factors that make it stand out amongst the crowd. The height adjustment range, coupled with the quality materials and the overall ergonomic design all make this a valuable option to consider for anyone looking to buy a quality option that will last them for a more extended period.
Pros And Cons Of Task Master Adjustable Footrest
---
Pros
Task Master Adjustable Footrest is made from quality steel materials that will last longer than many of the competitor products out there at the moment.
A full set of assembly instructions come included with the purchase of this adjustable footrest and can also be downloaded directly from the manufacturer's website.
Task Master can help to keep the feet active while sitting down, which has been associated with a couple of potential health benefits.
The limited lifetime warranty protects the product against factory and human faults that may come up in the future.
Cons
This is an expensive option compared to others, that may not fit everyone's budget.
Even though full assembly instructions are provided, this adds extra effort and time before the user can start to utilize the footrest.
The warranty that comes with the footrest does have a significant number of restrictions that need to be taken into account.
The fact that Task Master is constructed from metal materials could make it less comfortable for some users, compared to using a product with a built-in cushion.
Task Master Adjustable Footrest Review
---
Task Master Adjustable Footrest is a sturdy product that comes at a higher price than some of the competitor footrests out there, but the overall quality of this device, combined with the fact that it is made from durable materials, certainly adds to its value. For many customers, this is an ideal choice and is considered an investment that will last them for a long time. The footrest has music convenient features to offer, but also some potential restrictions to be kept in mind while shopping for the best under desk footrest.
High-Quality Design
One of the main factors that customers tend to notice about Task Master Adjustable Footrest would be the sturdy, quality design featured by the product. The entire framework of this footrest is made from a heavy-gauge tubular steel material. This adds to the overall durability of the footrest – in addition to making Task Master sturdier than a lot of the competitor footrests that are on the market today, this also adds to its sturdiness while on the group. Furthermore, the design and selected materials make the product compatible with heavier users as well.
Size And Portability
It should be noted that Task Master Adjustable Footrest is not as portable or compact as some of the alternatives we have seen. The product does weight quite a bit, compared to competitor footrests, with a total assembled weight of 12 lbs. This makes it somewhat heavier, which can make it a little harder to carry around. Still, Task Master Footrest can be carried by one person without too much effort.
The product has a width of 20 inches and a depth of 12 inches. The maximum height of this height adjustable product is 15 inches. While this makes this device somewhat larger than a number of the competitors on the market, it is essential to note that Task Master Adjustable Footrest was designed for everyone – thus the larger surface area should not be seen as a negative factor, but rather as a way for individuals with larger feet to still be accommodated comfortably.
Height Adjustability
A convenient feature offered by Task Master Adjustable Footrest would be its height adjustability, something that is definitely not found in all of these products. The height adjustability feature ensures that anyone can be easily accommodated with Task Master , whether they are averaged height, considered short, or those who are exceptionally long. There are nine different height position settings that the user can choose from, with a height-adjustability setting that ranges from 5 ½ inches up to 15 inches in total. It is also easy to adjust the height of the footrest and really just takes the push of a certain button on the product.
Multiple Uses And Functions
While promoted as an under desk footrest in most cases, it should be noted that Task Master Adjustable Footrest has multiple uses for a variety of potential users. Safco footrest is ideal for people who do tend to sit down for long periods at their desk during the day, but this is not the only group of people that can surely benefit from the design the product has to offer. According to the manufacturer, individuals who find themselves standing on their feet most of the time during the day can also greatly benefit from resting their feet on this footrest now-and-then.
Lifetime Warranty
Something not seen in many of these products, Task Master Adjustable Footrest, similar to other devices made by Safco brand, comes with a limited lifetime warranty. While there are many limitations on the warranty that a potential customer needs to understand before they do decide to invest in this footrest, the warranty is still superior to a lot of the warranties offered by competing brands. The majority of the parts in the construction of Task Master Adjustable Footrest will be covered during the first five years. Once this period has passed, the customer still can contact Safco when certain types of faults develop with their footrest – the company may then offer the customer a repair of the issues and, in some cases, even exchange on the footrest they have purchased.
The Bottom Line
---
Task Master Adjustable Footrest is a quality product that comes with features that allow anyone to experience the comfortability of having a footrest at their disposal. The product works with people of almost all heights, due to the large range in which the height of the system can be adjusted. Additional value is added through the inclusion of a limited lifetime warranty and a set of materials selected based on their durability. Even though the brand did decide to focus on the overall quality and durability of the product, they also assured the comfort of every user who will be resting their foot on this footrest.