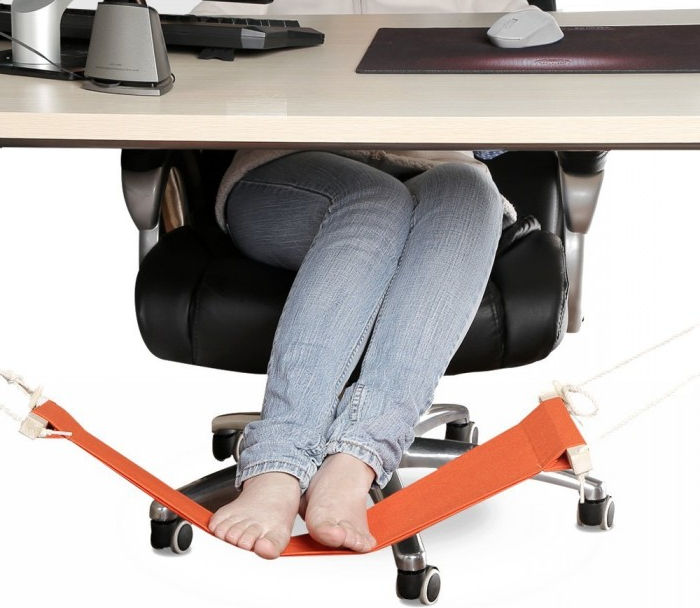 Smagreho Portable Adjustable Mini Office Foot Rest Stand Desk Foot Hammock is unlike the majority of the footrests that we have found – instead of providing a solid surface where the user's feet can rest, this particular footrest was rather designed to feature a foot hammock-like design. This brings about both pros and cons that a potential customer will need to look at if they wish to make the right decision – while the product may be great for many people looking to buy a footrest, especially those on a small budget, this may not be the most suitable option for everyone.
The majority of tables and desks, including standing desks that are already located in an office, will be compatible with the Foot Hammock. The installation of the foot hammock is relatively simple and straightforward – for those who are not sure how to proceed with setting up a footrest, a full instruction manual is included in the packaging.
Smagreho Portable Office Foot Hammock Pros and Cones
---
Pros:
This is probably one of the cheapest options that a person can opt for if they are looking for a basic footrest that can help them rest their feet in a comfortable position, without a need for additional features like rocking motions, for example.
Smagreho Portable Adjustable Mini Office Foot Rest Stand Desk Foot Hammock was designed to be easy to install – only a few steps are to be taken before this particular product can be used.
In terms of portability, the Smagreho Portable Adjustable Mini Office Foot Rest Stand Desk Hammock certainly holds superiority over the majority of the competitor products that a person would be able to find. This is because the footrest weighs much less than most traditional footrests and can be easily folded to a compact size, making it easy to carry around.
The mode of use, along with the height of the product, can be easily adjusted, thanks to the extended rope length included with the foot hammock.
Cons:
The clamps that come included with the Smagreho Portable Adjustable Mini Office Foot Rest Stand Desk Hammock does not seem to fit all tables. Even though most tables and desks are supported, it is still crucial to consider the compatibility prior to the purchase of the product.
This particular footrest is not an ideal solution for people who are using corner desks or desks with shapes that are not rectangular or square.
Some previous customers have complained about their footrest breaking after a few months and that the customer service representatives are not helpful. This is an issue that should be looked at and considered before buying the product.
The product is only available in one single color and certainly does not offer the most attractive design among foot hammocks that we have observed on the market.
Smagreho Portable Adjustable Mini Office Foot Rest Stand Desk Foot Hammock Review
---
While most people tend to opt for a standard or more traditional footrest that often features either a cushion or a moveable surface, the Smagreho brand decided to take a different approach with the office foot hammock. This product rather presents itself as a foot hammock that is hanged from a table, allowing the user to rest their feet inside the material piece that forms part of the hammock.
The product is made from a range of sturdy materials to provide extended use, but some people wrote that they had used the foot hammock for only a few months before it broke down. These are all concerns that should be addressed – at the same time, however, there is a number of customers who do seem to be happy with the footrest, even while using it on a day-to-day basis.
Convenience Of Portability
Portability is often considered an essential factor when it comes to a footrest. Most people who have a desk job will want to be able to experience improved comfort in their feet while they are sitting in front of the desk – but this does not mean that at work is the only place where a footrest can be used. This is why many people would either take their footrest from work to home or buy a second one if portability does seem to be an issue.
With the hammock, there is no need to be concerned about mobility and portability. This portable footrest can fold up into a relatively small item, which can then be easily carried around – in a person's hands or even in a bag.
Adjustable System
Even though the Smagreho Hammock may not seem like a dynamic footrest, but there are multiple ways to customize the footrest for a better experience. The height of the product can be changed, for example. The ropes that come attached to the foot hammock can be set to a length setting between 7.87 inches and 17.71 inches. This allows for some flexibility in terms of how low the hammock should hang to the floor – or how high the person would want to have their feet in the air while using the product.
Construction
The construction of the footrest is another positive point that should be looked at. The footrest is made from a range of quality and durable materials. The foot hammock itself is constructed from a canvas material that is strong and resilient. Furthermore, the frame and other parts of the hammock are made from materials like polyethylene, steel, and lightweight wood. This does make not only the hammock lightweight but also a good option for those individuals specifically looking for eco-friendly solutions to implement either in their office or at home.
The Bottom Line
---
Anyone who is low on budget and would like to add a footrest to their desk should take the Smagreho Portable Adjustable Mini Office Foot Rest Stand Desk Foot Hammock into consideration. This product is available for less than $20 and comes with an easy-to-install setup process, making it possible to enjoy a comfortable footrest after just a few minutes. This footrest is lightweight and can fold up, which means carrying the foot hammock between work and home, as well as other locations, would certainly not be a problem for anyone.
Customers interested in this hammock should take note that the footrest's clamps that come with the package are not a good fit for every single desk out there. Compatibility needs to be considered an additional measurement might have to be taken when the clamps are not compatible with the customer's desk. Furthermore, some of these products have broken down after a few uses – sometimes even light uses.