A standing desk is the product of choice to get more productive for anyone who is aware of how beneficial is standing versus sitting. Standing desks allow you to cut down the hours of sitting time throughout your workday so that you can be healthier and fitter. There is however one little problem – standing desks aren't cheap. While their prices continue to rise due to high demand, there are still some DIY desk options that can save you money. A DIY standing desk might very well help you save extra money or even help provide a standing desk solution for your work or home workstation that may not accommodate commercial tables due to their size or other parameters.
Best Proven Ways to Make a DIY Standing Desk
---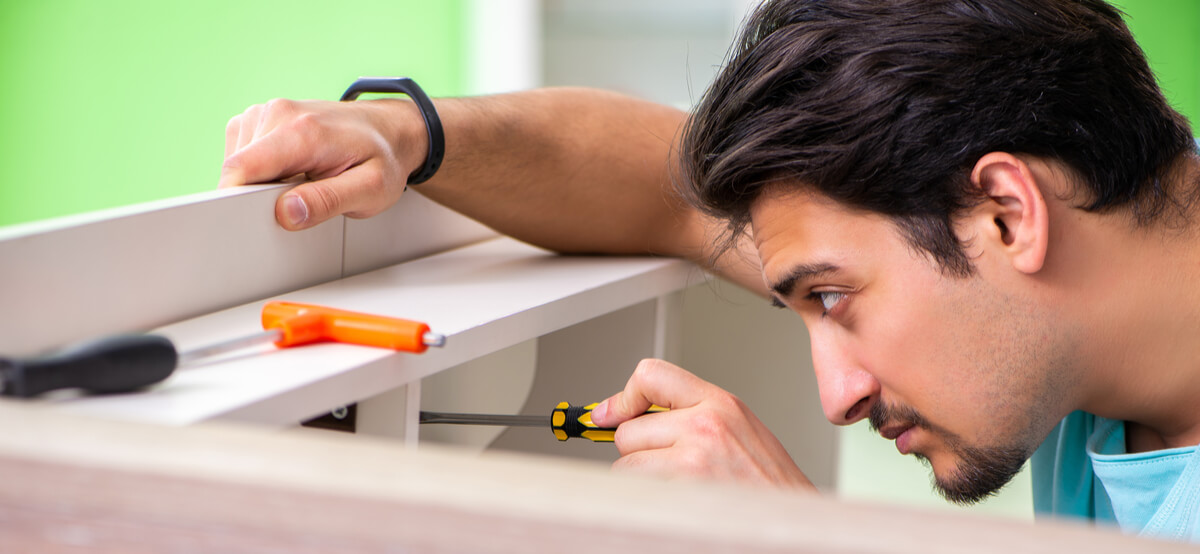 Except for the fact that DIY desks can help you save on costs and space, the true thing about DIY desks is that you can fashion them to fit your needs perfectly. Below we have described the best ways you can build your own adjustable standing desk. These workstations vary in terms of price, difficulty level, convenience, and the value for money spent on them. Some options might even be costly, but they will provide high levels of ergonomics and comfort.
Standing Dresser Desk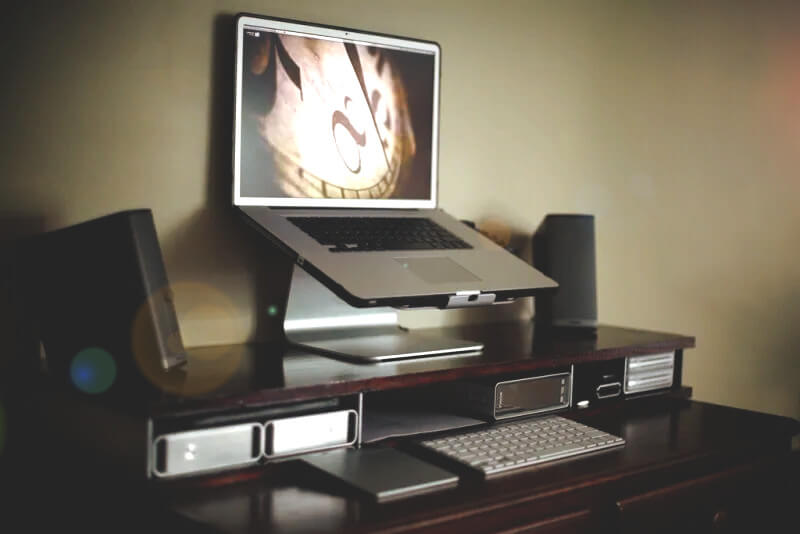 The dresser is exactly what it sounds like. Provided it's the right height, a dresser might very well be able to serve as your DIY standing desk. This solution won't work for everyone of course, but there are adjustments you can make like installing additional boards to raise the table to suit your height. If there isn't enough space on your dresser or it doesn't allow you a proper angle for typing, then an adjustable keyboard tray might be able to help you here.
The IKEA Converter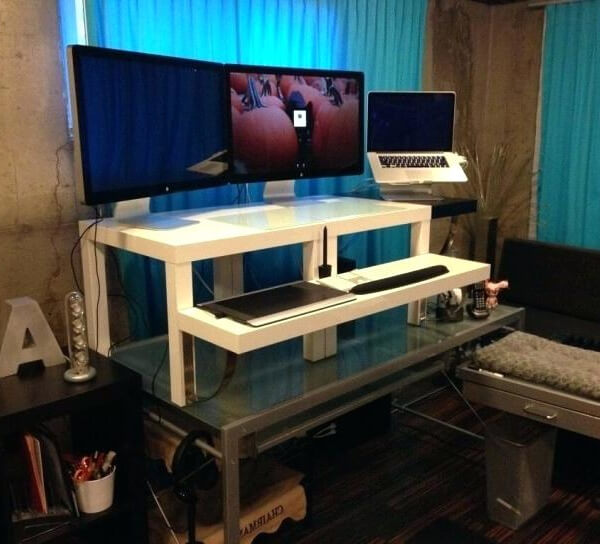 This is a simple and creative idea to build your own computer desk. Just combine a cheap IKEA side table with a shelf, and you will have your own ergonomic DIY sit-stand desk converter. The most amazing part is that this combo allows you to adjust the height of the shelf/keyboard tray to your height and ideal posture. This isn't the best solution for those looking for a single table where they can both sit down and work while standing but it does allow you to stand with good ergonomics on a tight budget. If your side table doesn't put your monitor or screen in the most favorable position, you could get yourself an adjustable monitor stand.
Buy A Frame and Source Your Own Top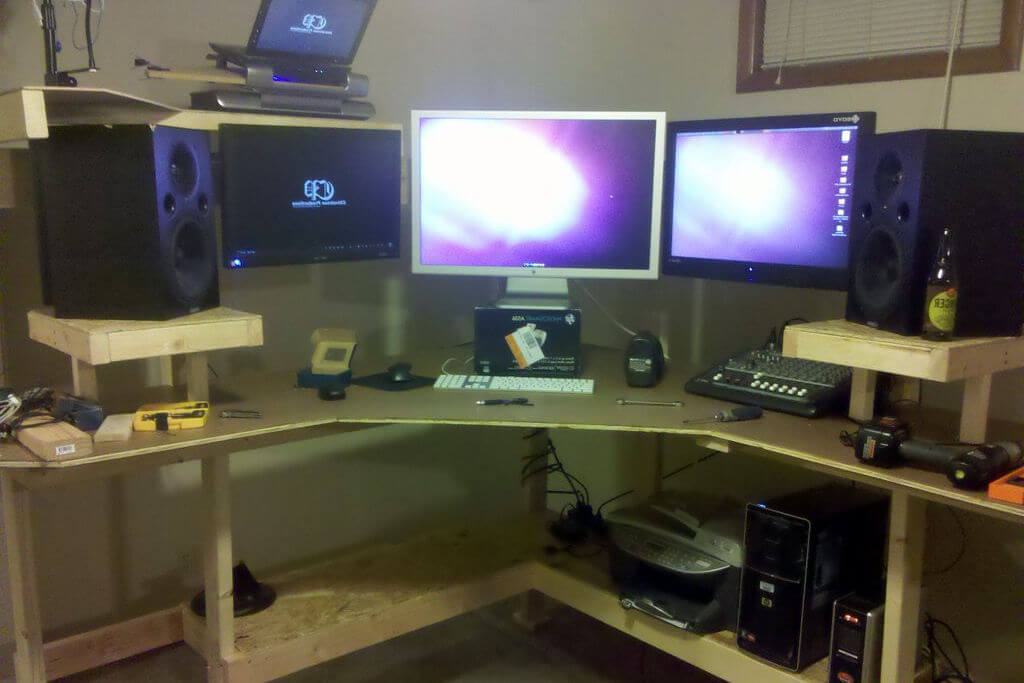 An excellent idea if you're looking for a DIY wood desk idea. By simply purchasing a frame and sourcing your own desktop, you'll be able to get yourself the perfect DIY adjustable standing desk. Buying the frame will allow you benefits like electric adjustment and stability. While building the top yourself certainly isn't cheap, this is an excellent option if you already have an existing desktop surface or can get your hands on a cheap one.
Tall Fixed-Height Table with Drafting Chair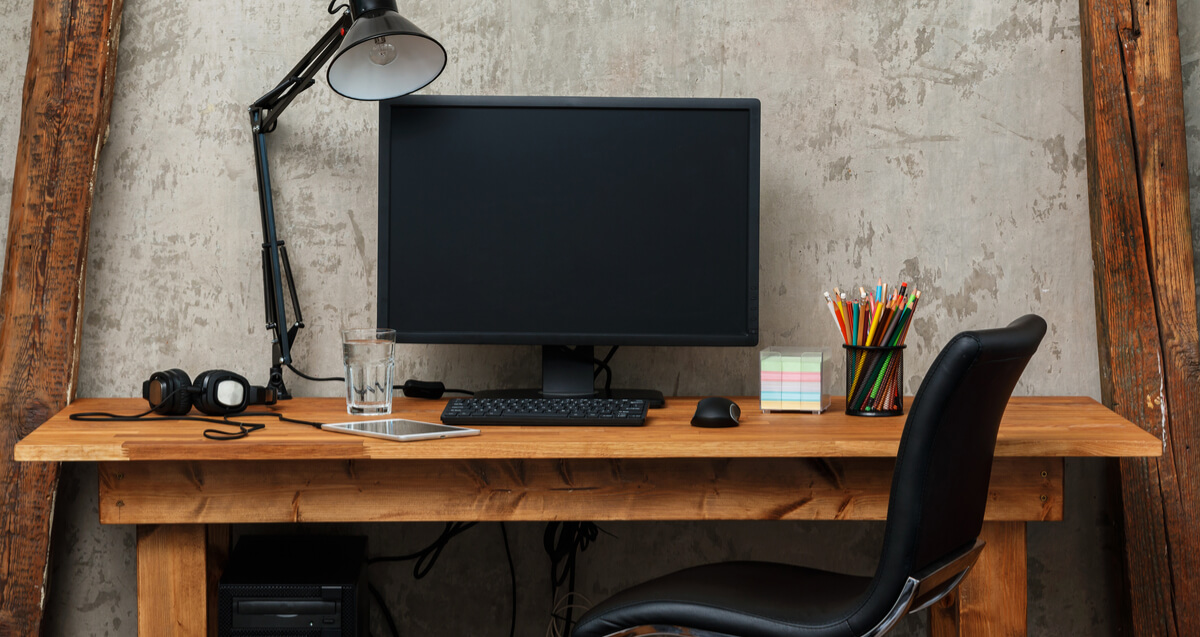 This is a DIY desk idea like no other. It combines a fixed standing desk with a drafting chair. If you already have a table that is high enough like a kitchen counter or a dresser that is the ideal height for you to work while standing, then you can add a drafting chair to that and complete the combo. Just hop onto your chair when you want to sit and hop off when you'd like to be on your feet. Alternatively, you could also invest in an ergonomic office chair.
Raise Your Existing Workstation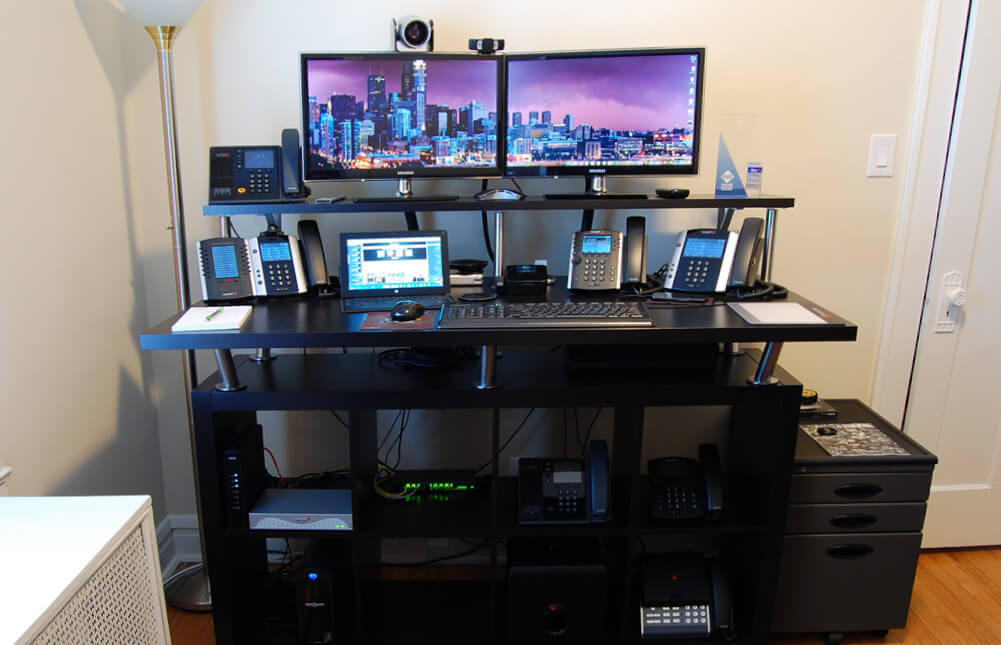 This is perhaps the most budget-friendly way of getting a DIY standing desk. If your current workstation is too short to be used while standing, you can add something to the feet to make it taller. In most cases, manufactured standing desk will only be 12" to 14" taller than your sitting desk. By simply adding something under your table's feet you can raise its height to that level and even save on space by avoiding those DIY standing desk solutions that go on top of the table.
Engineering Your Own Convertible Sit-Stand Electric Desk
This DIY computer desk idea will let you build your own electric standing desk that is fully adjustable. It won't be the easiest job since it will require a lot of skill, but we think anyone with the right tools, attention to detail and patience would be able to pull this off. Not only will you save yourself money, but will also be rewarded with your very own DIY adjustable standing desk.
Engineering Your Own Hardwood Standing Desk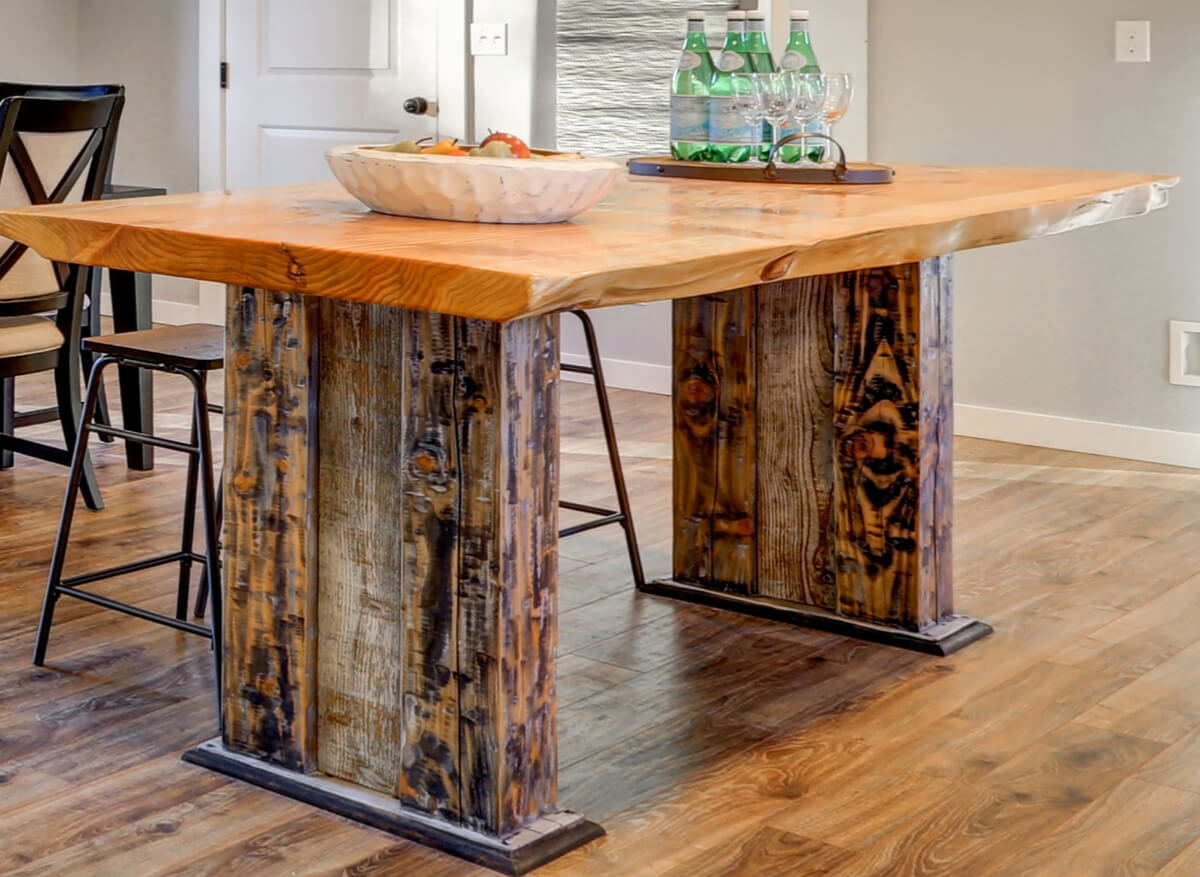 This is indeed the perfect DIY standing desk complete with all the features and rivaling the functions, features, looks, and durability of some of the most expensive standing desks in the market. If you're an expert woodworker, you can certainly pull this one off as well. Building this workstation to a high level of finish will require a full woodworking shop. The DIY computer desk plans for this project are also available. Of course, this project won't be cheap, but you'll end up with a highly ergonomic desk complete with all the functions. Here is a useful video that explains each step thoroughly on how you can craft your own hardwood standing desk with ease.
Engineering Your Own DIY Standing Desk – Counterweight Operation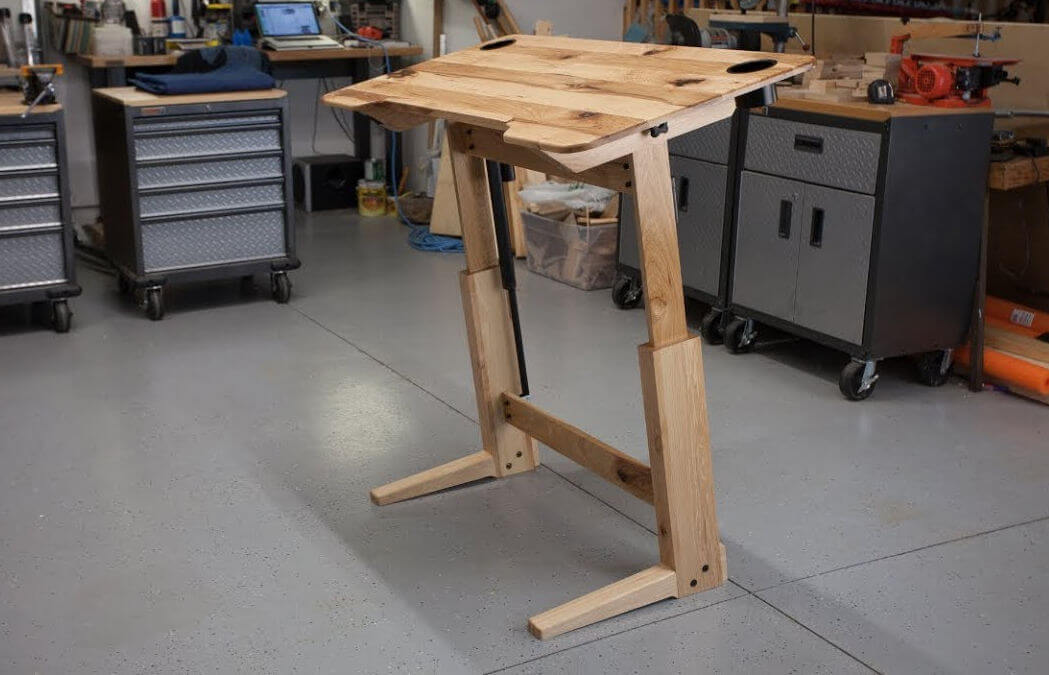 This desk, operated via cantilever, is without a doubt, one of the unique DIY standing desk solutions you'll ever see. It will require a very high level of expertise as well as tools, but the final result will be a manual desk free of motors, cables or actuators that will have built-in memory settings by design. Making this project will certainly neither be easy nor cheap, but it might very well end up lasting you a lifetime. If you are carrying about your feet getting sore when standing or your back hurts, you could also invest in the best foot support you can get.
Build a Mobile Workstation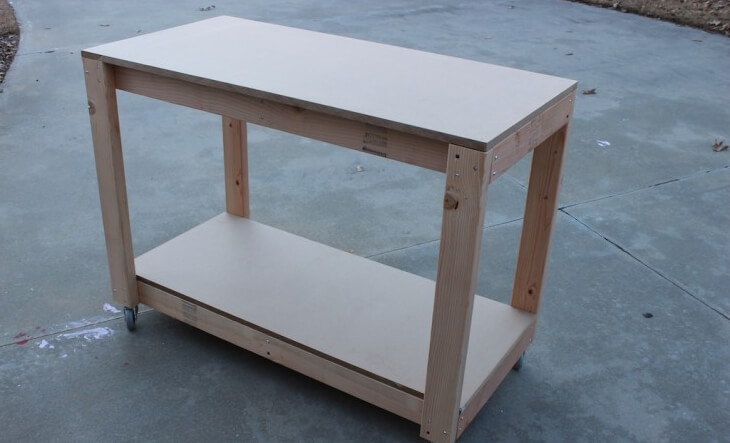 Mobile workstations are perfect for those looking to spend a lot of time on their feet. You will certainly compromise on space, but you will gain so much more in mobility. This will allow you to boost your productivity and flexibility by enabling you to carry out several tasks in a limited period. You can build your own mobile workstation with the plans from the Internet. Here is a useful video you can use to build your very own mobile work station. If multi-tasking is your forte, then this is the workstation you should opt for!
Building your own DIY standing desk is the most budget-friendly and versatile option you can opt for if you want to increase your energy level and productivity at work without burning a hole in your pocket! Try incorporating these intriguing ideas and craft your own DIY standing desk with ease! Also, do not forget to share your progress and motivate others!